Here's How Sol de Janeiro's TikTok-Famous Bum Bum Cream Is Totally Worth The Hype
My friends and family may call me a lotion hoarder, but as someone with super dry skin, I like to keep every room of my home stocked with body oils, butters, and lotions so that hydration is always within arm's reach. I cycle through body products quickly, but because of my sensitive skin and nose, I rarely land on standby favorites that I'd purchase again and again—till I tried Sol de Janeiro's Brazilian Bum Bum Cream (Amazon, $45).
It's hard to find body care products that deliver long-lasting hydration and a refreshing scent with clean ingredients, but this luxurious cocoa frosting-scented butter delivers all of that and more. It's no wonder it's a cult favorite body butter amongst beauty gurus and TikTokers alike.
Here's why it's a staple in my dry skin arsenal: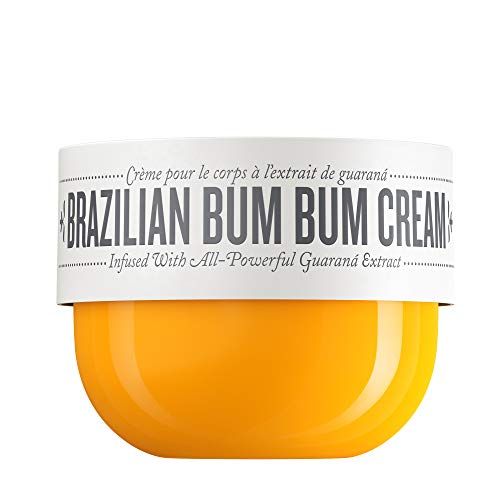 It doesn't irritate my sensitive skin.
The ingredients in this vegan and cruelty-free formula are super clean—from hydrating cupuaçu butter filled with fatty acids to antibacterial coconut oil, the luxurious butter feels super indulgent on my skin. It also soothes any redness or irritation I sometimes get on my thighs and back, especially after hot days spent in the sun.
For that reason, I love taking the mini version ($20, Amazon) with me on beach trips. I took this on vacation with me to India during a particularly hot summer, and when my skin inevitably got a bit red and irritated, I simply massaged a dollop of the Sol de Janeiro butter in before bed to wake up with refreshed, supple, and glowing skin (especially noticeable on my thighs and bum).
A little goes a long way.
If you didn't already guess it, "bum bum" (pronounced "boom boom") translates to "butt" in Portuguese. But, this lotion isn't just meant for your rear—and trust me, the second you take a sniff, you'll want to douse your entire body in it.
When I first got this, I was a bit surprised by the $45 price tag. It was more than I had ever spent on a body butter till I realized I really didn't need more than a small handful to cover my entire body generously. The best part is that I apply this in the morning after a shower and it keeps my skin completely hydrated for the rest of the day without a sticky feeling. Whereas with most lotions I feel the need to apply and reapply throughout the day, I don't feel that urge at all with the Bum Bum Cream.
It smells like a Brazilian beach vacation.
Perhaps my favorite part of this body butter is the fragrance. Till smell-o-vision becomes a regular part of our daily lives, I'll describe it as a salted caramel cupcake meeting a freshly-cut coconut. On days I don't want to wear perfume, I love that the opulent notes of cocoa and jasmine linger a bit on my clothes till I wash them (another reason this is a must-have for hot, sweaty vacations).
It's no wonder this has nearly 11,000 five-star reviews on Amazon, with most of them calling out the sumptuous scent. I've even gotten my family abroad hooked—I often travel with half a suitcase filled with jars of Bum Bum Cream for my aunts, uncles (yes, the scent is unisex!), and cousins.
They also have two other scents I like to indulge in when I want to mix things up. The Coco Cabana Cream ($45, Sephora) has more of a sweet coconut scent I love using in the summer time, and the newly-launched Bom Dia Cream ($45, Sephora) has a musky wood and jasmine scent that I feel will become my new date night essential.
Source: Read Full Article