Kelly Ripa reveals frustration over ongoing illness amid trip to the doctor
Kelly Ripa's 2023 hasn't got off to the best of starts as she's been feeling unwell with an ongoing flu.
MOST READ: Everything Miranda Lambert has said about having a baby
The Live with Kelly and Ryan star recently went to the doctors who told her "Maybe you just have a random thing." but as she is still feeling ill despite being back at work now, she understandably isn't all that happy.
Taking to Instagram on Wednesday, Kelly shared a selfie from inside her home in New York City, looking rather unhappy as she sat on the couch with her hand resting on her forehead.
VIDEO: Kelly Ripa opens up about her illness during her first day back on Live
"Day six of nothing wrong with me," she wrote in the caption.
POPULAR: Today Show reveal big shake-up on the 4th Hour with Hoda Kotb and Jenna Bush Hager
MORE: Kelly Ripa's health was impacted by this huge lifestyle change
The mother-of-three has lost her voice and has been struggling at work to talk. This was mentioned on her first day back this week, Kelly opened up about the loss of her voice, telling co-host Ryan Seacrest that after hosting on Monday, it started to go.
"Yesterday, around 2 PM, my voice just left the building," she said. Kelly added: "So Mark [Consuelos] said 'Don't worry, all you have to do is nod yes or no, just look at me and nod.' And then he goes 'What do you want for dinner?'" which everyone in the studio found amusing.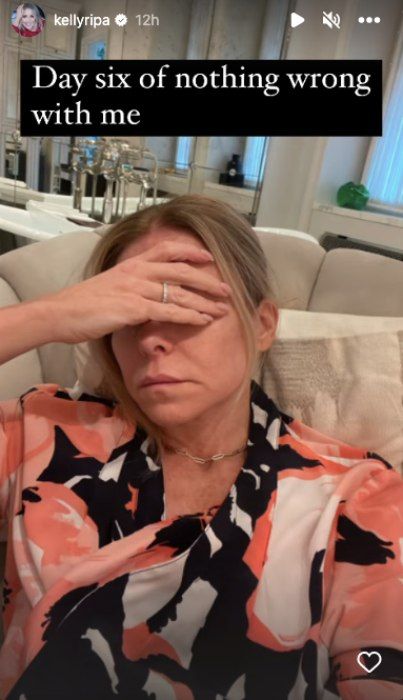 Kelly Ripa was visibly upset as she continued to battle her illness
Fans took to social media after watching the show to urge the mom-of-three to stay home and care for herself before returning.
POPULAR: George Stephanopoulos experiences devastating news at the end of 2022
MOST READ: Mark Harmon quit his job after this life-changing moment
"Kelly, the voice!?? How are you going to do this!!? Get better soon," one said. Another commented: "Kelly Ripa sounds a mess. Girl go home and drink some herbal tea," while a third also wrote: "Today would have probably been one of those days to take off @KellyRipa Honestly a talk show host that can't talk should be home with hot tea and lemon! Come on man!"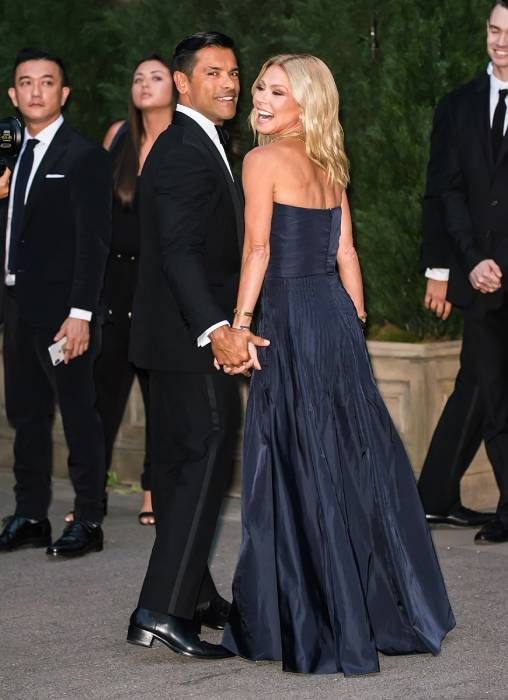 The Live star with her husband Mark Consuelos
On the previous installment, Kelly shared that she'd been "so sick" for that time and had spent most of her days in bed, unable to even watch the show as it aired.
TRENDING NOW: Jimmy Fallon's unorthodox living situation with his family revealed
ALSO POPULAR: Gwen Stefani on baby number four: everything the singer has said
The Hope and Faith star then looked right at the audience as she declared: "When you get sick, and you have the audacity to test negative for everything… "And the doctor's like 'Maybe you just have a random thing,' and I go 'It's not a random thing because I'm clearly dying'."
Read more HELLO! US stories here
Source: Read Full Article