What Your Zodiac Sign Says About Your Makeup Style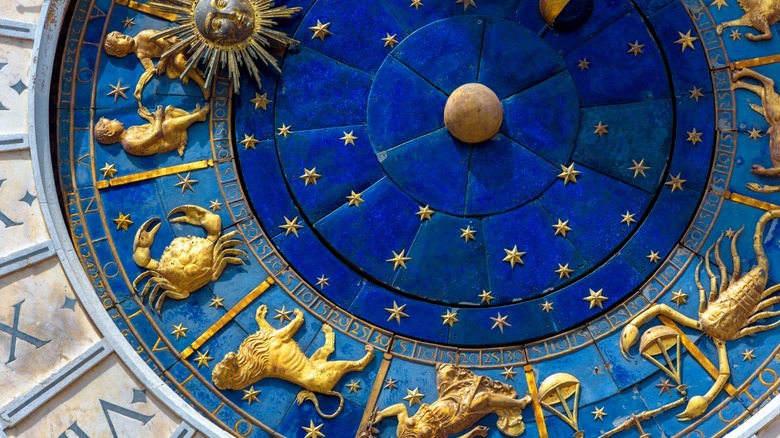 Even though astrology has no scientific backing, many still believe that our signs and the astrological year can accurately determine our personality (i.e., our weaknesses and strengths), predict certain aspects of our future, and detail our days. This group (sometimes referred to as spiritual warriors) likes to turn to the stars for a new outlook on a certain situation or to help them with important decisions, often using their horoscope as a means to pursue mental health, wellness, and meditation goals. However, spiritual warriors also look to their signs to help them determine their looks, specifically their makeup, per Glamour.
Even if you don't read your horoscope religiously, finding out which makeup look corresponds with your astrological sign can be a fun and entertaining experience. It might even offer you a fresh perspective on your personality you might have otherwise not noticed. Of course, anyone can do what they wish with their makeup, but if you're up for something new, scroll down to see what type of styles are compatible with your zodiac sign!
A fire sign's makeup is eccentric and intense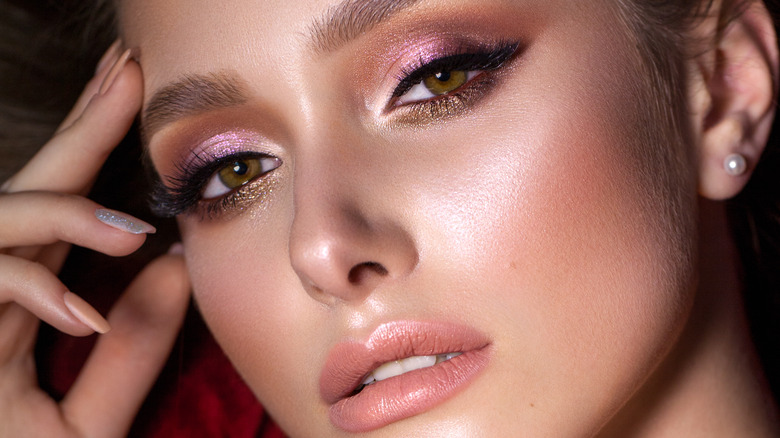 Aries (March 21 to April 19) is known for being adventurous, confident, and dynamic. If you're an Aries sun, then your ideal makeup look should include a lot of highlighter to illuminate your innate fire, as well as warm shimmering eyeshadow (via Glamour). Get the look with Dior's BACKSTAGE Glow Face Palette in Universal ($45, Sephora) and NARS' Summer Solstice Eyeshadow Palette ($49, Sephora). 
Leo (July 23 to August 22) signs are charming, entertaining, and loud. This fierce sign would benefit from a sultry, glam look that includes bold lashes, contouring, and lip gloss (via Glamour). After all, gloss is more fun than lipstick, according to Serena Van Der Woodsen (per POP XO). Consider picking up Lilly Lashes' Lite Faux Mink Lashes in Luxe ($20, Sephora), Smashbox's Cali Contour Face Palette ($40, Sephora), and Tower 28 Beauty's ShineOn Jelly Lip Gloss in Magic ($14, Sephora). 
Sagittarius (November 22 to December 21) is intelligent, philosophical, and the known free-spirit. This confident sign can get away with the bold looks, such as neon eyeliner (via Glamour). Furthermore, because Sags are considered to be so care-free, they don't even feel the need to rock makeup. However, if they do feel compelled to put something on, they can easily sport a no-makeup makeup look, according to L'Oréal. Go ahead and try NYX's Epic Wear Eyeliner in Pink Spirit ($8, NYX) if you're feeling playful. 
Earth signs should rock rich, smokey tones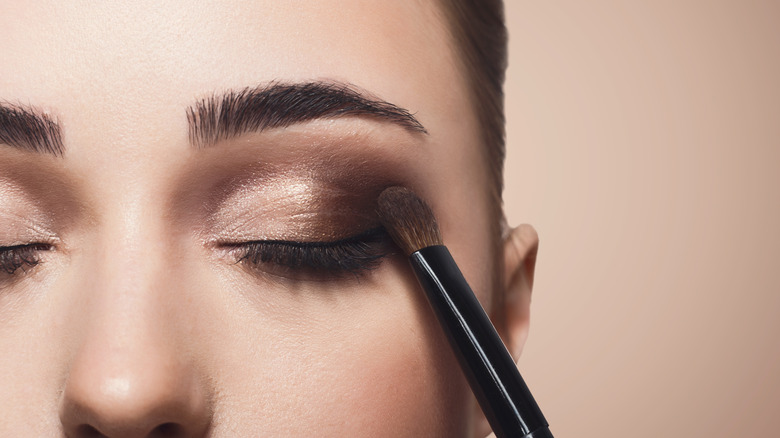 Taurus (April 20 to May 20) is reliable, steadfast, and practical. This sign, therefore, should stick to the classically timeless looks, such as a simple, albeit elegant eye paired with a bold red lip, per Glamour. However, because of their earthiness, they can also rock colors such as browns and greens, especially during the summertime (via Allure). Get the look with Urban Decay's Naked Wild West Eyeshadow Palette ($49, Sephora). 
Virgo (August 23 to September 22) is organized, diligent, and precocious. Like Taureans, Virgos tend to stick to very classic makeup applications, and don't really experiment with bold looks, per Allure. They also prefer to let their natural beauty shine through, so their applications tend to be very minimal, with shades likely leaning towards the neutral/nude side, according to L'Oréal. Consider picking up HUDA BEAUTY's The New Nude Eyeshadow Palette ($65, Sephora). 
Capricorn (December 22 to January 19) suns are driven, independent, and trustworthy. Due to their loyal nature, they tend stick to one solid look for a while and shy away from anything too edgy. A go-to look for them includes a smokey eye and a chic nude lip, according to Glamour. Achieve this classic appearance with Natasha Denona's Glam Eyeshadow Palette ($65, Sephora) and I Need a Nude Lipstick  ($25, Sephora). 
Air signs can go bold with their makeup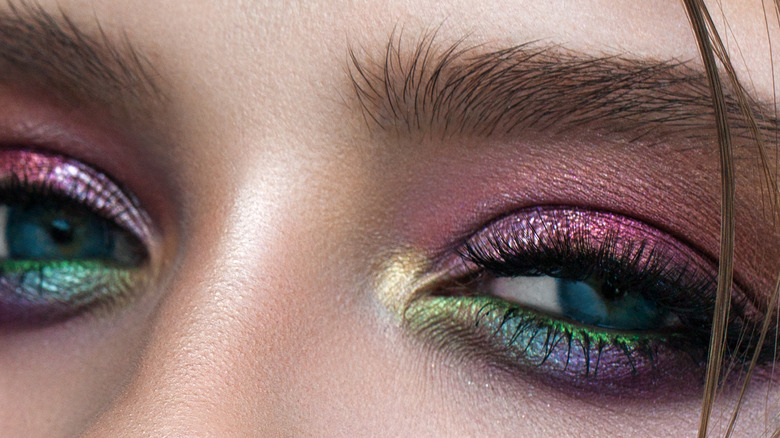 Geminis (May 21 to June 20) are playful, curious, and intelligent. This sign, similar to their mutable sister sign, Sagittarius, likes to experiment when it comes to their makeup. They look best in yellow, but will sport anything they want to (via Allure.) They are also the ones likely rocking adhesive gemstones around their eyes or other daring fashion trends, via Glamour. Get the gemini look with KVD Beauty's Super Pomade Vegan Eyeliner, Shadow & Brow Pigment in Vibrant Yellow ($20, Sephora) and e.l.f.'s Face and Body Gems ($3, e.l.f.)
Libra (September 23 to October 22) is popular, kind, and charming. Their amorous nature makes them the perfect canvas for a romantic makeup application featuring deep-red and burgundy hues. They can also throw on some fluttery lashes for an added flirtatious element, per Glamour. Try NARS' Audacious Lipstick in Red Currant ($34, Sephora), Velour Lashes, and HUDA BEAUTY Obsessions Eyeshadow Palette in Ruby ($27, Sephora).  
Aquariuses (January 20 to February 18) are creative, intelligent, and observant. They do keep up with trends, but prefer to make them their own by playing up different shapes, colors, and textures, according to Glamour. Add some bold colors to your makeup look with Violet Voss' Flamingo PRO Eyeshadow Palette ($45, Sephora).
Sensitive water signs prefer softer, approachable makeup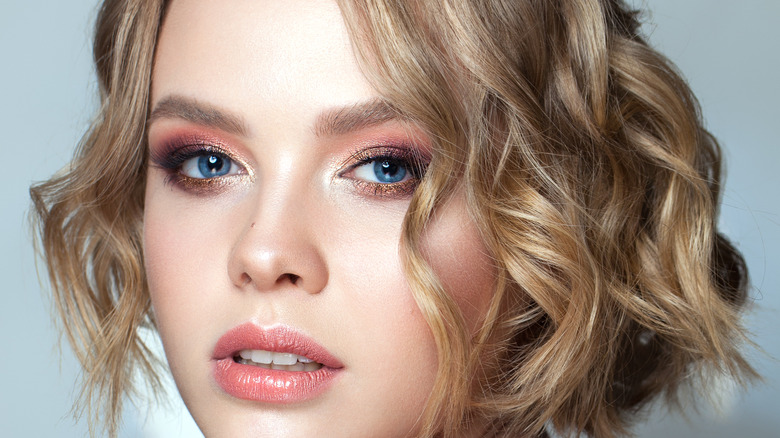 Cancer (June 21 to July 22) is compassionate, faithful, and understanding. They prefer cute, approachable makeup styles, such as peachy hues for eyes and apricot shades for cheeks. Warmer orange tones for lips are ideal, as well (per Glamour). Complete the Cancerian look with SEPHORA COLLECTION's Mini Pocket Palette Eyeshadow Palette in Orange ($10, Sephora), #LIPSTORIES Lipstick in Satin Peach ($9, Sephora), and LAWLESS' Make Me Blush Talc-Free Velvet Blush in Burnt Apricot ($29, Sephora).
Scorpios (October 23 to November 21) are emotionally intelligent, powerful, and ambitious. A good look for them is a bold eyeliner and a fun eyeshadow color, such as blue, (per Glamour). They can also choose to add some dark mascara to their application to really draw attention to their eyes, according to astrologer Sherene Schostak (via Allure). Rock the Scorpio look with SEPHORA COLLECTION's Colorful Shadow & Liner in Black ($14, Sephora), Melt Cosmetics Smoke Sessions Eyeshadow Palette ($48, Sephora), and Lancôme Lash Idôle Lash-Lifting & Volumizing Mascara in Black ($26, Sephora). 
Pisces (February 19 to March 20) are compassionate, caring, and loyal. Much like their personality, they prefer a softer makeup look with gentle, warm hues, such as blushes and golds (per Glamour). They can also add some subtle eyeliner and lip balm to this look. If they're feeling especially sparkly, they might rock hues with a shimmering or shiny finish (via Allure). Try Viseart's Solstice Petit Pro Eyeshadow Palette ($30, Sephora), and Dior's BACKSTAGE Glow Face Palette in Glitz ($45, Sephora).
Source: Read Full Article