Aaron Carter Says Michael Jackson Did Something 'A Little Bit Inappropriate' To Him
Aaron Carter is revealing more information about his relationship with Michael Jackson.
Recently, the Aaron's Party singer — along with his mom, Jane Carter — joined the cast of WE tv's Marriage Boot Camp: Reality Stars Family Edition to deal with his feelings of resentment and betrayal.
In an interview conducted after the show, Nick Carter's brother said the counseling he received on the reality TV show helped him sort out his feelings regarding the "King of Pop."
Though Jackson "was a really good guy," the 31-year-old said Michael once did something "a little bit inappropriate" to him. He revealed:
"Michael was a really good guy as far as I know… He never did anything that was inappropriate except for one time. There was one thing that he did that was a little bit inappropriate."
Carter did not elaborate on his statement.
As we reported in March, following the release of Finding Neverland, Aaron said he "would punch" Wade Robson, who detailed Jackson's alleged abuse in the documentary.
It all started when singer DIIMOND MEEKS, also known as Dezmond Meeks, allegedly called Robson a "liar" on Twitter. In response, an account purportedly belonging to Wade brought up Aaron's name, and allegedly implied he was either molested by MJ, or knew he was abusing other children.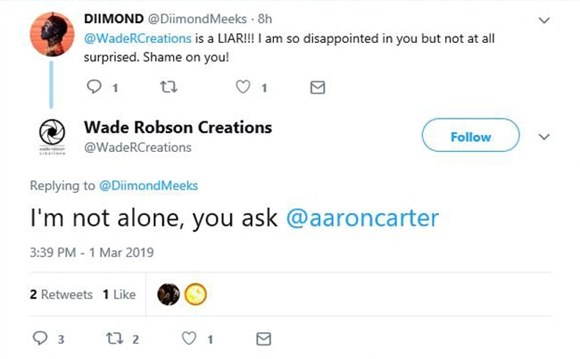 However, Robson's attorney told TMZ that the tweet in question did NOT come from him.
Regardless, Carter blasted Robson, exclaiming:
"Wade, I'm very disappointed in. Because I don't understand… And he's trying to tie my name into this s**t? Like @aaroncarter. I'm not that guy. I'm not the one. I might be a pop singer but i'm also from the f**king south, and you f**king come at me on some sour s**t, you're lucky I got something to lose now. Because I would punch you in your face. I would, and then maybe I'd ask you, 'Eh, are you telling the truth?' but I'd punch you in your face first. Because what you're doing is stomping on someone's grave who was there for you. Who taught you things. Did all these kind of things… It's hard for me to understand. How am I supposed to understand that when my own personal experience with him was gentle, and beautiful, and loving, and embracing. And that was it.'"
Carter also brought up the fact that Robson — and fellow Leaving Neverland accuser James Safechuck — testified on behalf of Jackson under oath when they were young. Additionally, Wade continued to support Michael well into adulthood.
"When I see someone that is like, OK you're a grown man and when Michael Jackson was alive, you are backing him, you are up his ass, you are kissing his ass, you are there to testify for him under oath. And then when he dies you decide that that's a good time to come out. No, what you're doing is, you're actually stomping on an icon and a legend's grave. You're stomping on his grave… I just like feel like, why not do it when he was alive, man? Why not do it when he was being accused of all these molestation charges? Why not do it then?"
Carter also admitted he stayed in MJ's bed when he was 15, but nothing inappropriate happened.
"Because me staying with Michael Jackson. I hung out with Michael Jackson. I stayed at his house. I stayed in his bedroom… I was 15."
Despite the allegations, Carter had only positive things to say about his interactions with MJ.
"My reaction to Leaving Neverland was incredible. I remember having the time of my life with Michael. I was about 15 years old, and I remember him just sitting down with me, you know being like, 'This is what you got to do, Aaron. And your future. Just stay focus and just stay driven. Always be a perfectionist'… I also went to the same vocal coach as Michael… I really idolize Michael.'"
In addition to denying all allegations of wrongdoing when he was alive, Jackson's estate called the documentary "just another rehash of dated and discredited allegations."
Source: Read Full Article