Angelina Jolie: ' People don't want to see abuse, even when it is right in front of them'
Angelina Jolie spent her adult life traveling the world, working on issues with and around refugees. We're coming up on her 20-year anniversary as an ambassador to the United Nations High Commission on Refugees. But even Angelina Jolie, more worldly and self-educated than the average person, seemed sort of surprised by the domestic injustices pulled into sharper relief because of the pandemic. Like, I'm not sure she even realized just how stark the food insecurity situation was in America before this year. And she's spent much of this year speaking about the increase in violence against women globally because of the pandemic. She gave a (virtual) speech on that subject at the 2nd International Conference on Action with Women and Peace in Seoul, where she said "The truth is, a woman's life does not rank equally with a man's, far more universally than we are willing to admit.Conflict-related sexual violence is a manifestation of this reality." She said that most governments and leaders believe in women's rights and girls' rights "only to a point." She spoke with Harper's Bazaar about her participation in the UN's 16 Days of Activism campaign (an initiative against gender-based violence):
HB: What motivates your work in this area?
Jolie: "I value women. I can't stand to see the immense and enduring suffering so many women face, and how little accountability there is. I see the same patterns repeated globally. Women are vulnerable because societies are unequal. Women and children suffer disproportionately as a result of war or economic crisis. They make up two thirds of all refugees and displaced people, and they are hardest hit by the effects of climate change. We don't take domestic or gender-based violence seriously enough anywhere, and we often overlook the trauma and injury suffered by children who witness or experience violence, in their own homes."

What's the one thing that someone, as an employee, can do to make sure their company is involved [in the 16 Days of Activism campaign] or is complying with its aims?
"You could check what it does to support any employee who is a victim of gender-based violence or intimate partner violence, or to help fund a local domestic violence shelter. But it's even more fundamental than that. It's on all of us. People often don't want to see abuse, even when it is right in front of them, because it's easier not to."

What can you do to help a colleague or friend who is suffering abuse?
"Take it seriously and stand by them. Listen to them. Don't judge them. Try to understand the huge emotional, financial and legal pressures they are likely facing, including the pressure to stay silent about what has happened to them. And be aware that they may well be suffering trauma and PTSD."

What one piece of advice would you give any woman who fears that she will suffer more abuse during Christmas and the holiday period?
"Talk to someone. Try to find allies. Be connected for emergencies. For example, you can agree a code word with a friend or family member, which tells them if you are facing an emergency. Begin to build a network and gain knowledge. It's sad to say, but you can't assume all friends and family will always want to believe and support you. Often it will be strangers who help. Or other victims, support groups, or faith groups. Above all, be careful. Only you really know the danger you are in, and until you find your support outside, you may feel quite alone."

How can you support a friend or relative, or a child you think might be experiencing abuse this Christmas?
"If it has even crossed your mind that someone you know might be vulnerable in this way, try to stay close and present in their lives. Make it clear that you are there for them. Another thing we can all do is educate ourselves. Learn about domestic violence. Learn how trauma affects our health and can lead to biological changes, particularly in children. Take these issues seriously."
[From Harper's Bazaar]
I've said before that I feel like Angelina's more recent work on domestic violence and children traumatized (or hurt) by domestic violence has a personal edge. That's all I'll say about that right now – it's always been up to Angelina to tell us what happened to her and what happened to her kids. So far, she's chosen to avoid specifics, as is her right. But yes, awareness, education and support at every level. Support the women and children you think might be victimized. Support the groups who offer help. And argue that existing power structures – corporations, unions, governments – have policies on domestic violence.
(An example: Tennis is dealing with this right now – one of the most popular young male players was recently accused of brutalizing his then-girlfriend – the ex-GF was the one who told her story – and it highlighted the fact that tennis's governing bodies don't have much in the way of domestic violence policies.)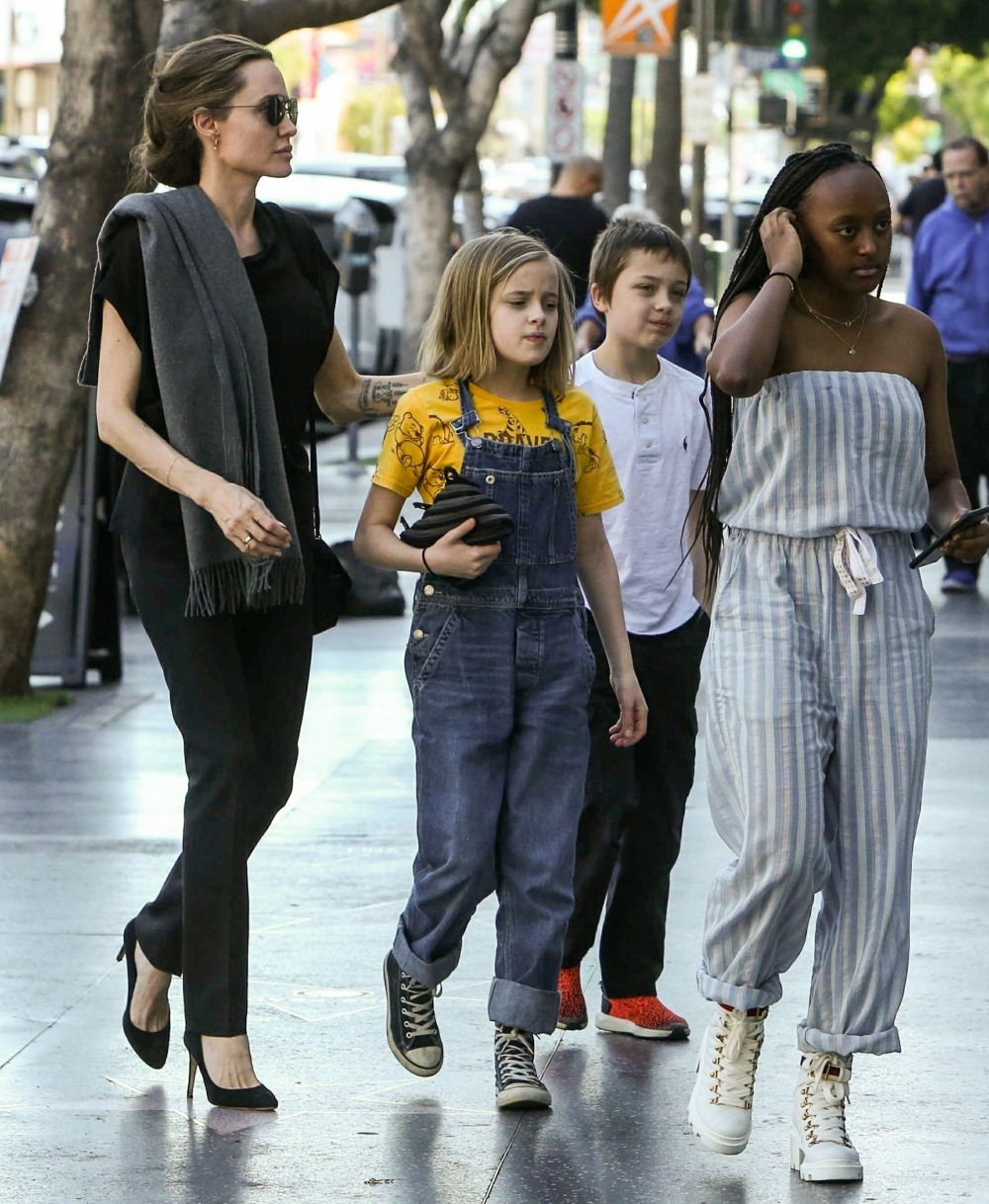 Photos courtesy of Backgrid, Avalon Red.
Source: Read Full Article