Ariana Grande's 'Problem' Music Video Was Inspired by a Classic Bob Fosse Film
Ariana Grande revealed the inspiration behind some of her most iconic music videos. The stylish video for Grande's 2014 hit song "Problem," featuring Australian rapper Iggy Azalea, includes lots of fun, mod '60s fashion references, but the inspiration behind the look may surprise you.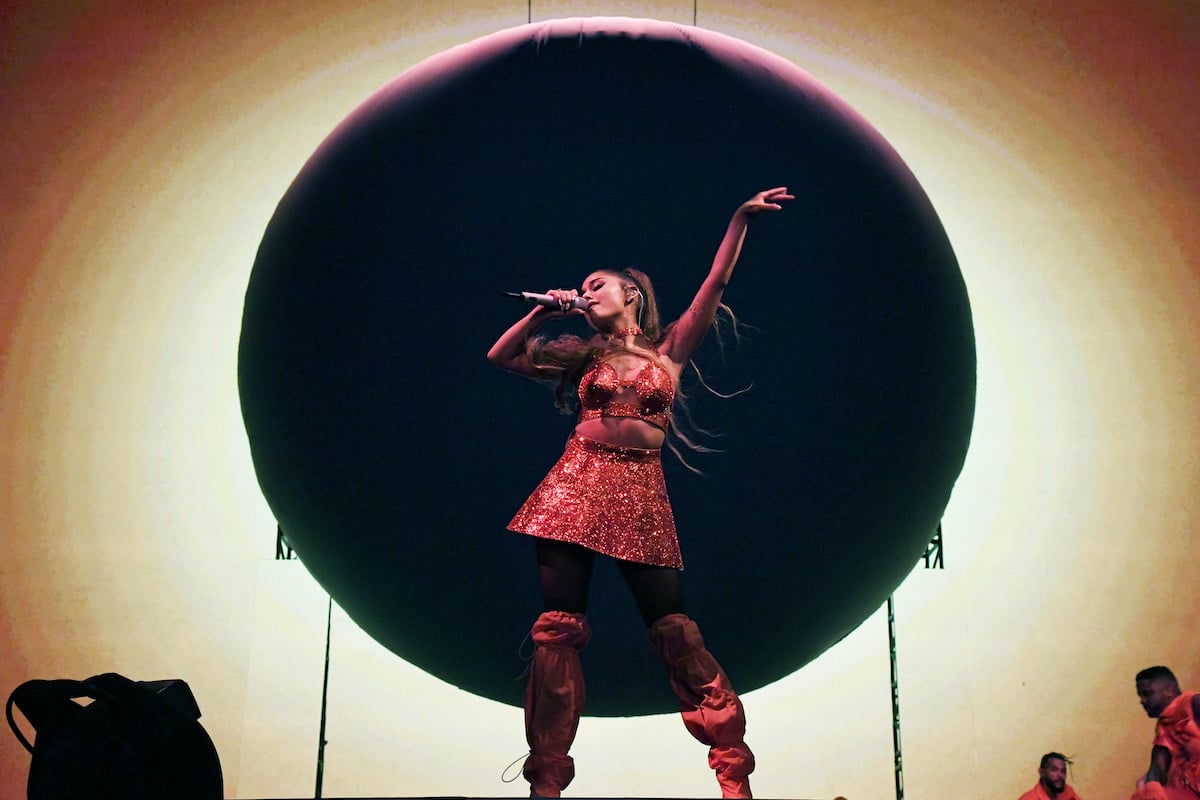 Fans may not realize that a classic Bob Fosse film inspired the "Problem" video.
Grande spoke about all this and more in an interview with Allure. We have all the details on how this music video's trendy looks are still influencing Grande's fashion choices today.    
Grande's '60s mod look is on point in the 'Problem' music video
Grande recruited The Young Astronauts' Nev Todorovic to direct the "Problem" music video, according to IMDb. Grande tells Allure that she collaborated with her friend Todorovic on its concept. "I really love the '60s. I always loved that era for glamour, for wardrobe," she said.
Grande explains that the choreography for the dance scene and the retro '60s costumes in the video were inspired by the iconic film Sweet Charity. In one scene in the video, Grande wears a black sequined mini dress with white gogo boots—and the look is nearly identical to a scene in the Sweet Charity film.
Grande talks about the love she has for the '60s decade, and how much she enjoyed making the music video. She says:
"I love that era; we had a lot of fun dipping a toe in — and then I never kinda dipped any toes out — for the rest of my life."
The making of the video continues to influence Grande's fashion choices today, long after filming. She continues to rock cute mini dresses and retro styles.
How did the '60s mod look in fashion begin?  Fashion designers in the '60s were inspired by "pop art and space," according to Fashion History. There were lots of playful, boxy, and geometric silhouettes with vibrant, color-blocked patterns. London-based designer Mary Quant advanced the 'mod' movement in fashion.  
Twiggy often wore an A-line mini dress, and was sort of like "the face of 1966," the Daily Express newspaper proclaimed, as reported by Fashion History Timeline. At the same time, fashion trends were going "mod" and Fosse was pioneering a modern look for jazz dancers, according to Masterworks Broadway.
The signature "Bob Fosse look" is similar, in some ways, to '60s mod styles. It includes streamlined, boxy silhouettes, lots of black, tilted bowler hats, and fishnet stockings.
Sweet Charity's retro '60s look
The '60s looks are on point in Sweet Charity—just like in Grande's video. The film debuted in 1969. It was directed and choreographed by Fosse after the Sweet Charity play premiered on Broadway in 1966. 
One iconic scene in the film showcases Fosse's signature choreography, perfectly, critics say. It also includes many of the retro looks that are in Grande's "Problem" music video—including mini dresses, gogo boots, and ponytails.
Shirley MacLaine stars in the film as Charity Hope Valentine, a woman who is a taxi dancer, looking for love in New York in the '60s. (And note this strange twist—MacLaine's character's name is so similar to Cat Valentine, the character Grande played on the Nickelodeon series Victorious.)
Grande's iconic ponytail hairstyle
Grande tells a funny hair story during her interview with Allure.  She said that five minutes before the cameras rolled to film the "Problem" music video, she needed to fix her hair. Grande wasn't happy with the height of her '60s-style ponytail.
So what did she do about it? Grande quickly teased her hair out as best she could, pulled up her ponytail a little tighter, and positioned it up higher on the top of her head.  Some of the dancers in Grande's video also wore sky-high ponytails—just like in the Sweet Charity film.  
And as everyone knows, rockin' a ponytail is Grande's signature look—except on the cover of Allure's 25th Best of Beauty Issue in September 2021, where she sports high pigtails.
Source: Read Full Article