Billy Porter: 'I'm over here minding my own business, why is it triggering you?'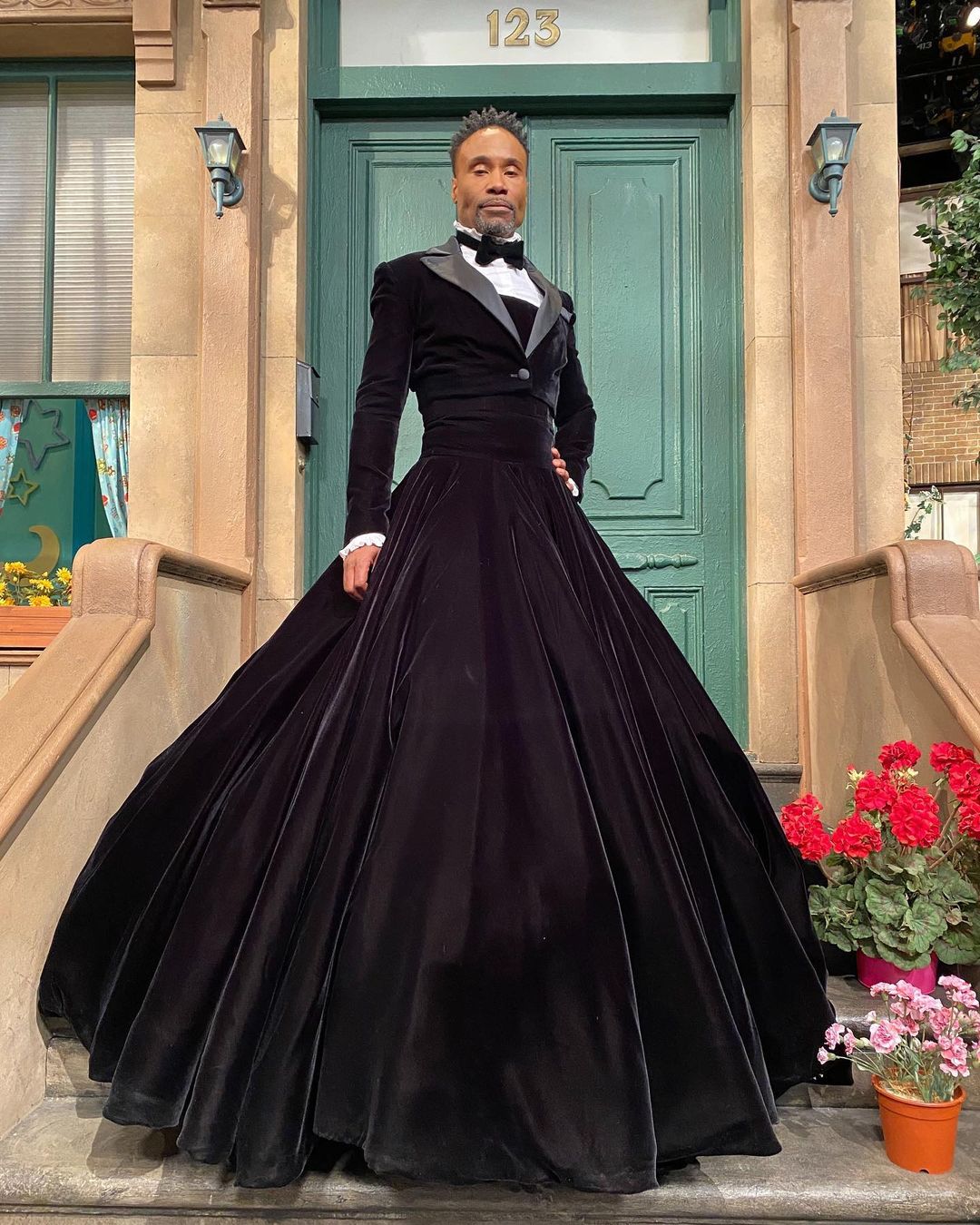 I absolutely love authenticity and applaud anyone who lives their truth no matter how much push back they get. This is why I love Billy Porter. I fell in love with Billy's sartorial clothing choices at award shows. My favorite of course was Billy's 2019 Oscar's tuxedo gown from Christian Siriano. That was the moment I knew Billy wasn't playing by anyone's rules and I was here for it. In a profile with InStyle, Billy said that he measures his life as BO (before Oscars) and AO (after Oscars). He said that Oscars moment gave him raised his profile and, although he welcomes it, he no longer has the anonymity he once did. Billy is using platform to give others permission to embrace genderless fashion and authentic expression. He also explained how reactions to his fashion can be hurtful. Below are a few excerpts:
Part of his loss of privacy over the past few years stems from his larger-than-life Emmy-winning turn as Pray Tell in FX's ballroom-culture drama, Pose. The other part of it has to do with the massive following he's gained since the 2019 Oscars, when he arrived in a statement-making, gender-bending custom Christian Siriano tuxedo gown that both broke the Internet and launched him into instant fashion-icon status.

When speaking about his evolution, Porter puts things into two categories: "BO or AO," meaning before Oscars or after Oscars. The impact of the look on his career was no accident. Porter knew he was about to step onto one of the world's biggest stages and was ready to seize the moment. "I thought back to when my friend Idina Menzel was at the Oscars [in 2014] to sing 'Let It Go,' from Frozen, and John Travolta mispronounced her name onstage," he says. "I literally said out loud, 'She's going to be a household name in less than 24 hours.' And she was. As funny as it may sound, I'm a businessman, and wearing that [Oscars] dress was a business decision, in a sense. People were like, 'Oh, he's just trying to get attention.' Well, yeah, I'm in show business! It's part of my job. Otherwise, I don't eat."

Porter's other hope was that the look would inspire a long-overdue conversation about genderless fashion. "I used to get frustrated that women could wear whatever they wanted and men had to show up in the same penguin suit," he says. "The reason why women wearing pants is considered OK by society's standards is because it comes from the patriarchy. The patriarchy is male, so suits are strong, and anything feminine is weak. I was sick of that discussion, and I knew my platform allowed me to challenge it."

While the look went viral and applause emojis showered Porter's feed in an outpouring of love, there were also a lot of close-minded comments hurled his way. A particularly frustrating moment happened in January 2020, when he was invited to appear on Public Television's Sesame Street wearing his Siriano gown. After the show shared Instagram photos of Porter on set, Jason Rapert, a Republican Arkansas state senator, wrote a Facebook post slamming PBS for using taxpayer dollars to promote a "radical LGBTQ+ agenda," adding that he could pass a bill to "cut off all funding" to the network. A petition to remove Porter's appearance on the show from pro-life group Life Petitions also began to circulate, alleging that Sesame Street was trying to "sexualize children using drag queens" by featuring Porter in his gown.

"It was based on this idea that I'm coming to get their children because of the way I dress," says Porter, shaking his head. "What is that? I'm over here minding my own business. So why is it triggering you? At that moment, I was grateful that I am a man of a certain age, because when you become a certain age, zero f—s are given. I don't now, nor will I ever, adjudicate my life or my humanity in [other people's] sound bites or responses on social media. Simultaneously, it still hurts to have people come after me for nothing."

Porter looks at his sartorial choices as another form of his artistry, much like any song he performs or character he embodies. "It's how I express myself," he says. "When Lady Gaga dresses up and performs a song on TV as if she's a man [Jo Calderone at the 2011 MTV VMAs], no one bats an eye. They receive her as an artist who's playing with different silhouettes and ideas. Same with David Bowie. When white and straight people do it, they're considered artists. When I do it, I'm a perversion. The answer to that from me is no."
[From Instyle]
While I have not gotten into Pose yet, as I mentioned I admire Billy's fearless fashion. I grew up in the 80s when men dressing in more feminine styles was de rigueur. We had Prince in high heels and ruffles, David Bowie in a dress and Rick James in makeup. We did not judge it but accepted it. It is so odd to me how everyone is making a big deal of Billy Porter and Harry Styles' fashion choices. I love how Billy was like, "why is my living my life and minding my business triggering you?" Like seriously, he isn't hurting anyone so why are people having an issue? If parents fear that celebrities have more influence over their children maybe those parents need to reconsider their parenting skills. In the meantime, I want these conservative wingnuts to stop policing how people are living their lives. If people like Rep. Jason Rapert are afraid that Billy just living his life authentically will shock his children he can always just turn off the TV. Billy is a national treasure and I hope he continues to live his best life and wear his ostentatious fashion. Billy shouldn't worry about pissing people off because rule breakers and trail blazers often do.
https://www.instagram.com/p/CMPaXYfgQSL/
A post shared by instylemagazine (@instylemagazine)
https://www.instagram.com/p/CMPhISXAWWL/
A post shared by instylemagazine (@instylemagazine)
s">
https://www.instagram.com/p/CMrxrrQFOkn/
A post shared by Billy Porter (@theebillyporter)
Source: Read Full Article