Britney Spears Announces Loss of 'Miracle Baby' With Sam Asghari
Britney Spears and her fiancé, Sam Asghari, announced in April 2022 that they were expecting a baby together just several months after getting engaged. However, Spears recently took to social media to share the news that they had lost their "miracle baby."
Britney Spears and Sam Asghari have been together since 2016
According to Cosmopolitan, Spears and Asghari first met in 2016. In October of that year, he appeared in Spears and Tinashe's music video for their song "Slumber Party," where he played Spears' love interest.
The pair hit it off and went public with their relationship in January 2017. During an interview that month, the singer shared how their romance started: "I found his number in my bag. I was like, 'He is really cute, this guy is really cute'… So I called him and ever since then, he is just a really fun, funny person."
Asghari has been by Spears' side in her conservatorship battle with her family. The actor told ET in February 2021 around the same time that the documentary Framing Britney Spears came out, "I have always wanted nothing but the best for my better half and will continue to support her following her dreams and creating the future she wants and deserves."
Then, in September of that year, the two of them got engaged.
Britney Spears announces the loss of their 'miracle baby'
Now that Spears' conservatorship has ended, it seems she and Asghari are on their way to starting a future together. However, they recently endured a great loss.
"It is with our deepest sadness we have to announce that we have lost our miracle baby early in the pregnancy," Spears and Asghari said in a joint statement on Instagram. "This is a devastating time for any parent. Perhaps we should have waited to announce until we were further along. However we were overly excited to share the good news."
They also added, "We will continue trying to expand our beautiful family. We are grateful for all of your support. We kindly ask for privacy during this difficult moment."
Britney Spears shares custody of her two children with Kevin Federline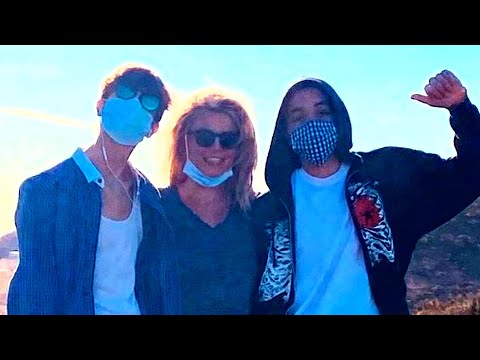 Spears currently has two children with her ex-husband, Kevin Federline. Their older son, Sean Preston, was born in 2005, while their younger son, Jayden James, was born in 2006.
According to StyleCaster, when Spears and Federline divorced in 2007, the pair initially had 50/50 custody of their children. However, not long after, Federline was given sole physical custody due to Spears' alcohol and drug use at the time. A few years later, the couple agreed to have a split 50/50 custody again, but in 2019—while Spears was under her conservatorship—Federline was granted 70 percent custody.
Now that Spears' conservatorship has ended, there are some talks about her possibly getting 50/50 custody again. However, a source reportedly told Hollywood Life that, given how old her kids are now (Sean Preston is turning 17 this year), Spears had been advised to not pursue changes to the custody agreement.
"She doesn't want to put her kids through that mess and deal with unnecessary attention to them or their lives," the insider alleged. "They are both fully old enough to know exactly what is going on. They love her and are so glad that she is finally getting her life back. All her sons have known their whole lives is Britney in the conservatorship."
Source: Read Full Article