Cardi B Calls Out Nerds for Putting On Mean Girl Persona on Social Media
The former 'Love and Hip Hop: New York' star claims she is not fooled by Internet gangsters who try to poke fun at others while they used to be at the receiving end of bullying.
AceShowbiz –Cardi B isn't impressed by people who are putting on fake persona online just to troll others. The Bronx femcee has called out social media users who tend to put on "mean girl persona" on the Internet, calling them "nerds in high school."
Having been dealing with tons of haters, the 30-year-old took to Twitter to share her message to those Internet gangsters. "That mean girl persona y'all put on for the internet don't fool me," so she posted on Friday, April 28. "I can tell y'all were NERDS in high school."
Someone agreed with Cardi, speculating that those Internet trolls most likely sat alone at the lunch table. To this tweet, Cardi replied, "LmAOooo naaa it just be so cringe watching kids ,grown woman/Men be on some nasty stank ish on the internet when you was getting your face smushed In the hallway …MIRRORING the exact same people you use to HATE !"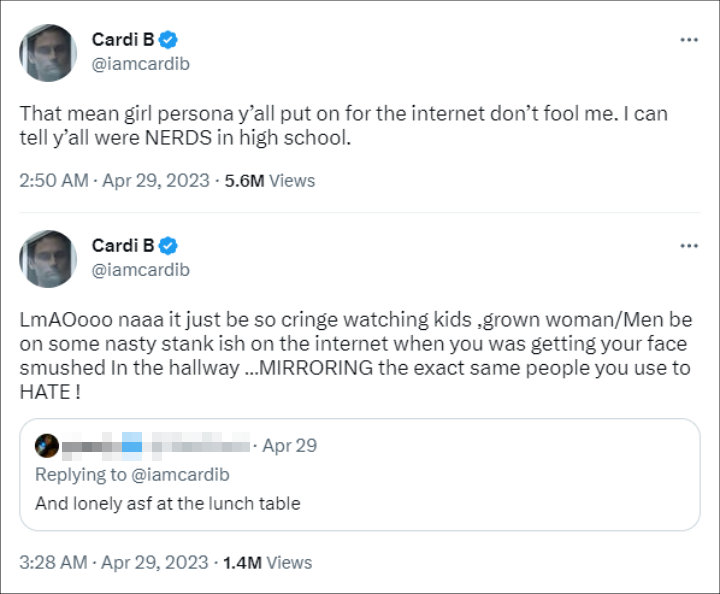 Cardi B called out Internet gangsters.
It's not clear why Cardi called out the Internet thugs, but her tweet arrived after she defended a woman who was mocked by a group of girls while taking selfies at a Houston Astros game. In a TikTok video, the woman shared that she lost her confidence after two girls sitting two rows behind her began taunting her and flashing the middle finger in her direction while laughing up a storm.
"Watch my confidence disappear after these random girls make fun of me for taking pics," she wrote at the beginning of the clip. Zooming on the girl flipping the bird, the user asked, "was this necessary." She admitted that she "wanted to cry" after realizing those women were talking about her.
"I would of put that ring to use," Cardi responded on Twitter, referencing the huge bling that the TikTok user was sporting in the clip.
You can share this post!
Source: Read Full Article