Game of Thrones Director Defends Why Jon Snow Didn't Pet Ghost
Note: This article contains spoilers for Game of Thrones season 8, episode 4, 'The Last of the Starks'.
The latest instalment of Game of Thrones season 8 witnessed a devastating shot of Jon Snow (Kit Harington) snubbing his beloved direwolf Ghost— and now we know why.
Jon's immediate future lies in the warmer climes of King's Landing, where Cersei Lannister and her armed forces await battle, so naturally the King in the North had to bid Ghost farewell.
Only it didn't really unfold as you'd imagine, as Jon merely stared at Ghost for a minute, looked down and walked away, leaving many fans wondering why he didn't even pet Ghost at least.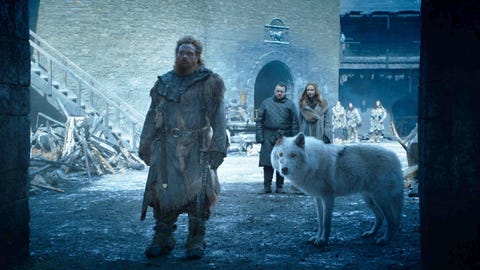 HBO
Well, in conversation with The Huffington Post UK, episode 4 director David Nutter has explained that there's a reason for Jon's odd behavior, and it's a very technical one.
"Since the direwolves are kind of CG creations, we felt it best to keep it as simple as possible. And I think that it played out much more powerfully that way," he said.
"Keeping Ghost off to the side, I thought that played out better," Nutter added, explaining that it gave Jon a final moment with Tormund and Gilly before having one last moment with his wolf too.
"Then he just walks off by himself, he turns to Ghost and has this moment with Ghost that I thought was very, very powerful."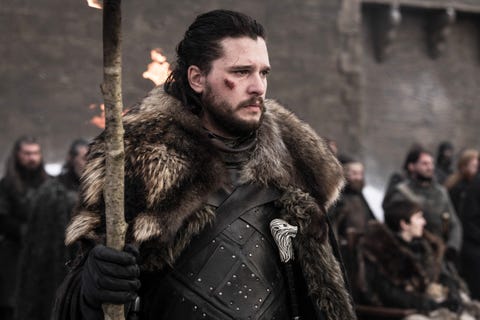 Helen Sloan/HBO
Samwell Tarly actor John Bradley also shared his thoughts on the moment, saying that he believes leaving Ghost in the north was the right thing to do—even if it hurt Jon to make that decision.
"I think that Jon knows what he's leaving behind," Bradley said. "Jon Snow is a noble man and he knows all about sacrifice. He knows what he has to keep safe, and he knows he has a responsibility to Ghost and a responsibility to Sam, Gilly and baby Sam because he knows where they'll be safe.
"He was very aware of the sacrifice of leaving those figures behind, and they know— hopefully, Ghost knows what he means to Jon—and Jon knows what Ghost means to him."
From: Digital Spy
Source: Read Full Article