Kendall Jenner Cutting a Cucumber Has Twitter in Hysterics
Thanks to their new Hulu series, The Kardashians, the KarJenners are back on TV. The famous family is once again giving fans a glimpse into their atypical lifestyle. And while the celebrities often claim to be just a normal family, clips from the show prove that they are anything but. Most recently, a clip of Kendall Jenner went viral because of the highly-unusual way she chose to cut a cucumber.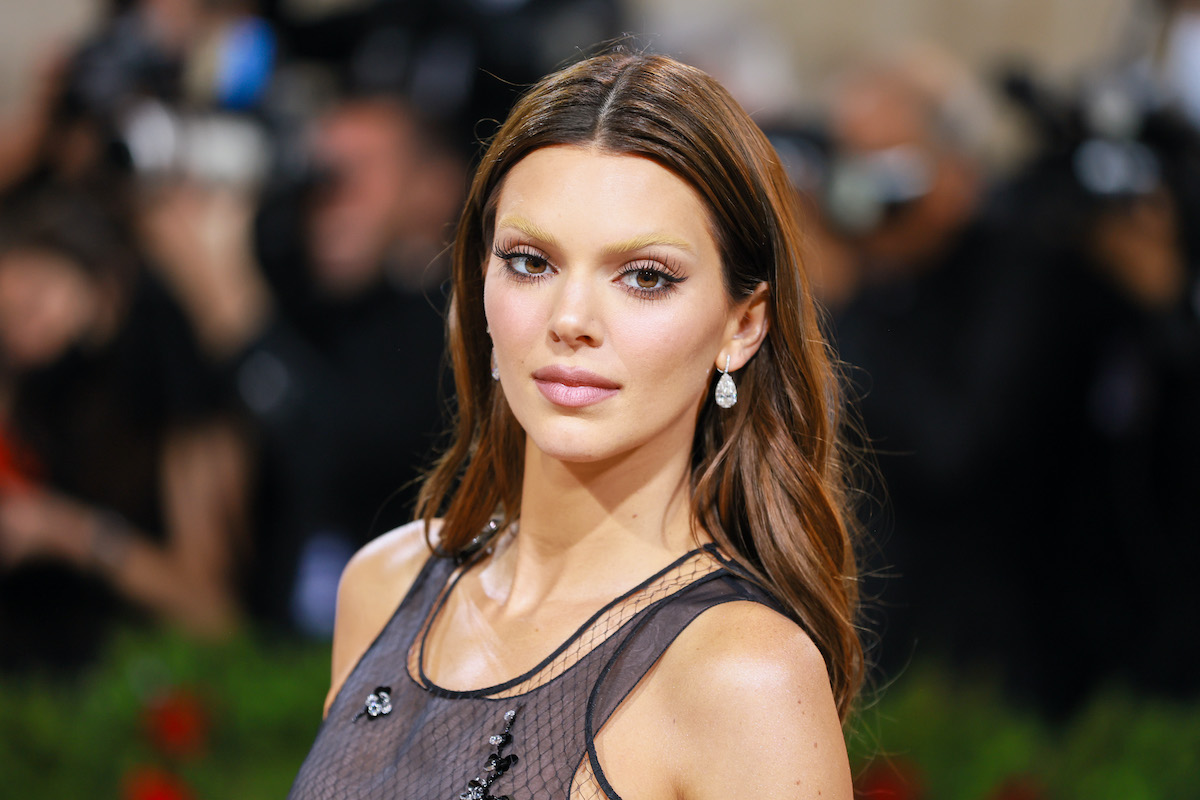 Kendall Jenner grew up famous thanks to 'Keeping Up with the Kardashians'
It's fair to say that Kendall grew up in the spotlight. She was only 11 when her family's original show, Keeping Up with the Kardashians, premiered. Her family's fame and access to wealth helped her to finesse a career as a model. She has also used her platform to launch her own brands and collaborations throughout the years. Most recently, she launched 818 Tequila, a brand whose name is a nod to the area code for Calabasas where she grew up.
The model's knife skills raised eyebrows on this week's episode of 'The Kardashians'
Because Kendall has led a privileged life, there are some things that she hasn't needed to develop skills for. One of these things seems to be knife skills. On this week's episode of The Kardashians, the model seemed to truly struggle with cutting a cucumber. Kendall was hanging out in her mother, Kris Jenner's, kitchen when she had a hankering for a snack. Kris offered to have her personal chef make her second youngest daughter some food, but Kendall decided to take matters into her own hand.
"I'm making it myself," Kendall declared. "Just gonna chop up some cucumber, it's pretty easy." Kris then warned her daughter to be careful, citing that she had nicked herself just the other day. This prompted the model to admit that she was pretty scared. "I'm definitely not a good cutter, so don't zoom in on me," Kendall said. "I'm not professional whatsoever."
Twitter reacts to Kendall's inability to cut a cucumber safely despite her age
Kendall then proceeded to cross her arms while attempting to cut the cucumber. The method was so bizarre that Kris, seemingly worried, called for her chef to come and help her child. Naturally, the Internet had plenty to say about the moment. Fans and critics alike quickly began sharing their reactions to the video on Twitter.
"I'm sorry but Kendall Jenner not being able to cut a mf cucumber 😭😭😭 the level of privilege to be in your mid/late 20s and not know how to properly cut a vegetable !!!!!!" one Twitter user wrote. "AND THEY PUT IT IN THE EPISODE !!!!"
Fans of the KarJenners found the moment truly hilarious
Other people claimed that Kendall's attempt to appear normal only hurt her in the end. "Obsessed with Kendall Jenner trying to prove she's not an out-of-touch spoiled rich girl by insisting on making her own snack and almost dislocating her shoulder trying to slice a cucumber," another Twitter user penned.
"The way Kendall Jenner proved she has never cut a cucumber in her entire life and was just trying to be relatable to the cameras will never not be funny," yet another person wrote on Twitter. "Hey chef 🙋, can you come cut this cucumber for my 26-year-old daughter. 😭 "
One person on Twitter even made a hilarious Arrested Development reference after seeing the video. "Kendall Jenner cutting a cucumber is the most "It's a banana, Michael, what could it cost, 10 dollars?" thing I've seen a rich person do in a long time," they penned.
Still, some people felt that Kendall's cucumber cutting was aspirational because it clearly demonstrated her wealth. "Kendall Jenner not knowing how to cut a cucumber is the level of rich I aspire to be," one Twitter user declared.
Kendall agreed that her knife skills are tragic
For her part, Kendall seems unfazed by the commentary. She agreed that the way she cut the fruit was indeed "tragic". But, for the sake of her limbs and digits, she might want to develop some knife skills in case of emergency.
Source: Read Full Article