King Charles Officially Invites Prince Harry & Meghan Markle to Coronation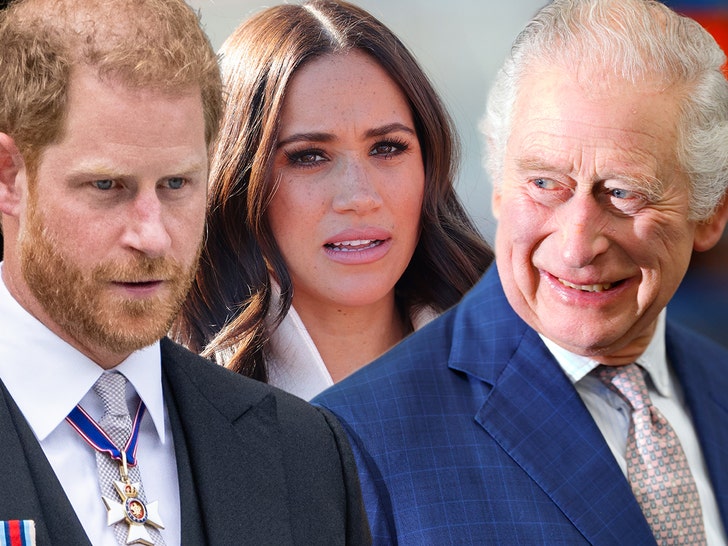 King Charles III has officially extended an olive branch to Prince Harry and Meghan Markle — asking them to be among his guests at the Coronation, but the couple's saying … eh, maybe.
His Royal Highness fired off the invite Saturday … this according to the Times of London, which broke the story. It appears Buckingham Palace got word to the Duke and Duchess of Sussex shortly after Harry's televised sitdown with Dr. Gabor Mate earlier in the day.
No word on what exactly the invitation said, but the message was clear … roll through!
Here's the kicker, though — Harry and Meghan are holding their cards close to the vest on their plans. Their rep says … "I can confirm The Duke has recently received email correspondence from His Majesty's office regarding the coronation. An immediate decision on whether The Duke and Duchess will attend will not be disclosed by us at this time."
In other words, it sounds like they have to think about it … as there's been a lot of updates since their Netflix doc and Harry's book. Of course, they recently got word that they were getting evicted from Frogmore Cottage (although there are reports Charles is offering a full-blown flat on the palace grounds as a replacement). Plus, Harry just spilled more of his guts.
Harry took some roundabout shots at his family in the Mate interview … saying he didn't receive enough love and affection as a child, and that he now suffers from PTSD. He also said that Meghan had "saved" him from his Royal life … and suggested his family was out of touch and insensitive. Plus, Harry clearly said Royal life was inherently inauthentic.
PH didn't address the Coronation or where things stand between him and his brother/father … but it was clear he feels the relationship is strained. Despite this, he also made sure to note that he felt what he was doing (sharing his story/problems) was worth it big picture.
In spite of all that, Charles sent the invite anyway — right in the mix of more headlines and drama. It's fascinating timing … and kind of a power move, no? Ball's in their court!
Source: Read Full Article