Kylie Jenner 'Would Love To Be Pregnant' With Her Second Child 'By Next Year'
For the record: Miz Kylie Jenner isn't pregnant again yet. But if she has it her way, she will be very soon!
The KUWTK star has been dropping not-so-subtle hints left and right lately about procreating again with her rapper boyfriend, Travis Scott. The couple seem more in love than ever, after recently celebrating the Astroworld rapper's 28th birthday this past week.
But amid all of the celebrations and general happy times as a family of three, Ky is reportedly keeping her eyes on the prize and pushing hard for another baby!
A source tells E! News that the issue is so pressing, that the Life of Kylie star practically mentions it almost every day.
The source dished:
"Kylie talks about having another baby very frequently. She would love to have another baby with Travis and would love to be pregnant by next year. She talks about it all the time and feels like she was truly meant to be a mother."
As early as next year?!?!
We're already halfway through 2018, so that'll be sooner than we think, y'all!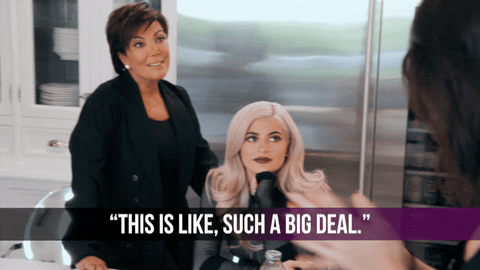 It feels like such a big deal to us, because it seems like it just yesterday we were collectively celebrating little Stormi Webster's first birthday.
Let's hypothetically say that Ky gets pregnant in early 2020. If our math is correct, she'd welcome another child by the Fall, making her two children just about two years apart — just like her and older sister Kendall Jenner. Maybe this is exactly what the Kylie Cosmetics creator had in mind all along!
Either way, it's already been made crystal clear that having a family, no matter how big or small, has always been in the 21-year-old's master plan. Speaking to Interview Germany back in March, the reality TV star previously admitted:
"I always knew I wanted to be a young mother. I remember people used to ask, 'Are you ready for this?' And I always knew I was ready but you don't know what that love and that feeling is like until after you have a child. She really comes before me so that is a lot to take in at a young age but I feel like I was definitely made for this and she has changed my life for the better."
She also added:
"The way that I look at things is a lot more positive. I really feel like my life didn't start until I had her."
We're getting our baby bump watched started now, friends!
Thoughts, Perezcious readers? Any bets on when we'll actually get some more official baby news?
Leave your thoughts in the comments section below!
Source: Read Full Article