Madonna Candidly Admits to Getting Plastic Surgery After Looking Unrecognizable at Grammys
The 64-year-old 'Like a Virgin' hitmaker's confession comes weeks after she took the Grammys stage to introduce Sam Smith and Kim Petras for their 'Unholy' performance.
AceShowbiz –Madonna has finally gotten candid about the cosmetic procedures she had. The 64-year-old Queen of Pop has admitted to getting plastic surgery after being heavily criticized for looking unrecognizable at the 2023 Grammy Awards.
On Monday, February 20, the "Material Girl" hitmaker took to Twitter to coyly reveal that she had plastic surgery. Along with a photo of herself smiling for the camera while sitting in a chair, she wrote, "Look how cute i am now that swelling from surgery has gone down. Lol [laughing with tears emoji]."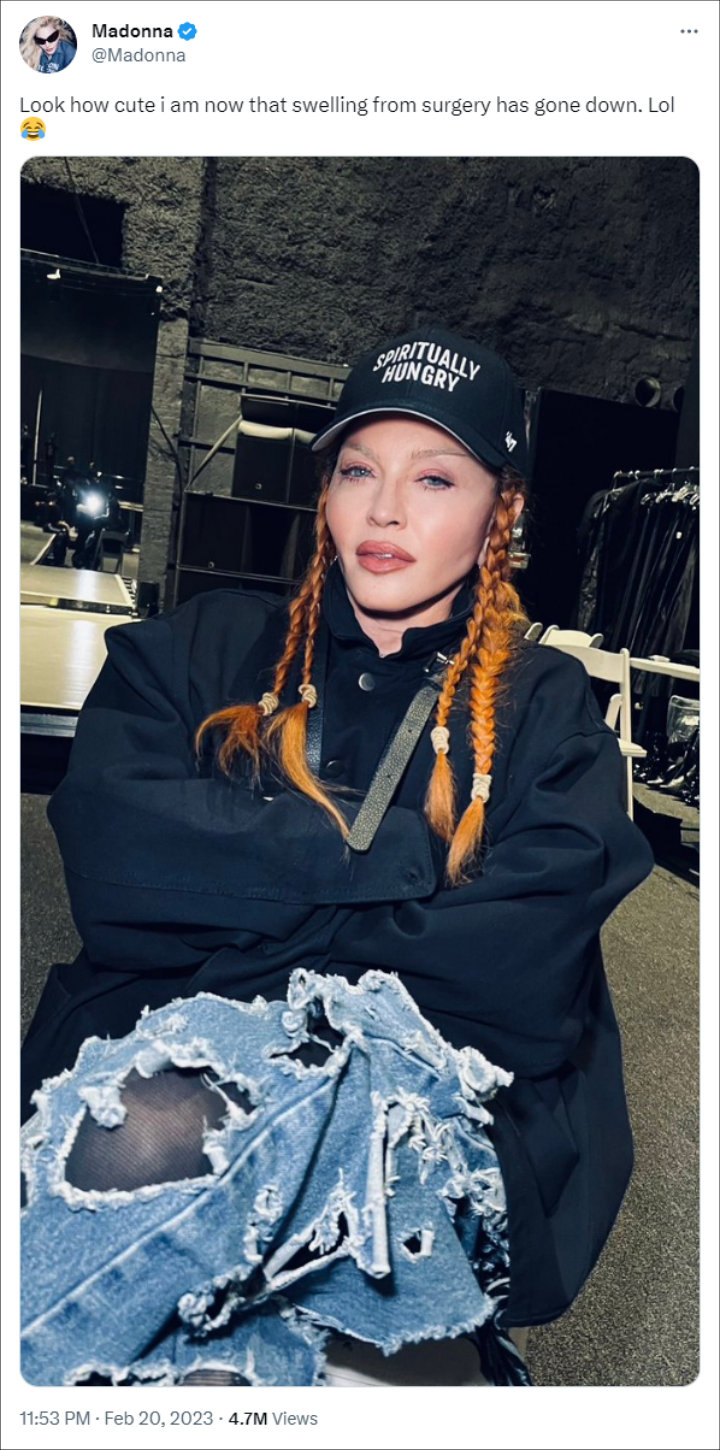 Madonna candidly admitted that she had plastic surgery.
In the snapshot, Madge rocked a pair of distressed blue jeans over sheer tights, a black jacket and a black cap that read, "Spiritually Hungry." The "Like a Virgin" singer's quip came weeks after she took the Grammys stage to introduce Sam Smith and Kim Petras, the first trans woman to perform at the show and win a Grammy, for their performance of "Unholy".
During her brief appearance, Madonna quickly became a trending topic after fans made remarks about how different her face looked. "Me attempting to ignore the fact that Madonna has a whole new face. #GRAMMYs," one Twitter user wrote, adding a meme video of Adele looking confused at a basketball game. "Has Madonna been nominated for 'Best New Face' at this year's Grammy Awards?" another user weighed in.
Someone else remarked, "That is not the Madonna I grew up with. This is a lesson for all, embrace aging." Another said, "I could barely recognize Madonna at the Grammys," while a different user said they believed Madonna covered her neck to hide her neck lines, writing, "Madonna is so smart. She covered her neck so she doesn't look old lol."
Upon learning of the backlash, Madge issued a statement that blasted "ageism and misogyny." The "Papa Don't Preach" singer wrote, "Many people chose to only talk about Close-up photos of me Taken with a long lens camera By a press photographer that Would distort anyone's face!!"
"Once again I am caught in the glare of ageism and misogyny That permeates the world we live in. A world that refuses to celebrate women pass the age of 45 And feels the need to punish her If she continues to be strong willed, hard-working and adventurous," she added.
Madonna went on to note that she has "never apologized" for her appearance, and she's "not going to start," before referencing Beyonce Knowles' "Renaissance" hit, "Break My Soul". She added, "I have been degraded by the media since the beginning of my career but I understand that this is all a test and I am happy to do the trailblazing so that all the women behind me can have an easier time in the years to come," before concluding, "Bow down b***hes!"
You can share this post!
Source: Read Full Article