Popeyes in Philadelphia Bans Homeless from Restaurant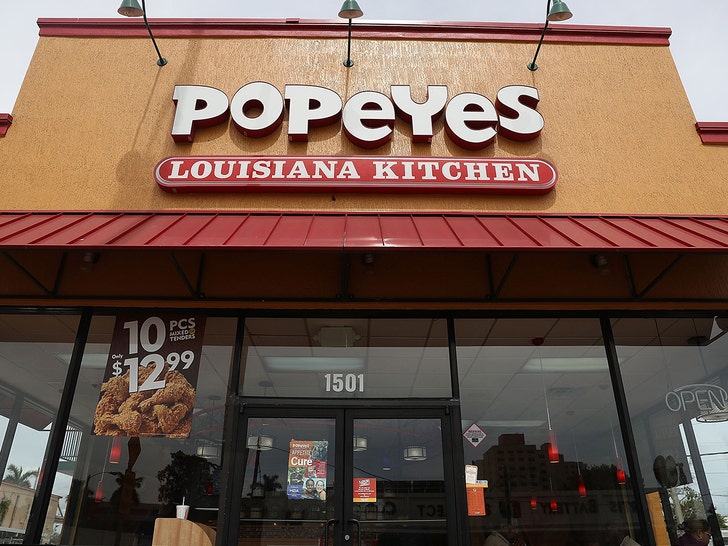 11:19 AM PT — 12/13 — A spokesperson for Popeyes corporate tells us the sign has been taken down, adding, "At Popeyes, we are committed to treating everyone with dignity and respect. All guests who follow government health and safety mandates, including wearing masks, are always welcome to dine in our restaurants. We are working with the franchise owner of this restaurant to further understand the situation."
9:17 AM PT — A manager at Popeyes tells us the sign was only put up after getting approval from higher-ups, and it's an attempt to address some issues they've had with homeless patrons.
Dayshon Aaron Sields says the restaurant staff does let homeless people come in to sit and warm up, and will even sometimes give them food, but he says they often come in without face masks … which they can't allow, per Philly's mandate for all restaurants. Of course, one could say that's a problem with all customers … regardless of their living situation.
Sields also tells us another reason for the sign is they don't want to have to call cops on homeless people who "come in and trash the store." He adds … they "understand there is a problem with people being homeless, and do not want to add to the problem, but also have a business to run and rules and regulations they have to follow."
A Popeyes franchise in Philly has a pretty awful solution to the homeless crisis … ban them from the store.
The sign is front and center inside the fast-food joint, which reads in big block letters, "NO HOMELESS PEOPLE ALLOWED INSIDE THE STORE."
There are a bunch of problems with this, aside from the absence of humanity. First, if someone is homeless that doesn't mean they don't spend money on food. The sign doesn't say homeless people are not allowed to loiter inside … it's a flat prohibition, even if a homeless person simply wants to buy a chicken sandwich.
Second, it's kind of ridiculous to think someone can automatically be identified as homeless. And that leads to the third point … if someone "looks homeless," are Popeyes' employees supposed to boot them from the restaurant?
Not the way to solve the prob, Popeyes.
Originally Published — 12/12 6:34 AM PT
Source: Read Full Article