Royal Photographer Predicted Prince Harry And Meghan Markles Marriage Would End After 3 Years
Prince Harry and Meghan Markle's marriage has been scrutinized since the day they tied the knot. The couple first met in July 2016 after being set up by a mutual friend, according to the Independent. They went on their very first date at Soho House in London, and really hit it off. From there, they made plans to see each other as often as their schedules would allow. Of course, at the time, Meghan was still working on "Suits," and Harry had several obligations and royal duties that he needed to carry out. Things moved fairly rapidly from there, and it didn't take long for the two to fall in love. In November 2017, while the two were at home "roasting chicken," Harry got down on one knee and proposed to Meghan, according to Today. 
Once they went public with their engagement, it seemed as though the tabloids put out never-ending content, focusing more on the negative than the positive. The reason? "Because it sells papers," royal historian Marlene Koenig once said, according to The Washington Post. And plenty of people had their doubts about the Duke and Duchess of Sussex — even Harry's own brother, Prince William, thought that Harry and Meghan's relationship moved a little too fast, according to People magazine. It seems that people were stopping just short of taking bets on how long Harry and Meghan would last. And, for one specific royal photographer, the best guess was just three years — and he has spoken out about his prediction. Read on to find out more.
Prince Harry and Meghan Markle didn't make it three years living in the UK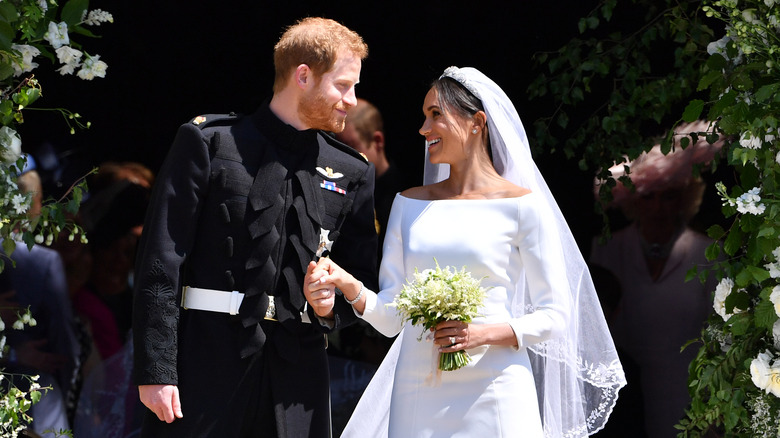 The royal wedding took place on May 19, 2018, despite the doubts surrounding their union. In July 2021, royal photographer Kent Gavin — who once had a close relationship with Prince Harry's mother, Princess Diana — spoke to Insider about his dim outlook on Harry and Meghan Markle's marriage. "When it was announced that Harry was going to marry Meghan, I said to my colleagues and a few people, I don't give that marriage three years," he told the outlet. It seems as though Gavin felt very similarly to the way others feel when it comes to an American celebrity marrying into the royal family. "I cannot see Hollywood, which is Meghan, a beautiful woman, a confident actress, putting up with the system, which even Diana couldn't cope with," Gavin explained. 
Of course, three years have since come and gone, and Harry and Meghan seem to be doing more than okay — though their situation has changed drastically over the past year and a half. In January 2020, the Duke and Duchess of Sussex formally stepped down as senior members of the royal family — and moved out of the UK. It seems that Gavin may have been right, however, when you look at things this way; Harry and Meghan didn't last within the royal family for three years. Now, life looks very different for the couple, who live in Montecito with their two children, Archie and Lilibet Diana. 
Prince Harry and Meghan Markle may have the odds stacked against them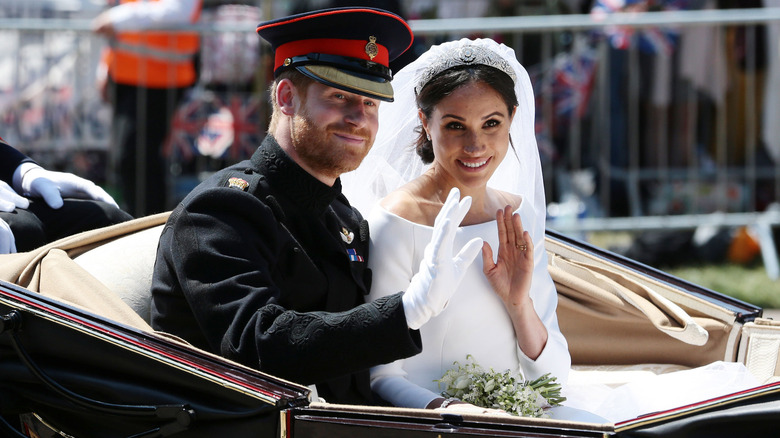 Of course, quite a few people have been forced to eat their words when it comes to Prince Harry and Meghan Markle's marriage. In 2021, the Duke and Duchess of Sussex celebrated their third wedding anniversary, and they don't seem to be having any issues. Back in April, Lady Colin Campbell told Page Six that there was no way that Harry and Meghan's marriage was going to last. Another person who doesn't think that these two have staying power? Meghan's estranged half-sister, Samantha Markle. In May, she told TMZ that she doesn't think that Harry will stick around long term. Lady Victoria Hervey also doesn't think that Harry and Meghan have staying power, telling The Sun that the two won't last because they "rushed in."
Meanwhile, Harry and Meghan haven't shown an iota of disconnect thus far in their marriage. They are over-the-moon in love with their newborn, according to their statement on the Archewell website, and don't seem to be letting the negativity affect their day-to-day lives.
Source: Read Full Article