Sam Asghari Ditches Wedding Ring as Britney Spears Enjoys Getaway With Pal Cade Hudson
The 29-year-old model goes ringless on a solo outing in Los Angeles while his singer wife is on vacation with her longtime manager amid rumors of marriage problems.
AceShowbiz -There could be trouble in paradise in Britney Spears and Sam Asghari's marriage. The couple has fueled speculation that their relationship is on the rocks as they have ditched their wedding rings, just nine months after they tied the knot.
On Thursday, March 30, Sam stepped out to run errands in Los Angeles while his wife is currently on vacation with her pal Cade Hudson. During the solo outing, the model went ringless. In photos obtained by Daily Mail, his bare ring finger was visible as he pulled his car keys from his pocket.
The 29-year-old hunk was spotted walking across a parking lot wearing a fitted black T-shirt, camouflage print trousers and pink trainers. He accessorized with a silver watch and also wore what looks like a sport band.
Sam, however, appeared to wear his wedding band again in his latest social media update. On Thursday, he posted a video of him posing in what looks like a plane while flashing the silver ring.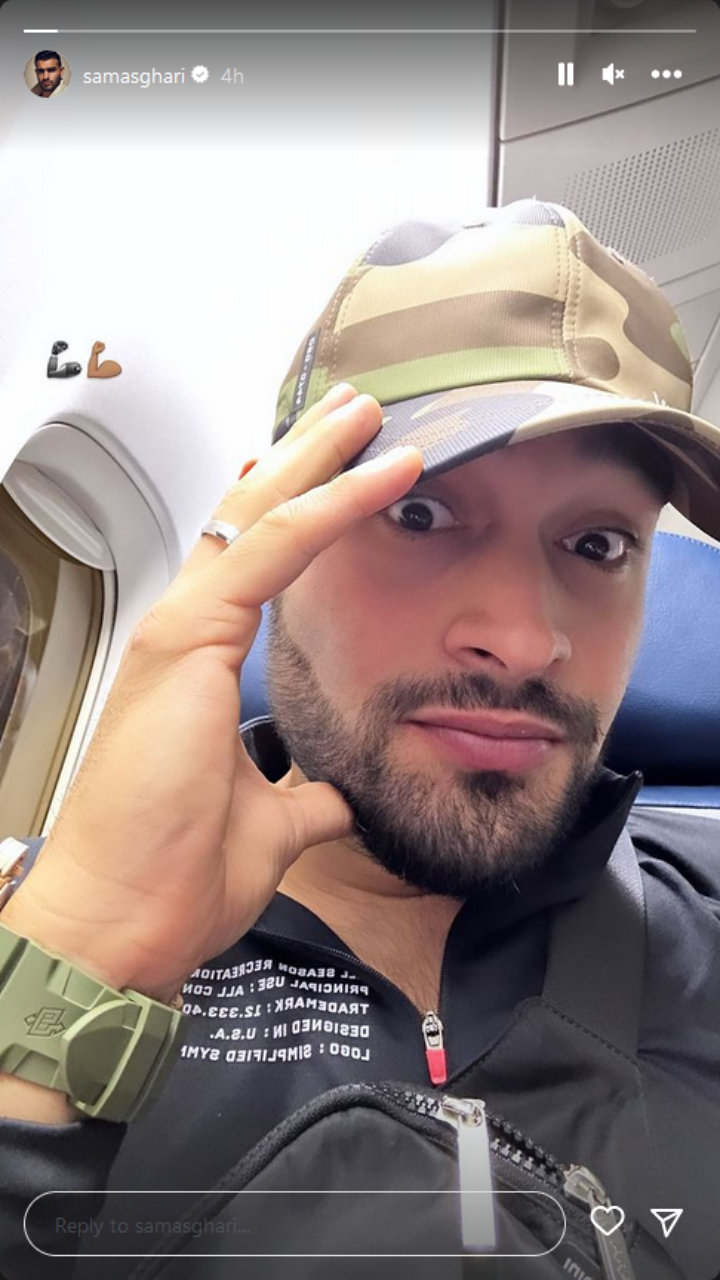 Sam Asghari wore his wedding ring again after ditching it on a solo outing.
Britney also went without her ring on when she left L.A. for Hawaii with her longtime manager Cade two days before. On Tuesday, the pop superstar looked disheveled as she climbed out of the backseat of a chauffeured SUV.
Her bare ring finger was visible as she reached for a plaid jacket behind her. She then put the jacket on and shielded her eyes with a pair of aviator sunglasses while holding a teddy bear, before boarding a private jet.
On the same day, Britney shared on Instagram a video and photos of her cuddling with Cade in the plane. She has also posted a video of her frolicking on the beach during the tropical getaway.
Speculation arose that Britney and Sam are currently not on good terms after she shared a throwback video remembering the good times before her third marriage earlier this month. "Throwback to Mexico … before I got married … so happy and silly here," she wrote in the caption.
Her eyebrow-raising caption got one of her fans asking, "So she's not happy now?" Another user claimed, "She's obvs not happy now, but that also makes me say… the marriage still seems shammy."
Britney and Sam married on June 9, 2022 after dating since 2016.
You can share this post!
Source: Read Full Article