Sisterhood of the Traveling Pants Producer Alison Greenspan Lost Battle With Cancer
The woman behind 'What a Girl Wants' and 'Eloise at the Plaza' among others died at the age of 48, and her business partner, Doug Robinson, remembers her as 'a tenacious producer.'
AceShowbiz -Film and TV producer Alison Greenspan has lost her battle with cancer, aged 48.
The woman behind films like "The Sisterhood of the Traveling Pants", "What A Girl Wants", "Eloise at the Plaza" and "Ramona and Beezus" passed away on Sunday, June 27.
Her business partner, Doug Robinson, has confirmed the sad news, calling Greenspan "a tenacious producer, who loved nurturing and protecting the artists she worked with."
"I consider myself lucky to have had her as my friend and partner… She will be missed by all of us who were fortunate enough to have known her."
Before working with Robinson, Greenspan was an executive at Denise Di Novi's production company, where she worked on projects like 2002's "A Walk to Remember".
"Alison was simply the best, at everything," Di Novi says in a statement. "A brilliant, tenacious producer. A fiercely loyal and generous friend. The most tender, loving wife and mother. I was blessed to work with her by my side for so many years; she is loved by so many and will be remembered as a shining light in this business."
Author Nicholas Sparks has also shared message of condolences. "We are absolutely heartbroken over the loss of our dear friend & producer Alison Greenspan. She helped us bring 'A Walk to Remember', 'Nights in Rodanthe', 'The Lucky One' & 'The Best of Me' to life on screen," he tweeted. "She was an amazing woman & this is a terrible loss. We'll miss you, Alison."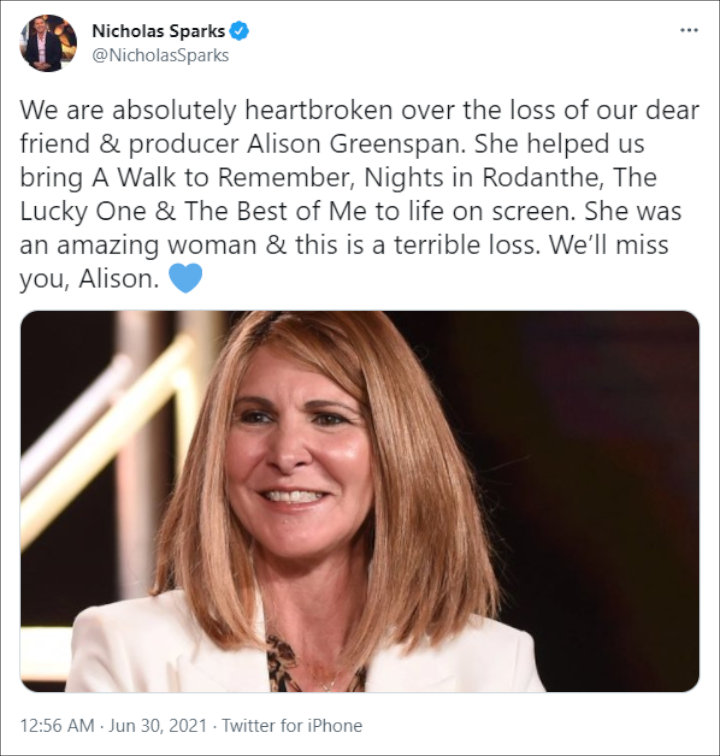 Nicholas Sparks tweeted message of condolences.
Born in Washington, D.C., Alison began her career at CAA as an assistant to top Hollywood agent Jack Rapke. She followed him to production company Imagemovers and became an executive.
Source: Read Full Article