The Truth About Angelina Jolie's Dating History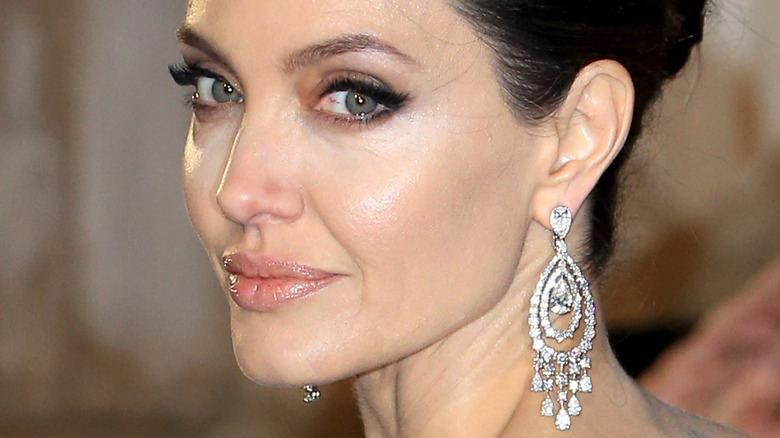 Everyone knows who Angelina Jolie is and her wild ride the past three decades. She shot into superstardom in the early 1990s as the wild child who had a fascination with blood, but she solidified her Hollywood career after winning the Oscar for her role in the 1999 hit "Girl Interrupted." For the next two decades, she gained leading roles in such films as "Changeling," "Wanted," "The Tourist," "Mr. and Mrs. Smith," the "Maleficent" franchise, and soon she's appearing in the MCU in the film "The Eternals." Along with acting, she's gone into directing and advocacy. She's directed films like "In the Land of Blood and Honey," "By the Sea," and "First They Killed My Father" to name a few (via IMDB).
She has become a Goodwill Ambassador for the United Nations, focusing on children in war-torn countries. As for her personal life, she loves being a mom and has dedicated her life to her six children. (via Biography). But as many people know, her dating life has been a roller coaster.
Jolie showed up to her first wedding in a blood-stained outfit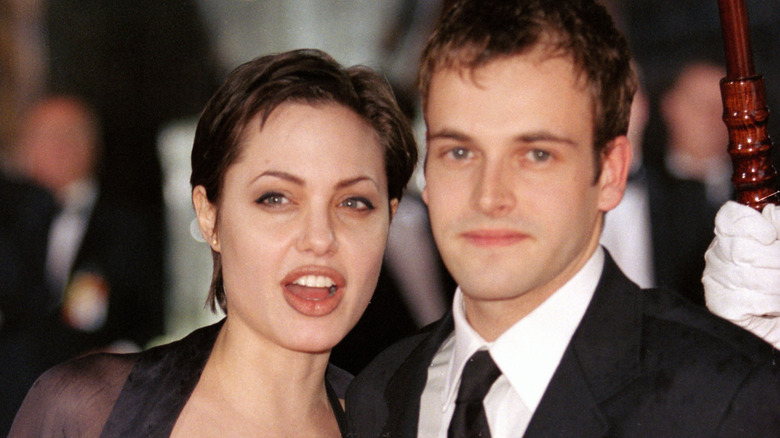 Angelina Jolie met her first husband, British actor Jonny Lee Miller, on the set of the 1995 film "Hackers." A year after meeting, they tied the knot and Jolie wore a rather odd wedding outfit: rubber pants and a white T-shirt with Jonny's name written on it in her blood (via PopSugar).
Though they officially divorced in 2000 (simply because their romance fizzled out), they remained great friends over the years (via Showbiz Cheat Sheet). In fact, as of June 2021, Jolie had been spotted at Miller's apartment multiple times, at one point even bringing her son Pax along with her (via E!).
Around the same time Jolie met and married Miller, she was also seeing Jenny Shimizu, who she met on the set of the 1996 film "Foxfire." In a 1997 interview, Jolie revealed her feelings for Shimizu, saying, "I probably would have married Jenny Shimizu if I hadn't married my husband." She continued, "I fell in love with her the first second I saw her." She's the only woman Jolie has been publicly with as of 2021 (via PopSugar).
Jolie and Thornton had one of the most controversial relationships in the early 2000s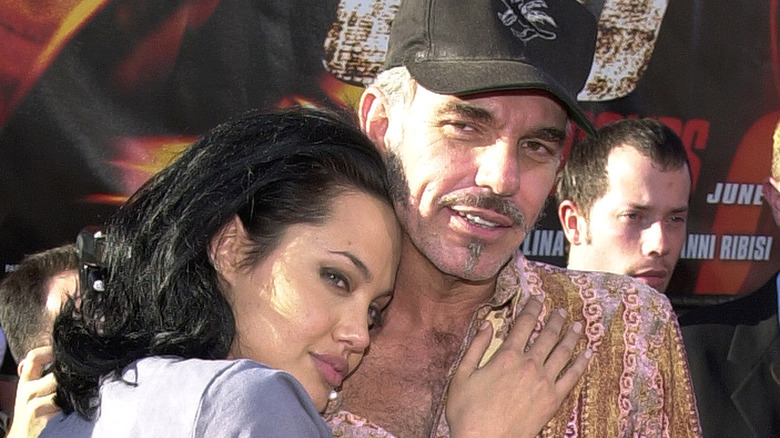 After her split with Jonny Lee Miller, Angelina Jolie then struck up a relationship with Timothy Hutton, but it was cut short as she had run off with her second husband, Billy Bob Thornton. Thornton and Jolie met on the 1999 film "Pushing Tin" and sort of hit it off immediately. Almost one year exactly later, the two fled to a minister in Los Angeles. They were one of the most controversial couples at the time, with him being 20 years her senior, wearing vials of their blood, and PDA out the wazoo. But it seemed like they were on Cloud Nine every time people saw them.
Only a couple of years later, however, the pair fizzled, too, with Jolie telling Vanity Fair her side of the story. "In a year I became who I am today, very much, and he became who he is today," adding, "It was just totally different paths in life, and then we just looked at each other one day and we had nothing to say to each other."
Soon after, she was rumored to have hooked up with former costars Colin Farrell, Jared Leto, and Val Kilmer in 2003 and 2004 (via PopSugar).
Jolie and Pitt made headlines with everything they did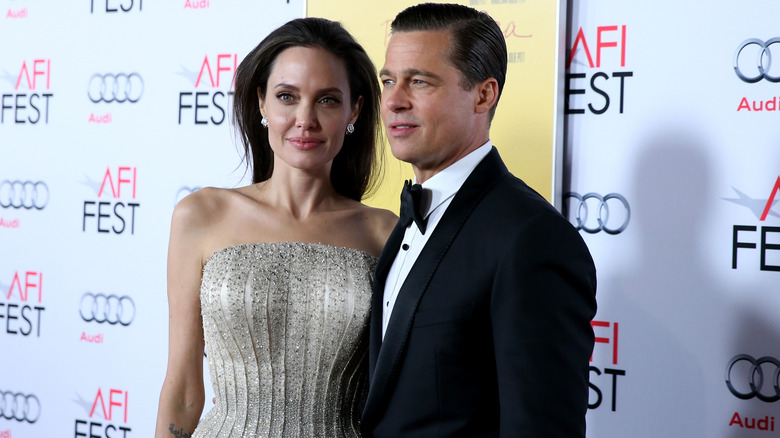 In 2004, the great debate of Angelina (Jolie) versus Jennifer (Aniston) started. Jolie was cast opposite fellow actor Brad Pitt in the hit film "Mr. and Mrs. Smith." They fell in love on set, but Pitt was still married to actor Jennifer Anniston at the time (via The New York Times). Jolie and Pitt's relationship bloomed in 2005, after coming out as an official couple. 
In October 2005, it was revealed that Pitt had adopted Jolie's children, Maddox and Zahara. Jolie recounted to People about the moment they became a family, "One day Maddox just out of the blue called him Dad. It was amazing." A few months later, they announced that they were expecting their first child together, Shiloh (via PopSugar). In 2007, they adopted Pax and one year after, she became pregnant with twins, Knox and Vivienne. Pitt and Jolie finally got engaged in 2012, when Jolie was sporting a $1 million engagement ring and they tied the knot in their French Chateau in an intimate ceremony two years later (via Glamour). 
Then Brangelina fans' hearts broke everywhere when it was announced in 2016 that the couple filed for divorce. For the past five years, many updates have come about their divorce. Things were cordial and calm until 2020, when the custody battles hit a boiling point (via The Cut). As of 2021, Jolie seems to be focusing on her kids for a while.
Source: Read Full Article