The Truth About Anthony Ramos And Jasmine Cephas Jonas' Relationship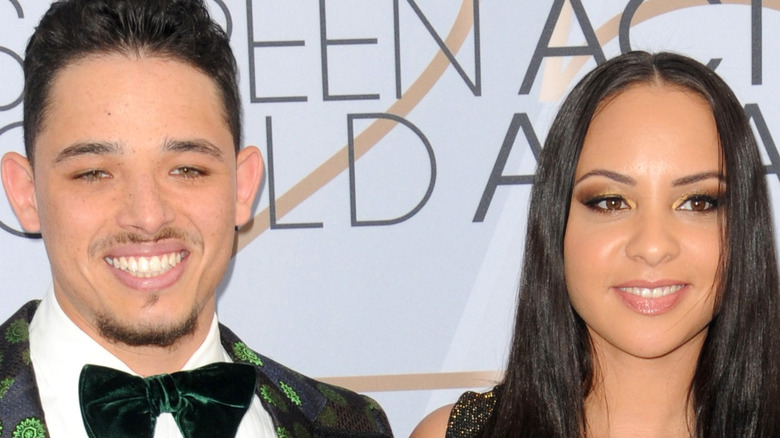 Lin-Manuel Miranda is quite the versatile man – he's a singer, actor, rapper, producer, and playwright, among many other titles. But it seems that he can finally add matchmaker to his extensive resume, as he had a huge part in the coupling of Anthony Ramos and Jasmine Cephas Jones.
One day in 2014, during rehearsals for Miranda's show-stopping musical "Hamilton," Ramos and Cephas Jones met for the show's first table read. According to Miranda, Ramos couldn't help "sneaking glances" at Cephas Jones, who was the newest cast member at the time (via Twitter). But the two were just friends at that point, posting photos to social media of casual hang outs and group events.
Fast forward to 2017, and Ramos shared a Valentine's Day post to Instagram commemorating their relationship anniversary and writing sweet nothings to Cephas Jones, whom he called "incredible"  (via Entertainment Tonight). Ramos noted it was their two-year anniversary, so it would seem that the two became a couple in 2015, when "Hamilton" premiered at the Public Theater.
Anthony and Jasmine's relationship developed alongside "Hamilton"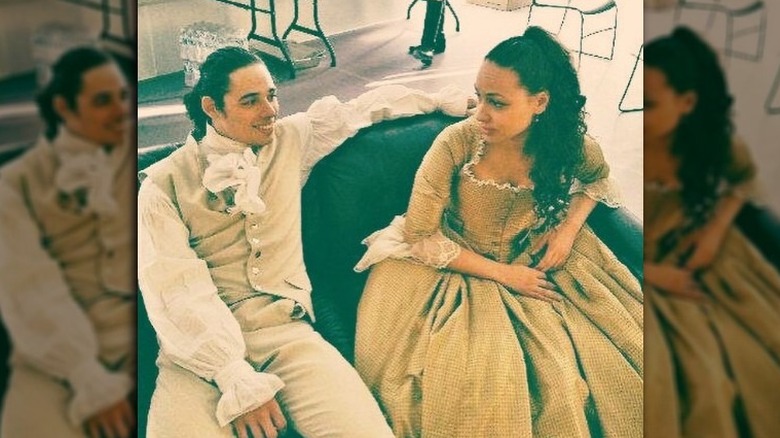 As the success from "Hamilton" began to grow, so did Anthony Ramos and Jasmine Cephas Jonas' relationship. The couple began posting more photos together, both in and out of costume. In August 2015, "Hamilton" officially opened on Broadway, which was later awarded a Grammy as well as an invitation by Barack Obama to perform at the White House. 
Cephas Jones shared a photo on Instagram of herself and Ramos standing in the White House with a caption that read, "Feeling all the feelings right now at the White House!!" Sentiments of awe would later be shared by Ramos via a YouTube video in which he reflected on the momentous occasion, expressing, "It was one of those moments … It's like two kids from Brooklyn just in the White House, in love, chilling," (via Elle).
Eagle-eyed fans might have caught onto the couple's new relationship at that point, but it wasn't until Ramos and Cephas Jones appeared at the May 2016 production of "Daphne's Dive" in New York City that they had made any public appearances together.
Anthony and Jasmine have worked together after Hamilton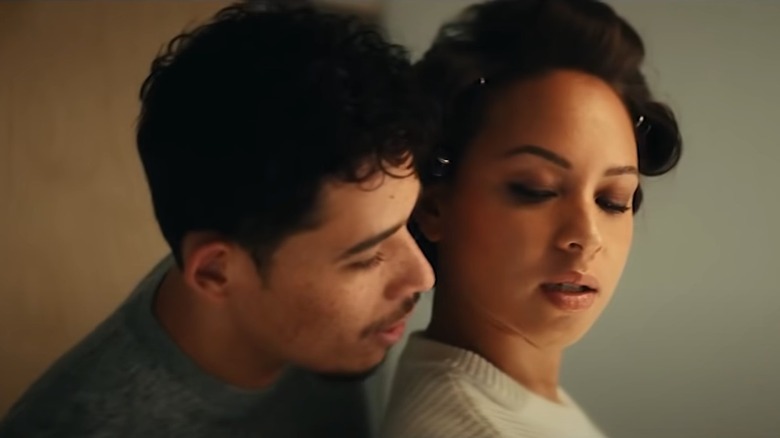 November 2016 commemorated Anthony Ramos' heartbreaking departure from "Hamilton" to take on the 10-episode Netflix adaptation of Spike Lee's 1986 film "She's Gotta Have It" of the same name (via USA Today). 
In response, Cephas Jones posted a  heartfelt message to Ramos on Instagram that read, "Happy Trails to the love of my life @anthony_ramos_nyc. You give your heart and soul every night 8 times a week and I'm going to miss sharing the stage with you
Now go on and be the shining bright star that you are!!!" But fret not: it wouldn't be long before the couple was reunited for another project.
In January 2018, the couple appeared in Reinaldo Marcus Green's film, "Monsters and Men," a film that navigates police brutality towards the Black community, in which Cephas Jones plays a pregnant woman. On working together again, Ramos gushed to Entertainment Tonight, "It's a dream. It was wild, I'm not gonna lie. When she had the belly and we were playing around and she put on the fake belly and I touched it I was like, [wow]."
He later added that he would definitely be open to starting a family in the future. The two would also work together in the music video for Ramos' song "Mind Over Matter" in which the two appear as a couple. The music video gives fans a sexy glimpse into what domestic life may look like for the pair – and it's obviously incredibly cute.
Anthony and Jasmine are happily engaged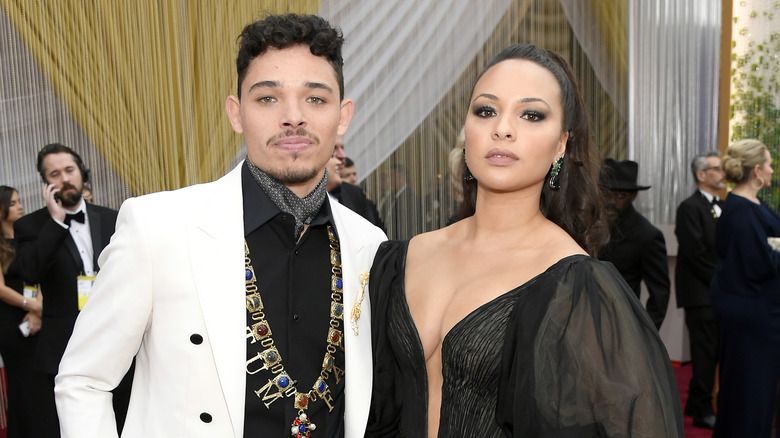 After three more years of dating and appeared at red carpet events together, the couple finally got engaged. Anthony Ramos proposed to Jasmine Cephas Jones in front a castle in Arundel, England, which she would later reveal was her favorite place to visit as a child. 
"[The proposal] brought tears to my eyes because I don't get to see my family in England that I'm so close with that much because we are an ocean away, but they got to witness this amazing event in our lives," said Cephas Jones , per Elle. "And what a moment it was!!" 
While a wedding date had yet to be revealed as of writing, they reportedly plan to tie the knot sometime in 2021 (via Cheatsheet). And while the date hasn't been set yet, there are a few details that the couple have already agreed on. "Jasmine and I both love music, so the DJ's gotta be on point," Ramos told Vogue. "I want people sweating, suit jackets off, chancletas on."
Source: Read Full Article