The Untold Truth Of Bachelor In Paradises Joe Amabile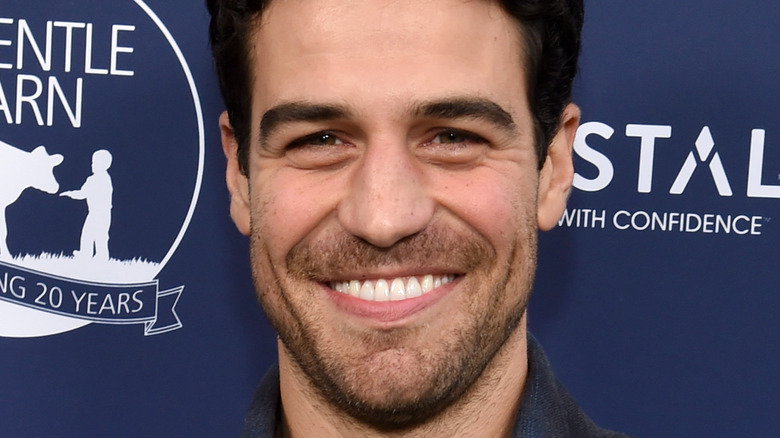 Michael Kovac/Getty Images
By Angela Barbuti/Sept. 7, 2021 2:49 pm EDT
With all the ups and downs that come with being a Bachelor Nation fan, there is one man we can always rely on to warm our hearts. With his wide smile and easygoing demeanor, Joe Amabile became a unanimous favorite the moment he stepped out of the limo in Season 14 of "The Bachelorette" in 2018. Although he made the show's history by getting eliminated on the first night, we got attached to the tall, dark, and handsome Chicago native for his endearing authenticity — and the humble then-grocery store owner definitely did not expect all of that attention. "It was kind of shocking … I never really had social media, even, so it's all pretty crazy!" he told ET at the time.
The summer following his television debut, Joe took a second chance at love on "Bachelor in Paradise," where he fell for Kendall Long, as noted by Parade. In January 2020, after two years of dating, they shockingly announced their split. However, that heartbreak did not stop Joe from believing in the power of reality show romance.
In 2021, he revisited the "BiP" beaches looking for love on the sand once again. And viewers rejoiced in watching Joe, who a fan referred to as the "MVP" of the whole franchise (via Twitter), on his continued journey to find his person. Will the third time be the charm for the hopeless romantic? We'll just have to wait and see. And if it doesn't work out for him this time around, there's always next summer!
He once found love in Paradise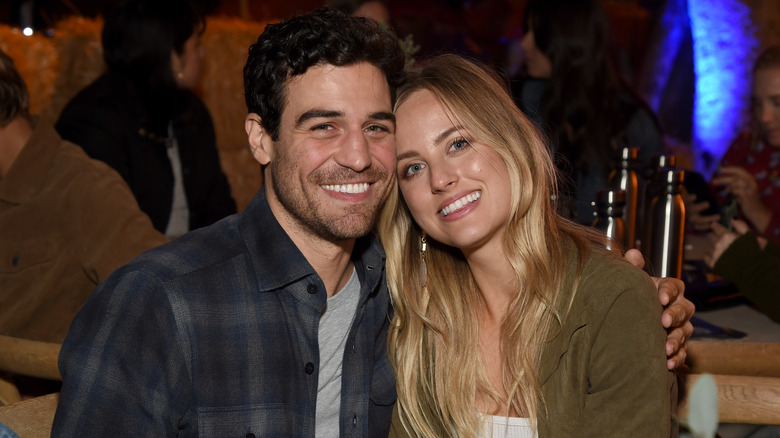 In 2018, Joe Amabile fell in love on the sands of Paradise. After he kissed Kendall Long on Night 1, he was officially smitten. They had some detours along the way — like Leo Dottavio and his luscious locks — and ultimately Kendall left Joe on the beach. However, on the reunion show, the happy couple announced that they had rekindled their romance. 
But after two years of supposed bliss, the pair gave a joint statement to Bachelor Nation, revealing they split once again. "We have decided mutually to go our separate ways. Joe has made the decision to move back to Chicago while Kendall will be remaining in her hometown of Los Angeles," they said.
On her podcast "Down to Date," Kendall opened up about being blindsided by the breakup, explaining that, although Joe was away from his family and friends, she thought they would get married and live happily ever after in Los Angeles. "Everything was fun, we were getting a dog together. We had just moved in," she shared. When she was interviewed on "The Ben and Ashley I: Almost Famous" podcast, she dished on the fact that it would be devastating to see her ex with another woman on the 2021 season of "Bachelor in Paradise." So, as the producers of "Paradise" devised, Kendall entered the beach on Week 3, just as things were starting to heat up for Joe and Serena Pitt.
Is Joe Amabile engaged to Serena Pitt?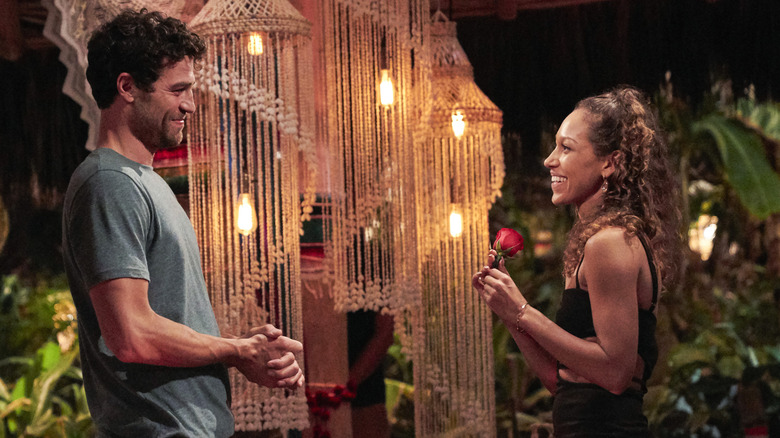 Two times could be the charm for Joe Amabile when it comes to finding love under the sun. On the premiere of Season 7 of "Bachelor in Paradise," he seemed confident it could happen, saying, "It worked the first time, I'm hoping it works again" (via People). Looks like he knew what he was talking about because it's rumored that, during his second stint on the show, he not only finds a partner, but gets engaged at the end of it. 
From Day 1, Joe and Serena Pitt, who sashayed in to the "BiP" set fresh off of Matt James' season of "The Bachelor" — where she shocked him by leaving after their hometown date — displayed undeniable chemistry. After a heart-to-heart talk that night, they shared passionate kisses, despite their 12-year age difference. According to Reality Steve, the pair sticks it out, getting betrothed on the show's season finale. And to seemingly confirm that the pair is still going strong, the blogger tweeted out a photo of them looking very cozy at a rooftop pool in Chicago, where Joe resides.
As far as lasting relationships formed on "Bachelor in Paradise," there is a surprisingly high success rate (via Distractify), so it may work out for Joe and Serena. Some happy couples that began their relationships by flirting on the beach include Jade Roper and Tanner Tolbert, who now have three kids, and Ashley Iaconetti and Jared Haibon, who announced they were expecting their first child together in July 2021. 
Becca Kufrin has said she regretted eliminating Joe on The Bachelorette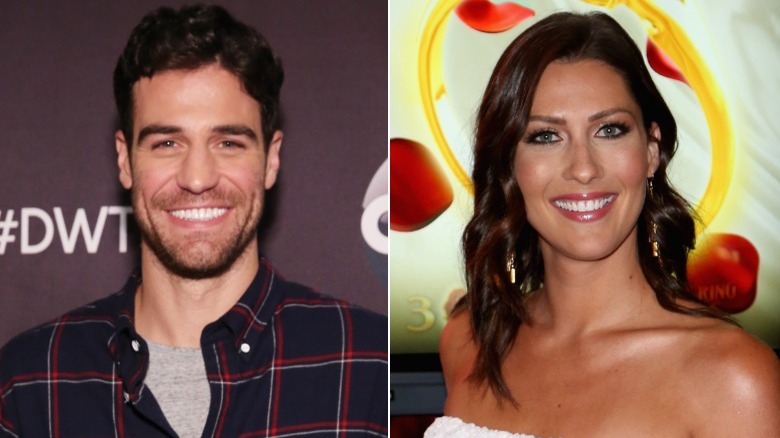 Joe Amabile made his Bachelor Nation debut on Becca Kufrin's season of "The Bachelorette." However, the then-31-year-old was not given a rose on Night 1 and went home disappointed. As he exited the mansion, he managed to keep his cool, unlike other castoffs (via People). In his exit interview, he nonchalantly stated, "What are you gonna do? I mean, there's nothing I can do about it." On that season's "Men Tell All" special, now-dethroned host Chris Harrison marveled at how loved Joe became despite having been on the show for such a brief time. 
So what does Becca have to say about that notorious elimination? On an episode of "Bachelor Happy Hour" (via Bachelor Nation), the "Bachelorette" alum did admit to sending Joe home prematurely. "So, yeah, in hindsight, I probably should have kept him around a little bit longer. And I know the production team really wanted him on longer. They really liked Joe, which says something, so I should have listened to them," she said.
Although Joe confessed on the "Men Tell All" special to initially thinking he'd be embarrassed by his swift exit, things turned out unexpectedly well for the reality star. And because of Joe's continued involvement in the franchise, he has become even more beloved, with fans rooting for him to find the happily ever after that he deserves. 
Joe Amabile competed on Dancing with the Stars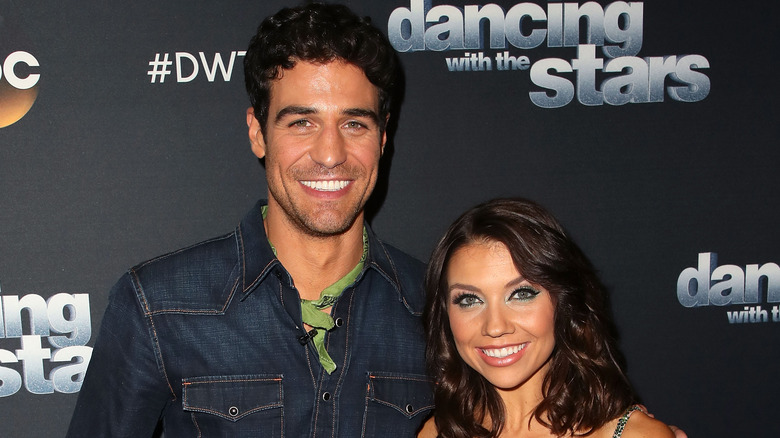 It's quite apparent that ABC can't get enough of Joe Amabile because the "Bachelor" franchise is not the only one on the network that wanted him to be a part of it. Immediately following his original stint on "Bachelor in Paradise" in 2018," he was asked to trade in his flip-flops in for dancing shoes, and he joined "Dancing with the Stars." 
The brutally honest reality star kept it real when it came to his chances in the ballroom. "I don't know how to dance," he told People at the time. "It will be really bad. I'll probably be throwing up." Even his own mom, Gina Amabile, lovingly threw her son under the bus, telling the Chicago Tribune, "I'm like a nervous wreck because he can't dance. … I mean, he's never danced." 
Joe was partnered up with pro Jenna Johnson, and in their intro video, he predicted a quick demise. He wound up making it all the way to the semifinals in Week 8, sparking some controversy. In fact, some "DWTS" fans even took to social media to express their discontent that he was seemingly only being voted back each week because he was popular in Bachelor Nation (via Newsweek). When he was ultimately eliminated, he told Entertainment Tonight that he had no regrets because he was his true self the entire time and "probably" had the best smile amongst all the other competitors — we have to agree!
How Joe Amabile became known as Grocery Store Joe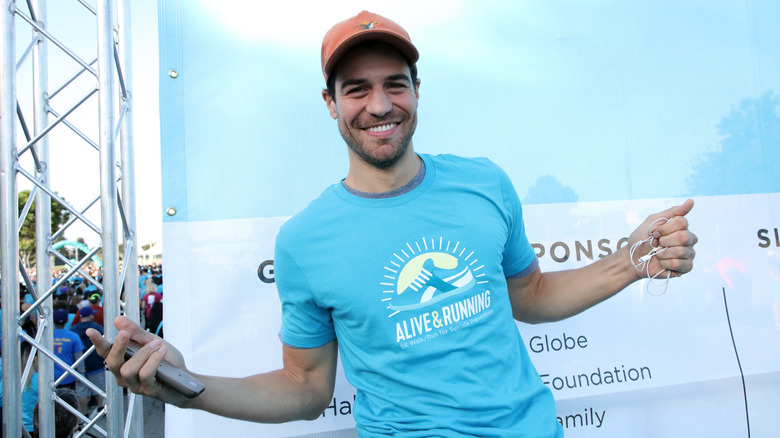 When he was a fresh-faced contestant on "The Bachelorette," Joe Amabile could have never imagined that his profession would spark so much attention in Bachelor Nation. A fun fact to know about him is that he literally got his start on the show after being approached in a grocery store. "I was approached in Chicago in a Whole Foods … which is not my grocery store!" he told Entertainment Tonight. "I was asked if I'd like to try out, and I feel that everything happens for a reason, so I said, 'Yeah, sure, why not?'"
When he joined the franchise, he was part owner of Eric's Food Center on the South Side of Chicago (via Chicago Tribune). In fact, it was at that store that he filmed the video that introduced him on "The Bachelorette." In the clip (via People), he said, "I know my fruits and vegetables … Women — not so lucky. I deal in produce, but one thing I haven't produced yet is love." And it wasn't long before viewers gave him the nickname Grocery Store Joe.
In 2018, Joe revealed on "Dancing with the Stars" that he no longer owned the grocery store. But Bachelor Nation didn't seem to take notice of that trivial detail because his nickname is still going strong years later. 
The Italian-American is a restaurant critic and runs a food vlog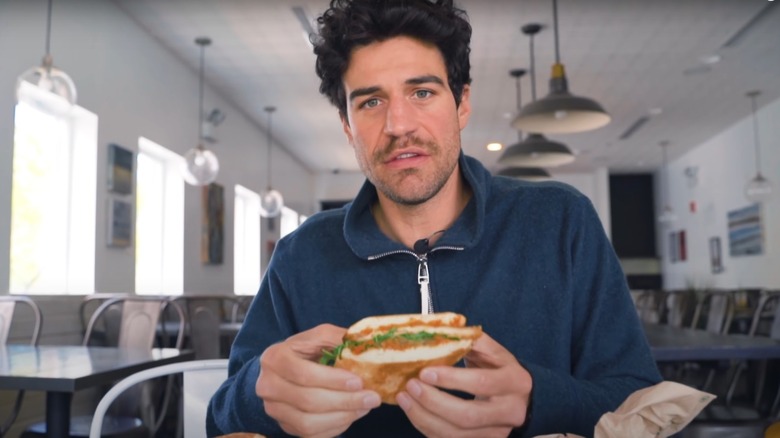 When Joe Amabile is not on television, he can be found critiquing dishes at restaurants in Chicago. The famous foodie has a family history in the produce industry. "The business has been in my family since I was born," he dished to Emme Magazine. "My dad was a police officer and he had a side job where he would deliver produce to restaurants in Chicago."
When he moved back to Chicago after his split with Kendall Long, Joe's goal was to open up a pizzeria there. But then the COVID-19 pandemic began and thwarted that plan, so he decided to launch Sundays with Joe, a site where he writes about local eateries. "There wasn't anything else to do, so I thought I would do a food vlog," he said to Emme. "The content I was putting out was for myself and it helped local restaurants since many were struggling in the midst of COVID."
On his blog's Instagram page, he can be found posting yummy-looking photos of everything from pizza to pasta served at places around Chicago. Additionally, as he is a true Italian-American — his family is from the province of Naples — he sells his own tomato sauce, which is available to purchase on his website. He even has a YouTube channel where he talks about everything from the best sausage in Chicago to how to make chicken parmesan to what to order on a date night.
The reality star is a native of Chicago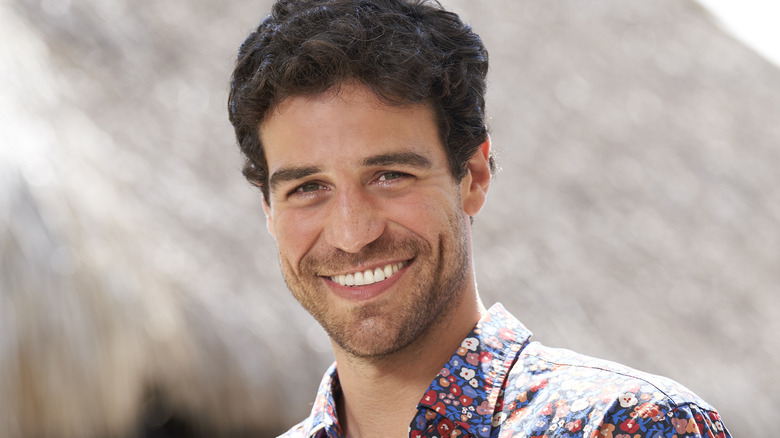 Joe Amabile calls Chicago home, and we know he has a lot of love and pride for the Windy City since he abandoned Kendall Long and their Los Angeles home to move back there! He grew up in the town of Melrose Park, attending local Catholic schools, and as a young student, he began exuding his ultra-likeable personality. A teacher from his high school told the Chicago Tribune, "Joe was a charmer … He was an average student, but he would try like batting his eyelashes at you and try to make you feel like, 'Oh yeah, I'll give you a break.'" Even his dentist, who has been treating the Amabile family for years, gave Joe some well-deserved accolades. "He's just one of those types of people that everyone in the office likes, from the time he walks in to the time he leaves," he said.
Although we can't be sure what went down after "Paradise," we do know that, according to the sleuthing of Reality Steve, Joe and Serena Pitt are spending time in Chi-Town. And since he's said his favorite things to do there include attending Cubs games and riding his bike around town (via Emme), we may be seeing more photos of him and his alleged new love interest enjoying those pastimes together. And we'd bet that Joe already brought Serena to one of his favorite spots in the area, Monteverde, which is, very fittingly, an Italian restaurant.
There are those who think the fan favorite would make an ideal Bachelor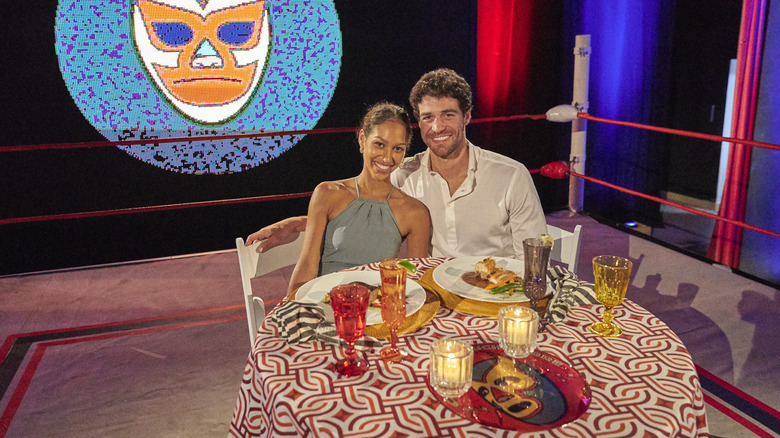 Many fans want to see Joe Amabile with his own season of "The Bachelor." This is apparent from the slew of posts on social media calling for the former grocer to be given the honor of handing out roses. Dating back to 2018, when he first appeared on "The Bachelorette," he made such an impression on fans that they started voicing their opinions that he should be cast as the lead. Joe was even trending on Twitter, according to Entertainment Tonight!
Fast-forward years later, and that plea is still being made across Bachelor Nation. In 2021, as the veteran reality star appeared on "Bachelor in Paradise," seeming to have a difficult time adjusting at first, the love for the hopeless romantic poured in on social media yet again. Tweets like, "Protect Joe at all [costs]" and "Grocery Store Joe's smile is what being wrapped in a warm blanket feels like" are just some examples of this online gushing. 
And since ABC had yet to announce who the Bachelor would be for the upcoming season, fans began majorly promoting Joe. Even stars weighed in, with guest "BiP" host Lance Bass telling Us Weekly that Joe has his vote. Former Bachelor Nick Viall also commented on his podcast "The Viall Files" that he felt producers were giving Joe "a Bachelor edit" during "Paradise."
In addition to his TV stints, he hosts a podcast with other Bachelor Nation stars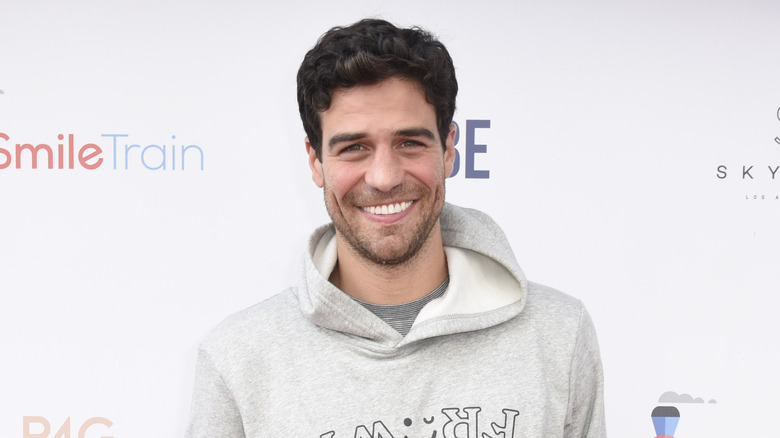 Like many of the franchise's contestants who have come before him, Joe Amabile began a podcast. The pop culture-themed show, which launched in 2020, is aptly named "Click Bait with Bachelor Nation" and weighs in on the "most ridiculous and bizarre headlines of the week in pop culture, breaking down all the clickbait so you don't have to," as noted by Bachelor Nation. Joe joins cohosts and fellow alums Tayshia Adams and Natasha Parker. However, when the podcast originally aired, it was Hannah Ann Sluss, not Natasha, as a cohost. But after nine episodes, Hannah Ann announced that she would be focusing on other opportunities and would be stepping down, as noted by Monsters & Critics.
Each week, the trio welcomes a franchise guest to join them. They've sat down with fan favorites such as Becca Kufrin, who spoke about her relationship with Blake Horstmann; Kaitlyn Bristowe, who discussed Katie Thurston and Greg Grippo's breakup; and Mike Johnson, who talked about what red flags to look for when dating. 
And Grocery Store Joe definitely gives fans what they want, providing insight into his own life experiences. He's spoken on everything from when he asked a cheerleader to homecoming in high school to his hangover hacks.
Source: Read Full Article