Tyler Joseph Celebrates Second Childs Arrival With Hilarious Hospital Photo
In a note accompanying the first picture of his newborn baby he shares on social media, the Twenty One Pilots singer jokingly says that he 'had a great time' during the labor.
AceShowbiz –Tyler Joseph has a unique way to announce the arrival of his second child. Taking to his social media platform, the Twenty One Pilots singer shared a hilarious photo from the hospital.
To celebrate the special moment, the 33-year-old musician posted a funny family photo on Twitter on Saturday, April 10. In the snapshot, he could be seen posing alongside his wife Jenna Joseph, who held their newborn daughter as she lay in a hospital bed.
Jenna looked hilariously exhausted in the picture. In the meantime, Tyler looked happy. The "Stressed Out" crooner also added a zoomed-in version of his and Jenna's funny faces. "New baby arrived yesterday," the singer announced, before adding a joke that he "had a great time" during the labor. He continued, "Already named her, but still open for suggestions."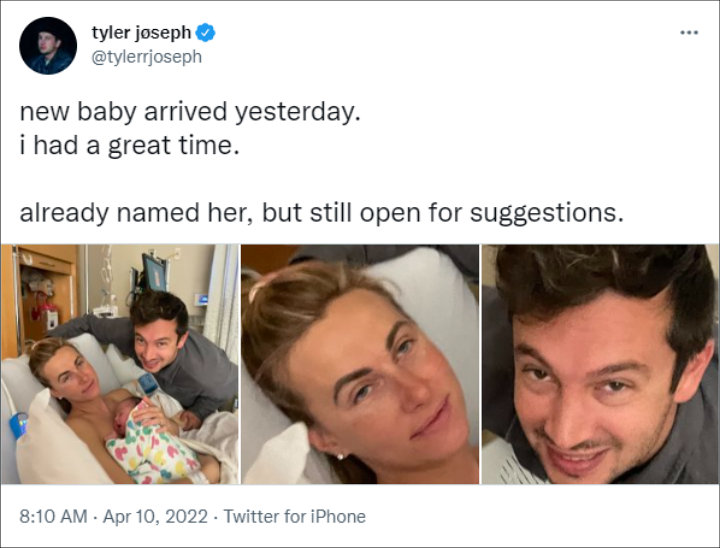 Tyler Joseph announced his second child's arrival with funny photo.
When one Twitter user asked if the singer would share his baby girl's moniker, Tyler said that he'd let his wife do that. "Nah letting jenna tell everyone in her instagram post that i'm sure she'll get around to in a couple of months," he replied.
Tyler first revealed that he and Jenna were expecting another baby during the Twenty One Pilots' performance at the 2021 MTV Video Music Awards. "My wife is pregnant! I didn't want to text everybody, so I thought I'd let you know right now," he announced from the stage. "Now you know!"
Then in February, Jenna revealed on her Instagram page that she and Tyler would be having another girl. "Tyler+jenna+rosie+baby sister coming in april," she captioned a series of maternity photos.
Tyler is no stranger to announcing his wife's pregnancy while performing. The "Blurryface" artist also made the announcement of his first baby on the way during Twenty One Pilots' Lollapalooza Berlin set in September 2019. "I know I said I'm bringing a couple people on stage and that's true," the musician said, dropping to his knees to kiss his wife's stomach as the crowd erupted into screams.
At the time, Tyler was joined onstage by his wife, whom he married back in March 2015 after getting engaged in Paris the previous year. For their baby reveal, Jenna wore a patterned dress that showed off her bump.
Months later, Jenna unveiled her first child's full name and date of birth. "Meet Ro," she captioned a video of her growing family. "Fresh out of the oven. Rosie Robert Joseph was born February 9th. Robert after Tyler's middle name."
Source: Read Full Article