Florence Pugh's Side-Boob-Baring Polo Dress Is Completely Sheer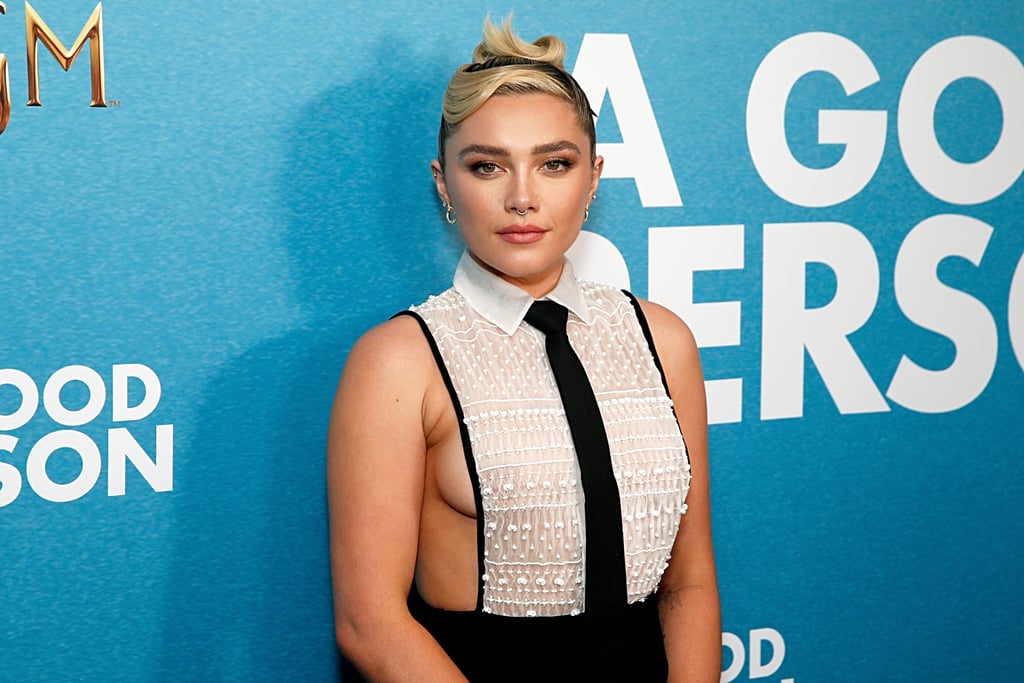 Florence Pugh's Side-Boob-Baring Polo Dress Is Completely Sheer

Florence Pugh hit the red carpet in yet another Valentino ensemble for MGM's screening of "A Good Person" in New York City on March 20. The 27-year-old actor, who has a starring role in the film, directed by her ex Zach Braff, flaunted plenty of side boob in a dress from the Italian fashion brand that hails from the pre-fall 2023 collection. The look gives off the illusion of a full bodice from the front, but from the back, the design is completely open with just two spaghetti straps holding up the sleeveless polo across the chest. Crafted from a sheer, gauzy fabric with a satin collar, Pugh's polo came stitched with white sequins that provided subtle distraction from her bare breasts. A black tie finished off her collar and accented the trim of her shirt and long skirt that swept the floor.
Pugh's stylist Rebecca Corbin-Murray also sourced Tiffany & Co. jewelry to accessorize the outfit, including 18-carat diamond hoops, platinum studs, and plenty of architectural gold rings. Pugh also wore her septum ring, and Alex Babsky amped up the glow with lots of highlighter, shimmering eyeshadow, and a coral pink lip. Peter Lux fashioned her blond bob into a twisted updo with a wavy bang that crawled her head toward the back, where a single black ribbon was pinned to her bun. Finally, Dawn Sterling employed a glossy pink manicure with a small crystal stud on each nail.
Pugh brought her mom, dad, and grandmother to the event, posing for photos with them along the way. Her "Granzo Pat" even complemented her look with a black-and-white printed Valentino coat. Ahead, see every angle of Pugh's latest Valentino triumph, then reminisce about the custom gown and hot pants Pierpaolo Piccioli created for her Oscars appearance just one week prior.
Source: Read Full Article