Of All Of Christina Aguileras Looks – This Stands Above The Rest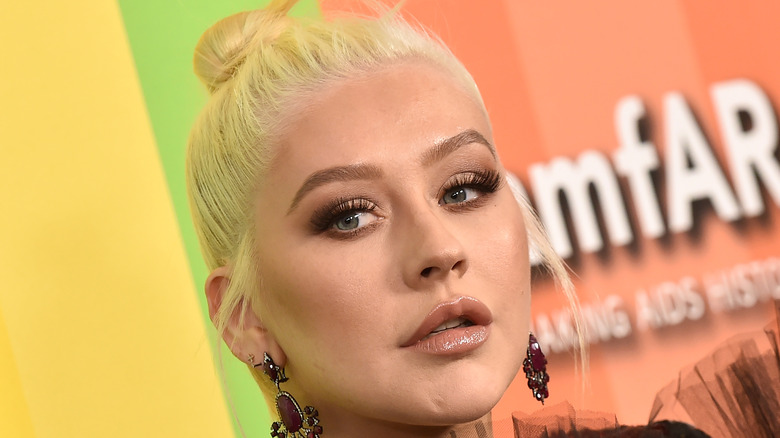 DFree/Shutterstock
By Mike Nied/Aug. 24, 2021 1:48 pm EDT
Christina Aguilera is a style chameleon. Like Madonna, the queen who paved the way for a new generation, the "Beautiful" singer knows a look can define an era. And she is every bit as adept at switching things up as the original "Material Girl." This ability has been on display since the start of her career.
Aguilera served fresh-faced ingenue in the 1999 music video for her debut single, "Genie In A Bottle" (via YouTube). Watching it back, you're treated to a plethora of cropped tops that complement Aguilera's expertly foiled blonde hair and blue eyes. She was clearly a star on the rise and a style icon in the making.
Her image sharpened by the time she notched her third No. 1 single on the Billboard Hot 100, "Come On Over (All I Want Is You)," in 2000 (via Billboard). By then, Aguilera was a diva in the new millennium, a fact evidenced by the futuristic looks, body jewelry, and streaky red-and-blonde hair in the accompanying music video (via YouTube).
InStyle noted that the trends Aguilera helped popularize in the early millennium are very much back in fashion today. Celebrities such as Dua Lipa and Kendall Jenner step out now looking like they pilfered items from the big-voiced diva's closet way back when. So many of her looks from the era remain relevant. However, one — her "dirrtiest," if you will — exists in a class above the rest.
Christina Aguilera grew up and "Stripped" down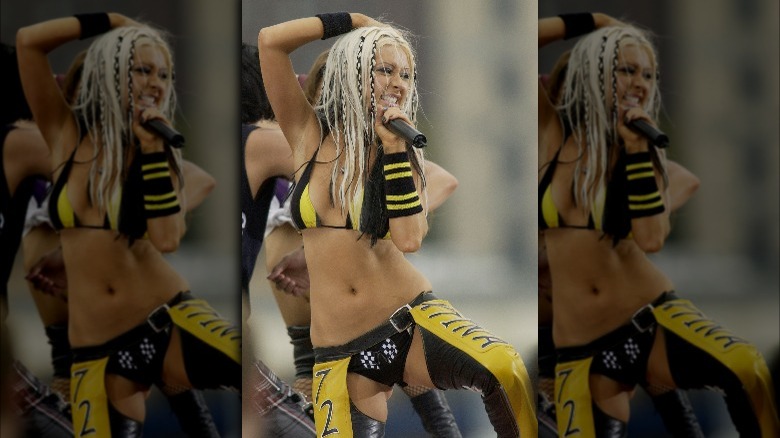 Christina Aguilera wanted the world to view her as a grown woman when "Stripped" arrived in 2002. A lot had changed for the hitmaker since "Genie In A Bottle" made her a household name. In 2000, she dropped a Spanish-language album and a Christmas album. Those projects helped her develop a creative range that set her apart from peers like Britney Spears. And she only emphasized the differences when she introduced "Stripped" with its rollicking lead single "Dirrty." Spears, then on her third album, "Britney," continued to flirt with a coquettish girlishness, but Aguilera took a sexier route. 
"When we came out, there was an essence of innocence that you had to sort of portray blindly," she told Irish Times in 2018. "And I wasn't about to play that game, I wasn't that girl. I really wanted to be honest and truthful. So I came out with Dirrty. That was me stepping up and saying I was a woman that's proud of my sexuality. I was proud of my vulnerability. I was proud of the fact that I've fought my way through this industry." 
That brash rebelliousness was on full display in the David LaChapelle-directed music video (via YouTube). Aguilera showed out in a barely-there wardrobe featuring micro-mini skirts, knee pads, bikini tops, black-streaked hair, and, most importantly, chaps.
Christina Aguilera got a lot of use out of the chaps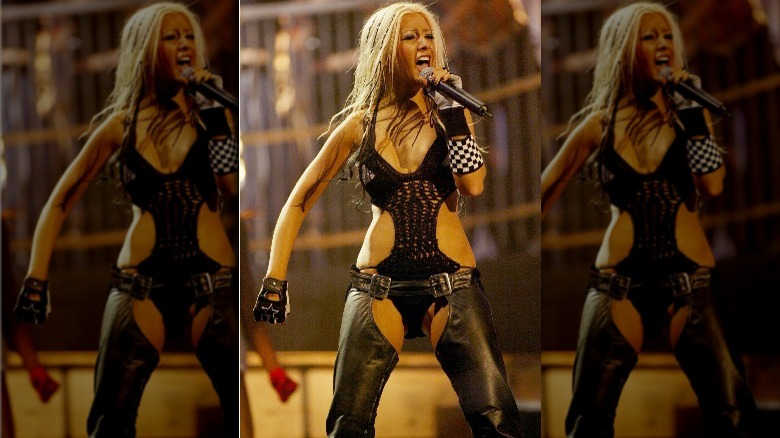 Although Rolling Stone noted that "Dirrty" did not represent the sonics of "Stripped," the music video's styling helped set the scene for the rest of the era's aesthetic. Looking back in 2018, Christina Aguilera told Billboard that "Dirrty" was her "favorite" video of all time. "It's just so freeing, and it was the first one on an album that was about just finding my own independence from feeling told what to do by a label," she said. She also commented on the styling, particularly the chaps that would become integral to her image in that era. "You can only be 21 once, and there was a first time for those chaps, and it was a pretty epic thing," she said. 
Although it was the first time she wore the chaps, it would not be the last. Not by a long shot. Aguilera recycled the look for a 2002 performance on MTV. This time, she took the stage wearing a yellow-and-black-striped pair of chaps and a matching bikini top. This set was emblazoned with her nickname Xtina (via YouTube). She switched them out for an all-black pair and a crocheted cut-out top at the MTV European Music Awards (via YouTube). And they just kept popping up.
There's no denying it: The chaps were a thing.
Everyone associates chaps with Christina Aguilera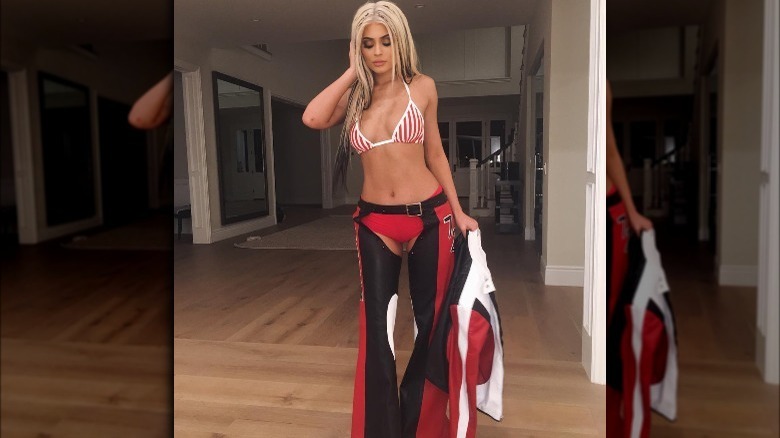 With over two decades in the game, she's delivered plenty of looks, but it appears that Christina Aguilera's "Dirrty" chaps and bikini combo is a favorite for celebrities to reference. Kylie Jenner put her own spin on the look for Halloween in 2016 (via Refinery29) and then wore the yellow-and-black pair in December of that same year (via Instagram). Her big sister Kim Kardashian sparked comparisons when she wore a similar look in 2020 (via InStyle). Others who have referenced Xtina's chaps include "Selling Sunset" star Christine Quinn (via Daily Mail) and even Miley Cyrus.
For what it's worth, the "Ain't No Other Man" diva appears to appreciate the love. She took to Twitter to compliment Cyrus as a fellow "dirrty girl." Aguilera wrote: "Wear em' loud & proud, girl." She also commended both Kardashian (via Billboard) and Jenner (via Harper's Bazaar) for their "dirrty" spirit. 
It's not just celebs who associate the look with Aguilera, either. The Sun compared a Fashion Nova drop to Aguilera's chaps outfit in 2019, and PopSugar listed the look as a possible Halloween costume idea for any interested Fighters (what Aguilera's fans call themselves), too.
Of course, it doesn't hurt that Aguilera plays up the look's legacy.
Christina Aguilera continues to rock her beloved chaps today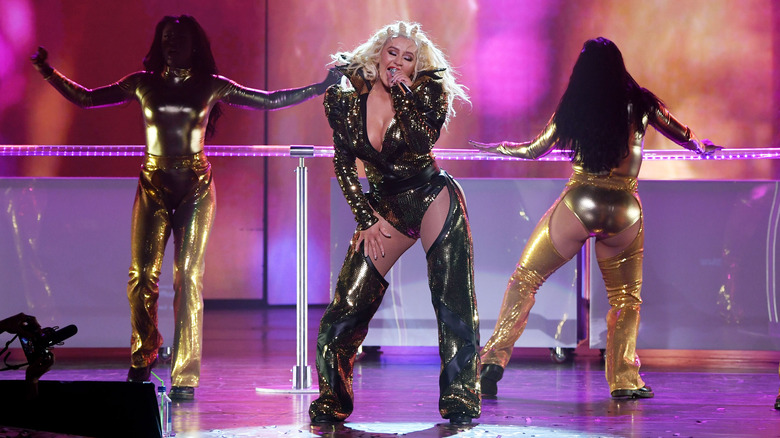 Although Christina Aguilera has gone through countless style evolutions since she first donned her iconic chaps, the hitmaker continues to reference them. After all, as she so brazenly declares on her 2006 album, "Back To Basics," the grown-up pop star is "Still Dirrty" (via YouTube). And her wardrobe for the song's music video clearly holds a special place in her heart. The diva hilariously gifted a pair to Andy Cohen's newborn son in 2019 (via People).
She still wears them herself, too. The chaps were a mainstay and Fighter favorite when Aguilera took over Las Vegas for her residency (via Hollywood Life). She even took them out of retirement when she performed at the Hollywood Bowl in 2021. 
Stylist Mel Ottenberg opened up to Interview about how he updated the look so that they remained timeless and (a little) classy for the more mature superstar. Reflecting on her style during "Stripped," he noted it was "some of the best expression of pop and fashion of the early 2000s, if not THE best." How did Ottenberg bring the look into 2021? By introducing the concept of tuxedo chaps with a bedazzled thong. "This whole getup really brought the house down. This is one of my favorite stage outfits I've ever done, for sure," Ottenberg gushed. "And I bet it's one of Christina's favorites now, too." 
Considering her enviable ability to appreciate the past while still boldly moving forward, we'd say that's a safe bet.
Source: Read Full Article