Halsey and Evan Peters Are Reportedly Living Together After Four Months of Dating
Sorry to break it to ya ladies, but Evan Peters is no longer a single man. After causing dating rumors to swirl with your favorite popstar, Halsey, back in September, it appears that things between them are progressing quickly! They left us guessing for a full month until—surprise!—Halsey made things with Evan Instagram official by showing off their couple's costume for Halloween. Oh, how the time flies!
If that ruined your hopes of ever getting with Evan, please know that this new bit of information is absolutely going to break your ice cold heart—sorry in advance. Us Weekly just confirmed that Halsey and Evan have officially taken their relationship to the next level by moving in together. Yes—co-habitating, shacking up, sleeping next to each other every time they're home, you know the drill. Need some glue to put the pieces of your heart back together? LMK!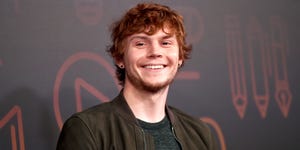 Though Evan was probably never gonna end up with you anyway (sorry), the good news here is that he "couldn't be happier about the relationship," according to the mag's sources. Awww! According to Us' source, Halsey and Evan are "both weird in the same ways" and all of "Evan's friends think they're the perfect duo."
Overall, it seems like Halsey and Evan are just trying to enjoy their time as a new couple. In September, when Halsey and Evan were first reported to be dating, they allegedly went on a date to the Six Flags Magic Mountain theme park in Los Angeles (jealous) and had a blast. "They were laughing and flirting the whole time while we waited for the ride, it looked really romantic," a source told Daily Mail. Again—awww!
So yeah, we all might be just a *little* sad that Evan is taken, but at least he's happy with Halsey, which is truly all that matters here.
Source: Read Full Article