Joe Jonas Reveals He Once Pooped Himself Onstage: 'Bad Day to Wear White'
Sharing "a story I've never told" before, the Jonas Brother recalls a recent time he misjudged "a little toot."
S— happens, even to Joe Jonas.
During an appearance on Australia's Will & Woody show, the Jonas Brother was asked to share "a story you have never told anyone" before by the two cohosts … and Joe shocked the pair with his TMI tale.
"I was with a few friends yesterday, and we were just talking about where there is a point in your life where, as an adult, you can remember the last time you s— your pants," Jonas began, saying the incident in question happened about four years ago.
The band released their comeback album Happiness Begins in 2019, touring that same year.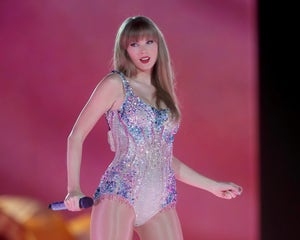 Decoding Taylor Swift's Speak Now Album: All The Famous Boys
"It's fresh, but I've been able to work through it, a lot of therapy," he quipped. "Let's just say it was a bad day to choose to wear white clothing. You think it might be a little toot, it might've been a little something else, a little something extra."
Jonas said he needed to have a "mid-wardrobe s— change during the set," telling the hosts that if anyone were to "go into the archives," they would notice the outfit swap and think, "Oh, that was an interesting choice to change clothes that quickly."
"That's a story I've never told and also that's just real life," he said, adding, "It was a light one, it wasn't a full, so I was able to tell the tale."
The 33-year-old musician said he's sure someone could find footage from the show in question, where he's suddenly rocking a totally different look.
"The whole time, I thought this is definitely, somebody is going to be able to see this and know what is happening, but it was all in my head," he added. "It wasn't as big of a deal as I thought. But such is life."
Concluded Joe: "It's happened to many artists. I feel like I've paid my dues, and I feel like I'm a part of some secret club now."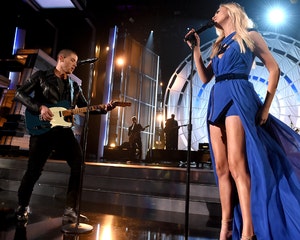 Nick Jonas Reveals 'Traumatic' Kelsea Ballerini Moment That Caused Him to Go to Therapy
His confession comes after brother Nick Jonas recently opened up about an on stage moment that also sent him to therapy — revisiting an ill-fated performance of "Peter Pan" with Kelsea Ballerini at the 2016 Academy of Country Music Awards.
The incident went down as he accompanied Ballerini on guitar, during his solo years following the Jonas Brothers' initial split.
"There was one more time during a really tragic guitar solo debacle that happened on live TV," he shared. "In retrospect I can kind of laugh about how big I thought it was, but it did travel more than I wish it would have, and it did cause me to go into therapy."
"As I walk towards her, I just went completely blank. I hit a wrong note and blacked out, basically," he recalled, adding that while he "clocked" things were going "wrong," he also "couldn't stop."
"To this day, and hours of unpacking it, I can't really figure out exactly what happened," he added. "I was rushed right into a car and right into a plane after and I looked at my manager and I was like, 'I think that was bad.' I was, like, in shock."
Listen to Joe's startling confession below:
Source: Read Full Article