Ke Huy Quan Recalls Reuniting with Steven Spielberg & Harrison Ford at the Oscars
"I just couldn't help myself. I just want to shower this man with all my love," Quan said of the sweet moment he shared with Ford on stage.
Ke Huy Quan is opening up about the heartwarming "Indiana Jones" reunion that went down during the 2023 Academy Awards.
In an interview with Variety, the "Everything Everywhere All at Once" star — who won the Oscar for Best Supporting Actor on Sunday night — recalled reuniting with his "Indiana Jones and the Temple of Doom" director Steven Spielberg as well as his co-stars Harrison Ford and Kate Capshaw.
Waiting for your permission to load the Instagram Media.
Instagram Media Unavailable
Quan, 51, said he approached Spielberg and his wife Capshaw at their seats during a commercial break following his win on Sunday night, telling Variety it was the first time he had seen Capshaw in 40 years. He then revealed a sweet moment he shared with Spielberg, who placed his hands on his shoulders, and told him: "You are now an Oscar-winning actor."
Meanwhile, toward the end of the broadcast, viewers watched Quan and Ford's reunion on-air as the two former co-stars embraced one another on stage, with the hug becoming one of the most viral — and emotional — moments of the night.
Ford presented the final award for Best Picture, which went to Quan's film, "Everything Everywhere All at Once." After the actor announced the A24 movie as the winner, the cast — including Quan — came on stage to accept the Oscar, and Quan immediately embraced Ford.
Speaking to Variety about the emotional moment, Quan said, "When he opened that envelope and read the title, it made our win for best picture even more special. And when I ran up onstage, I pointed at him and he pointed back at me and I gave him a hug. I just couldn't help myself. I just want to shower this man with all my love. I gave Harrison Ford a big kiss on the cheek."
Spielberg, 76, famously gave Quan his big break when he cast him in "Temple of Doom" at the age of 12. Quan, of course, starred in Spielberg's film, "The Goonies," the following year.
Waiting for your permission to load the Instagram Media.
Instagram Media Unavailable
When asked if he believed he was going to be asked to star in the third "Indiana Jones" installment, "Indiana Jones and the Last Crusade," Quan admitted that he was "secretly hoping," before he praised Spielberg for kickstarting his career.
"Steven has given me so much — not one movie, but two movies," he explained. "And they were the first ones to put an Asian face in a big Hollywood movie."
During the 2023 Academy Awards on Sunday, Quan took home the Oscar for Best Actor in a Supporting Role for his performance in "Everything Everywhere All At Once." It marked the first Oscar for Quan, who had stepped away from acting after he broke out as a child star due to a lack of roles. He is the second Asian Best Supporting Actor in Academy Awards history.
Quan was presented the award by last year's Best Supporting Actor and Actress winners Troy Kotsur and Ariana DeBose, whose voice broke with emotion as she read Quan's name. The actor received a standing ovation, and was already in tears when he took the stage.
"My mom is 84 years old, and she's at home watching. Mom — I just won an Oscar!" Quan began. "My journey started with a boat. I spent a year in a refugee camp, and somehow I ended up here on Hollywood's biggest stage."
"They say stories like this only happen in the movies. I cannot believe it's happening to me," he continued. "This, this is the American dream!"
Quan went to thank the Academy, A24, and his loved ones, before giving a heartfelt shoutout to his "'Goonies' brother for life," Jeff Cohen.
"Dreams are something you have to believe in. I almost gave up on mine. To all of you out there, please keep your dreams alive," Quan added, before then concluding his emotional speech. "Thank you, thank you so much for welcoming me back. I love you."
On Tuesday, Quan reflected on his Oscars win on Instagram, first giving a sweet shoutout to DeBose.
"@arianadebose has been so kind to me every time we've met," he captioned a series of photos of himself from the special night. "I was watching her as she opened the envelope; she cried and announced my name with such affection. Thank you, Ariana; I will never ever forget that. ❤️."
"I hope that everyone who watched on Sunday night will find hope in our wins because the impossible was just made possible," he continued. "Although it took a long time to get here, I would not have changed a thing. I never thought that I would be in a position to inspire others. This is the most meaningful part of this entire experience.
"Thank you to the Academy for, without a doubt, one of the most memorable nights of my life. You have given me more than what I could have ever asked for," Quan concluded. "I am completely overwhelmed by emotions and all out of words. I hope you can feel my love and gratitude. Hugs and kisses to all! 🤗😘."
DeBose was among the many celebrities who praised Quan in the comments section.
"I couldn't be happier for you @kehuyquan💜," she wrote. "I'm so proud for you and how you walked through this awards journey. You are such a light in this world sir! Keep shining!"
Meanwhile, Kate Capshaw's younger sister, actress Jessica Capshaw, also chimed in, writing, "Ke Huy Quan!! YOU ARE PURE MAGIC. Your acceptance speech was wildly beautiful, vulnerable, kind and inspirational. I cannot wait to see all the incredible things that are yet to come for you. Sending so much love!! xx."
Waiting for your permission to load the Instagram Media.
Instagram Media Unavailable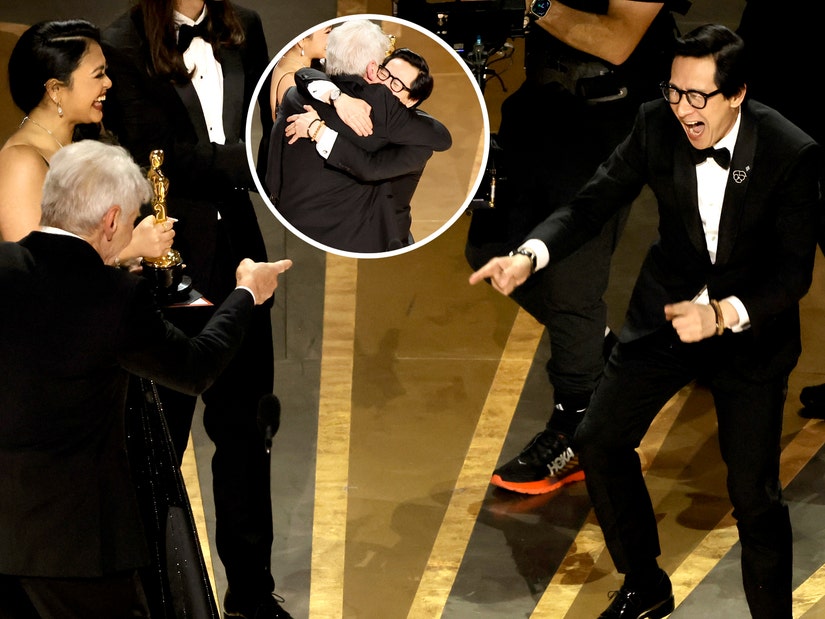 Source: Read Full Article