Why Jersey Shore's JWoww Believes She's Earned 'Right to Not Like' Angelina: 'I'm Done'
"She constantly betrays me," Jenni said after their never-ending drama finally reached the point of no return.
Jenni "JWoww" Farley has had it with Angelina Pivarnick … and feels like she has more than enough evidence to back up those feelings.
The feud between the pair continued this week on Jersey Shore Family Vacation, as they continued an argument from last week involving Mike "The Situation" Sorrentino. By the end of the hour, they were not in a better place.
In case you missed it, Mike's wife Lauren threw a store opening which nobody but Angelina attended. At the bash, she made comments about how everyone else should have showed up, while Mike admitting to feeling "a little upset." Mike then relayed Angelina's comments to JWoww — who said it seemed like Pivarnick "wanted to make the event about the rest of them not attending" — before all the women confronted Angelina at a charcuterie party.
At the top of the new episode, Angelina kept trying to throw some of the heat on to Mike for playing instigator, while Jenni, Nicole "Snooki" Polizzi, Deena Nicole Cortese and Samantha "Sammi Sweetheart" Giancola told her they only wanted to address their issues with her at the moment.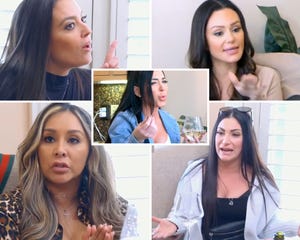 Why Angelina's Jersey Shore Costars Just Turned on Her for Being 'Messy,' 'Dirty' and 'An Instigator'
"The fact that Angelina is digging her feet in and saying she is not wrong for saying, 'That's weird, you should have made it,' that's what's setting me off," Jenni explained in a confessional, before a defeated Pivarnick exclaimed, "I think we'll have a lot less problems if we don't speak."
The charcuterie party then came to an abrupt end, with nothing being settled before the woman all went their separate ways. As they left, Angelina broke into tears, before Sammi apologized for snapping at her earlier — saying she was "being defensive." Sammi also acknowledged that Mike could be messy and had a history of being an instigator, before they both left.
With a group trip to Orlando, Florida on the horizon, Jenni admitted to her fiancé Zack Clayton Carpinello that she was "stressed the f–k out" and wasn't "really ecstatic" about being with Angelina again after the party.
"I think I have a right to not like someone after 14 years of this back and forth. We clearly do not get along in life, there's clearly resentment on both sides we will never truly get over," she continued. "Any given moment I feel like she can just throw me, us, our relationship, everything under the bus, I can't do that anymore. I'm done."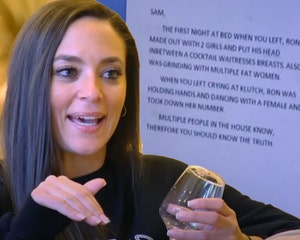 Sammi Sweetheart Reflects on Ronnie Relationship and The Note on Jersey Shore Family Vacation
In a confessional, Jenni said she believes Angelina "constantly betrays her" as well, before the editors cut together a sizzle reel of all their past fights.
"I don't like who we are as friends and the best way I deal with them, I cut them out of my life," she said, before adding that she would "honestly die inside" if their Florida trip was anything like the one they took to San Diego — where, of course, she and Angelina also got into it. "The last thing I want is one of those days and I just feel like that's gonna happen again," she added, before Zack told her he was fairly confident it would.
The episode ended with everyone heading to Florida, before any of the cast hashed out their beef. While traveling together, Vinny Guadagnino and Sammi chatted about everything going down between Angelina, Jenni and Mike — with Vin admitting Sitch has a history of stirring the pot and acting like he didn't do anything.
"Mike probably was bitter nobody came for his wife," said Sam, before Vinny said that Mike admitted as much. "He's still a troublemaker," added Sammi, as Vinny added he could pretty much "guarantee" Angelina would confront Mike about everything once they all got to Florida.
We'll see those fireworks when Jersey Shore Family Vacation airs Thursdays on MTV.
Unable to render YouTube Video.
Source:
Read Full Article