Super Bowl 2021: Eric Bieniemy, Todd Bowles and the injustice facing minority coaches in the NFL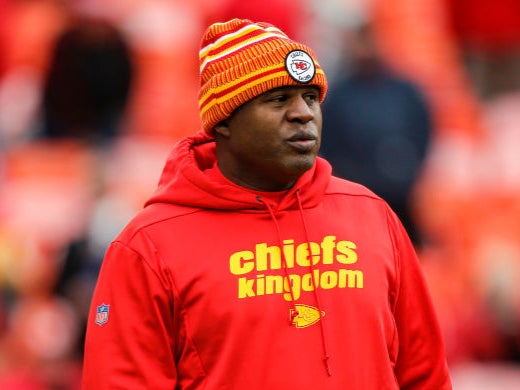 Eric Bieniemy was overlooked for a head coaching position this offseason
It is a disappointment shared by Reid, despite the potential to lose a crucial member of his coaching staff: "I'm glad I have him [for at least next season], but I'm not so glad I have him.
"I was really hoping he would have an opportunity to take one of these jobs. I think he would be great for any number of teams that opened up and help them win football games and also develop men into men. I just think he's a great person."
Mahomes, too, is baffled by the decision to snub the chance to acquire Bieniemy, telling The Dan Patrick Show: "It amazes me, honestly. The first year, you kind of were like, 'All right, it's just his first cycle through.' Then last year, the interviews, you're like, 'For sure he's gonna get a job.' Then this year."
Part of the enduring frustration stems from the double standards when evaluating minority candidates. Something that has been held against Bieniemy in the past is that he doesn't call plays for the Chiefs. This didn't matter for the Detroit Lions when they hired Dan Campbell as head coach after his spell as an assistant head coach and tight ends coach for the New Orleans Saints.
READ MORE: How Tom Brady cemented his legacy as the greatest of all time
And even if it was a requisite, Mahomes is adamant Bieniemy has "a ton of input and he calls a ton of plays in our game plan."
Commissioner Roger Goodell could not hide his embarrassment at the outcome of the hiring process, admitting: "It wasn't what we expected. It's not what we expect going forward. They're not the outcomes we wanted."
The only minority hires were Robert Saleh and David Culley, who was belatedly appointed for the final opening following an ongoing fiasco in Houston with their disgruntled star quarterback Deshaun Watson. 
Former NFL defensive back Bowles, responsible for the destructive nature of a Buccaneers defence eager to stomp on Mahomes tonight, went 24-40 over four seasons with the Jets from 2015-2018. And Two-time Super Bowl champion Osi Umenyiora illustrates why Bowles' name being mostly absent from conversations surrounding potential head coach candidates this off-season is an equally big problem opposite Bieniemy failing to land his first chance.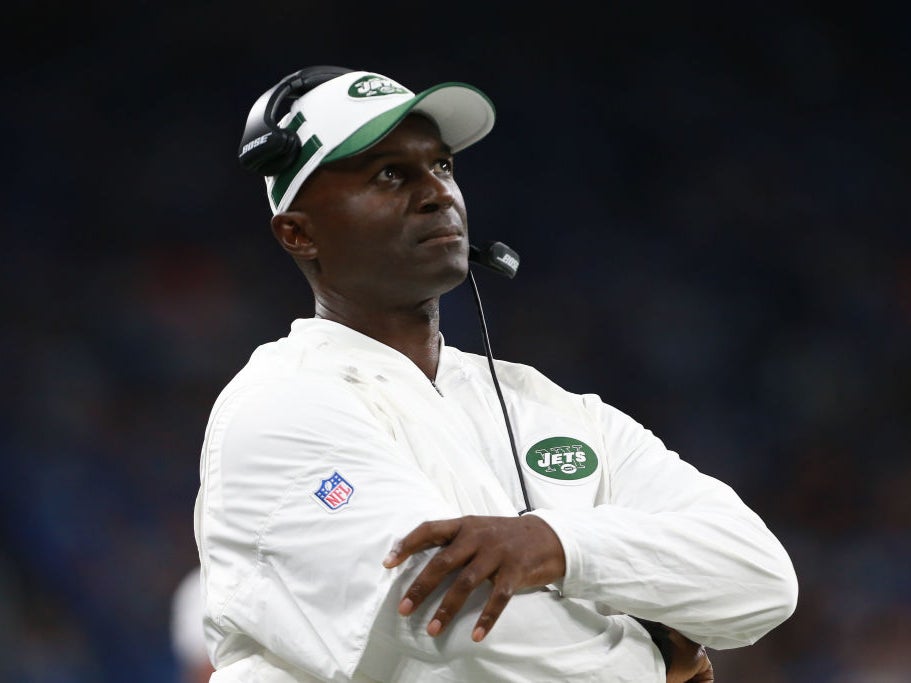 Todd Bowles served as the head coach of the New York Jets from 2015-2018
"Unfortunately for people of colour, we're not just like everybody else, we don't have opportunities to go in there and continue to fail the way that other races might do," 888sport's NFL ambassador Umenyiora tells The Independent. "So in the long-term thinking and for the success of these minority head coaches, we have to get the guys in there who are going to succeed because it will then hold the door open for other minority candidates and make the people doing the hiring say, 'yes, these people can go in there and succeed'. 
"We need to find a way to get as many more candidates as possible to the place where people are being hired.
READ MORE: Which channel is NFL Super Bowl 2021 in the UK
"We need to flood the lower ranks, colleges, high schools, assistants, we need to flood those with minority coaches, from then you'll see it trickle up instead of trickling down, you'll then start to see a lot more minority head coaches being hired."
Bieniemy and Bowles both deserve better, with their adroit responses to the discussion this week impressive. But Bowles, rather depressingly, highlighted the lengthy journey ahead before a sense of justice can be achieved.
"For me and Eric, it's two good coaches," Bowles explained. "Whenever people on the outside – ownership, media, anyone else – when they start saying 'coaches' rather than 'Black coaches,' then things will start to get better."
Osi Umenyiora is 888sport's official NFL ambassador. Get his inside track on what it means to be a Super Bowl winner here. 888sport is the NFL's official sports betting partner in the UK and Ireland – find hundreds of Super Bowl LV betting markets at 888sport.com
Source: Read Full Article