'Love Is Blind': Why Amber Pike Considered Divorcing Matt Barnett
Amber Pike and Matt Barnett got engaged on the first season of Love Is Blind without ever seeing each other. And they were one of two couples to say "I do" at the end of the show.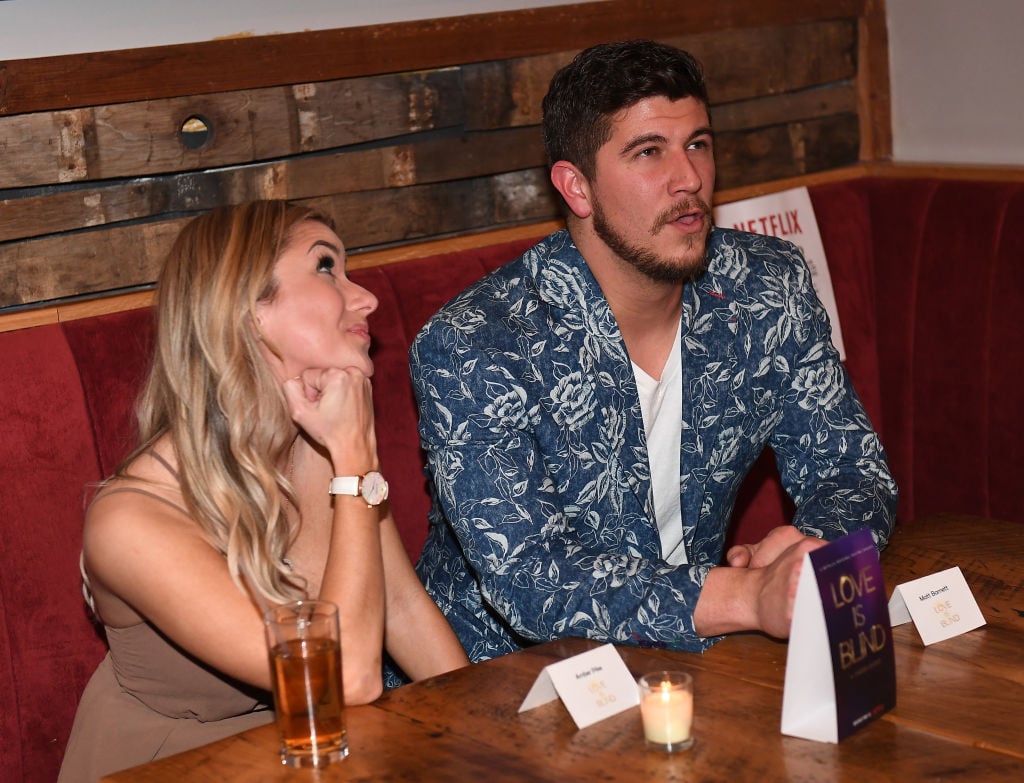 About a year went by between when the show wrapped and the reunion. Both Amber and Barnett and Cameron Hamilton and Lauren Speed were still together at the reunion episode. While Cameron and Lauren reported that they'd been doing well, Amber and Barnett opened up about the struggles they'd faced as a newly married couple.
Why Amber Pike called about getting divorced from Matt Barnett after 'Love Is Blind'
Amber spoke about how her not having a job was "putting strain" on Barnett, so she became a cocktail waitress. Additionally, the couple needed to adjust to married life and transition out of their "bachelor" lifestyles that they'd been used to. Amber said they had different expectations for what married life was supposed to look like.
"I know there was one point where we almost broke because we had such expectations out of what we wanted out of a husband and wife," she said. "And we knew we were married and we knew we were in love, but also, we were still learning each other."
She revealed that she'd even called about getting a divorce lawyer.
"I, at one point, actually called about potentially getting a divorce lawyer. Something's not working," she said with a nervous laugh, adding, "Sorry, Mama Barnett! I love you, just kidding!"
Barnett chimed in to let everyone know this rift wasn't all Amber's fault.
"I'm a stubborn a**hole," he said.
"I'm stubborn, too, so we butted heads a lot," Amber replied. "And that took time to figure out how to do, because when we were still in the bubble on this show, we hadn't really butt heads at that point, because everything was just so perfect."
Today, Amber and Barnett are happily married
Eventually, though, with time, Amber and Barnett found what worked for them. Today, they say they're really happy.
"We stopped trying to force what we wanted on each other," Barnett said. "Once that happened, it's just nothing but really good things since then."
After the reunion, Amber posted a couple photos of her and Barnett along with a caption that read: "REUNION SELFIES!! Have y'all seen the reunion yet? Were all of your questions answered? What else do you wanna know?"
One fan asked if/when Amber and Barnett are going to have children.
Amber says kids aren't out of the question for her and Barnett, but they're not ready yet.
"not for a couple years. Me and Barnett are still finding our rhythm as a couple and enjoying each other," she replied.
"Does Barnett's family accept/love you or is there tension?" asked another Instagram follower.
"we all get along great! There's never been any tension," responded Amber.
Read more: 'Love Is Blind' Fans Think Love Is Only Blind Because Every Contestant Is Conventionally Attractive
Source: Read Full Article