Robin Roberts to depart GMA studios for the next week for adventure across the world
Robin Roberts is already kicking off her year with exciting updates, and a big adventure in her professional life is right on the horizon.
The Good Morning America anchor announced with her latest morning message that she would be departing the comfort of ABC News studios and her New York home for more unfamiliar territory.
VIDEO: Robin Roberts shares glimpse into vacation with Amber Laign
She shared that she would be jetting across the world on assignment from GMA to report in New Zealand over the next week, with her trusty glam fam joining her.
In the video, after delivering the morning message and prayer before going on the air, she declared: "We're taking off!
MORE: Michael Strahan and Robin Roberts warn GMA co-star to 'be careful' in fun backstage photo
TRENDING NOW: Fans express disappointment in NCIS Hawai'i as Yasmine Al-Bustami's leave is extended
"After several months of planning, glam fam and I, we're going to New Zealand! We leave today, we'll be reporting from there next week."
Robin elaborated: "It'll be a little challenging for us to post a daily message and prayer, but you know, we're always with you in spirit."
A post shared by Robin Roberts (@robinrobertsgma)
Robin will be taking off for New Zealand on assignment
Many of her followers wished her safe travels, as she even expressed her excitement in the comments section, revealing that this would be her first trip Down Under.
While also balancing her overseas trips for work with planning for her 2023 wedding to longtime partner Amber Laign, Robin found the time to also show support for her GMA co-stars.
MORE: Robin Roberts teases wedding prep on GMA during chat with co-stars
ALSO POPULAR: GMA3 stars' wedding photos: Dr. Jennifer Ashton, Amy Robach, T.J. Holmes, more
Such was the case earlier in the week when she was able to join her co-anchor Michael Strahan during his Hollywood Walk of Fame ceremony.
She praised him when they returned to their seats on the morning news show the following day, saying: "We are so proud, our own Michael Strahan!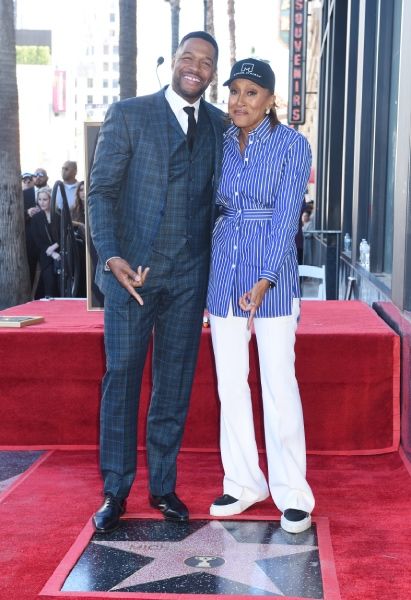 Michael was joined by his GMA co-star at his Walk of Fame ceremony
"He is no stranger to making history and did so with this once in a lifetime achievement." His star marks the first to be dedicated to the Sports Entertainment category.
Next to a sheepish Michael, she continued: "You have achieved so much in your career, and can I say it was humbling to be there, and to see the mosaic of people that you brought together. And to have your mama, I mean, she was beaming."
Read more HELLO! US stories here
Source: Read Full Article