The Strangest Things Demi Moore Has Ever Admitted On Social Media
Demi Moore was Twitter's biggest star along with then-husband Ashton Kutcher in the late 2000s; she's since pivoted more to Instagram, but found similar success. In fact, the actress is so adept at social media stardom, it's easy to forget she's actually been making headlines since the mid-1980s.
Moore proved herself as an actor and a tabloid fixture during her days in the Brat Pack, and later evolved into a major movie star in her own right. But perhaps her most talked about pop culture moment remains the Vanity Fair magazine cover which saw her basically invent the celebrity naked-baby-bump photo with photographer Annie Leibovitz. If the internet was a bigger deal back then, that pic would've broken it. 
This pretty much set the tone for Moore's next three decades of drip-feeding wild revelations about her life to the public, then watching us go bananas. Here's how she has used her social media accounts to make news, from her days as reigning Twitter royalty to Instagramming pics that spawn entire tabloid news cycles.
She has brown carpeting and a couch in her bathroom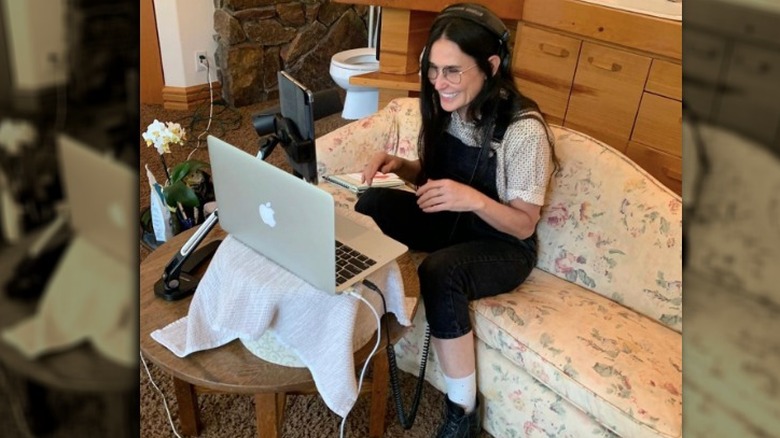 After Demi Moore posed naked and pregnant for photographer Annie Leibovitz, she had no idea what was coming next. "I didn't realize that it would spark that degree of controversy because I don't have that kind of thinking," she told Interview, adding, "Believe me, I never set out to make any big statement." You have to wonder if she feels the same way about her brown bathroom carpeting that went viral in 2020. 
In the wake of worldwide COVID-19 lockdowns, Moore posted an innocuous photo of herself working from home like so many other people were at the time. "Behind the scenes recording #DirtyDiana," she tweeted, referring to a podcast project. She included two photos of herself perched on a couch in her bathroom with a laptop. But as Twitter user Alexis Wilson pointed out, one thing made Moore different from all us little people pounding away at our laptops mid-pandemic, and it wasn't her movie star status. It was the brown carpeting and floral couch in her bathroom.
"Starting a slack channel for the sole purpose us discussing why demi moore has both carpet and a couch in her bathroom," Wilson wrote. Meanwhile other Twitter users couldn't help but notice the giant Joan of Arc statue standing sentry over Moore's bathtub. (Moore had actually tweeted about the statue the year before but there was no pandemic then, so everyone was too busy to notice).
But who does Demi Moore blame for that bathroom decor?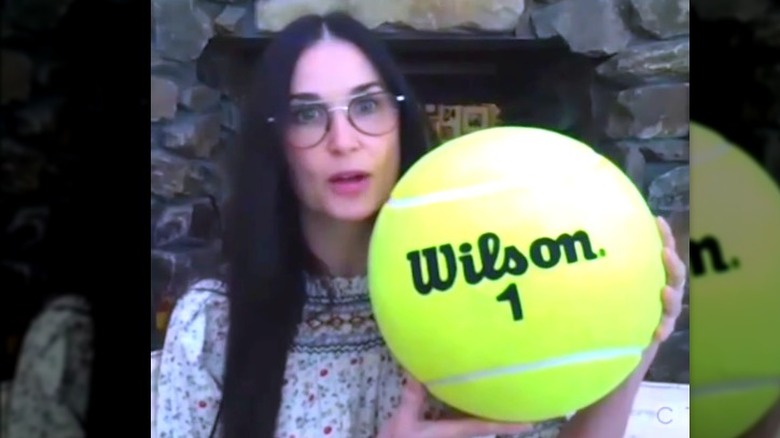 After the tweet storm over Demi Moore's decor, the story went viral and even Moore herself noticed, tweeting, "This thread has our whole family howling!" Moore's entire family got in on the bathroom carpet story, with daughter Tallulah Willis tweeting, "I'm HOWLING w laughter."
Moore then appeared on "Late Night with Seth Meyers" to reveal more details about the unexpected decor choice. The house, she said, is the same one in Hailey, Idaho, where her "children grew up." And as for the brown carpet? "That was originally a Bruce Willis choice," she told Myers via video call. "We also live in the mountains where it gets very cold, so it's never.. It's never bothered me." She also compared it to others who "put rugs in [their] bathroom," apparently failing to realize that bathroom rugs are habitually machine washed.
Still, she said, "I appreciate the interest that has gone into all of my little oddities, because this place definitely houses a lot of my treasures and I have had some big laughs over the comments with my family who know me well." Moore then pointed out that she has a giant tennis balls and a giant safety pin in the house, too. She didn't mention her massive doll collection, which Radar reports is insured for $2 million. Maybe we'll get a peek at that in the next pandemic.
It was hard for Demi Moore to change her Twitter handle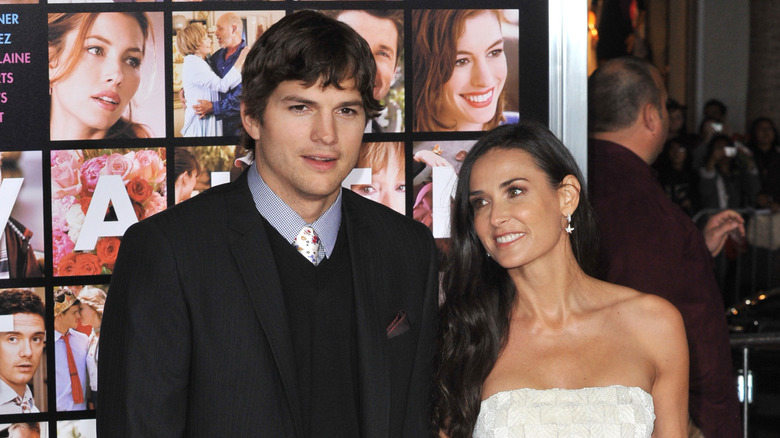 Twitter's membership started declining in 2016 as networks like Instagram and, later, TikTok grew. But for a while, Twitter was cool — and Demi Moore and Ashton Kutcher were the app's reigning king and queen. The couple became gossip blog mainstays as soon as they started dating. They met up in 2003 at a dinner party, per People. Despite their relatively lukewarm careers at the time, their Kabbalah-tinged marriage ceremony and May-December mystique only rocketed them higher on the pop culture A-list.
Kutcher became Twitter king when he raced CNN to one million Twitter followers — and won. His Twitter name was @aplusk, while Moore's was a cheeky @mrskutcher. So when Moore and Kutcher broke up in 2011, the former "agonized over what to call herself" on Twitter, according to Ireland's The Independent. The saga began in December 2011 when Moore responded to fans' tweets asking when she'd be abandoning @mrskutcher once and for all. At the time, the "G.I. Jane" star said that switching up her handle "isn't a top priority right now."
Apparently, she had about six months worth of items on her to-do list, because it took until May 2012 for her to settle on @justdemi. "It was so hard finding a name that was fun and somewhat playful and available, so for now I will be @justdemi. It could grow on me," she wrote of the Twitter handle she's still using, as of this writing.  
The time Ashton Kutcher snuck a photo of Demi Moore in her underwear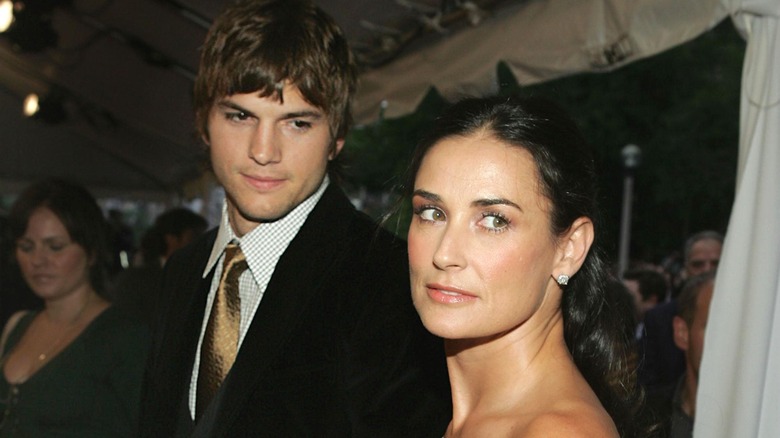 Demi Moore and Ashton Kutcher pioneered the art of super high-profile, borderline cringey social media flirting. In fact, online over-sharers Kourtney Kardashian and Travis Barker could learn a thing or two. But there was one instance when Kutcher apparently went a bit too far.
Moore and Kutcher attended her ex-husband Bruce Willis's 2009 wedding to Emma Heming in Turks and Caicos. Afterward, Kutcher seemingly felt motivated to tweet some since-deleted marriage advice. "For me it's about relearning that supporting my wife isn't about providing $ and Home, it's about supporting her desires, needs and emotions," he tweeted (via E!), adding, "​​ When she says time for bed…hop to, good things await." He then posted a photo of Moore's backside clad in a white bikini while she bent over. The caption read, "​​Shhh. Don't tell wifey." Moore revealed Kutcher had taken and posted the photo without her consent, tweeting back at him, "He is such a sneak and while I was steaming his suit too!" 
A decade later, Moore elaborated on the situation, explaining it wasn't so light-hearted. "It seemed like a good natured joke at the time. But it was really just shaming," Moore writes in her memoir, Inside Out (per the Evening Standard). The photo even ended up on The Telegraph's 2009 celebrity pictures of the year, despite Moore's clear admission that it was snapped without her knowledge.
Demi Moore once skipped the Golden Globes in part because of a "bad hair day"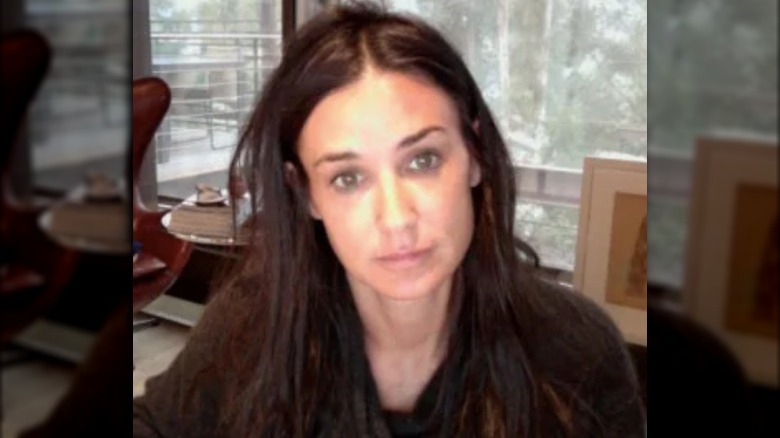 Demi Moore and Ashton Kutcher didn't have any massive projects to tout in 2010, but they were both invited to the Golden Globe Awards regardless — Kutcher to present an award, and Moore as his date.
But on the day of the Globes, Moore tweeted that she'd be skipping the event. "Feeling sick and having a bad hair day!" she tweeted along with a selfie, per Marie Claire UK. Ever the dutiful wife, she also posted a photo of Kutcher in his suit, captioning it, "Hubby looking dapper for the Golden Globes!" She also later clarified that it was more the sick feeling than the hair that kept her home.
Kutcher, of course, couldn't keep himself from tweeting the entire time he was backstage. He joked on Twitter, "FYI Ricky Gervais is pounding Fosters back stage. The show should only get funnier." Gervais got him back the next year. While hosting the Globes once more, he introduced Bruce Willis — Moore's ex — as "Ashton Kutcher's dad." Ouch to all involved.
Did Demi Moore invent the thirst trap?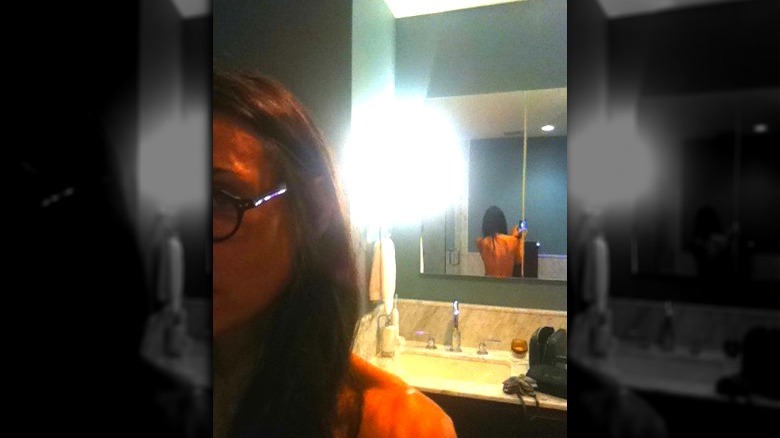 The term "thirst trap," describing a skin-baring photo meant to provoke reactions on social media, didn't hit the mainstream until about 2018, if NPR is to be believed. Chelsea Handler, the Kardashian-Jenners and even Martha Stewart have indulged. But Demi Moore seemingly pioneered the art form back in 2011 when her own topless bathroom pic elicited headlines.
Of course, this was far from the first time Moore stripped down. There was the aforementioned nude Vanity Fair cover, not to mention her movie "Striptease." The title says it all. But still, Moore's self-portrait was apparently scintillating enough to become major news.
In the photo, Moore faces toward her phone and away from a bathroom mirror, leaving her nude back exposed. "remember…..you've got your own back," the tweet reads. The photo (shown is so vintage, it's got the "twitpic" URL that predated Twitter's organic photo-sharing capabilities. And the photo was considered newsworthy even though it doesn't show any cleavage and everyone had already seen Moore's naked bod. "Demi Moore is at it again," Page Six wrote. The Daily Mail called Moore an "exhibitionist." And a blogger at the LA Times even speculated about "what this all means for Demi's brain." That person must lose their mind when they scroll through the average Instagram feed today.
The curious case of Demi Moore's missing teeth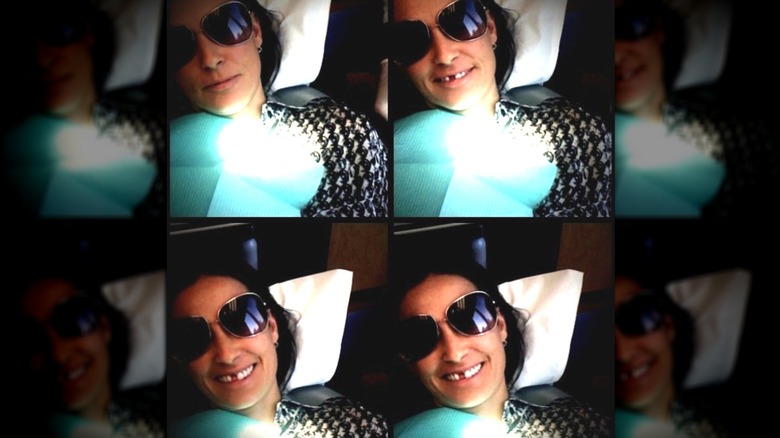 Demi Moore decided to let her followers in on her dental status in May 2009 when she tweeted a collage of photos (shown above) in which she was missing a tooth. "Keeping it real!" she wrote, later adding, "I lost it and had to have it fixed! I personally thought this look went out after you were eight, didn't know I would be rocking it again!" as reported by E!. "Happy to share and always appreciate the opportunity to find humility!!! Or at least be able to laugh at myself!"
This wouldn't be the last time Moore opened up about her deteriorating dental health. She ended up losing both front teeth in 2017, and she had a rather odd explanation for it.
"I sheared off my front teeth," she said on "The Tonight Show." "And I'd love to say it was skateboarding or something really cool, but I think it's really something that's important to share." She added that the cause was "stress," which she considers "one of the biggest killers in America." And it turns out Moore is right — sort of. Digging into her rather vague self-diagnosis, Forbes referenced a pair of studies that indicate chronic stress can lead to both teeth-grinding and problems with your gums. Both are bad news for your teeth. But, Moore did tweet her first lost-tooth photo about two months after Kutcher's non-consensual booty pic tweet, so yeah… the stress part probably checks out.
Demi Moore says she feels like a 'motherless daughter'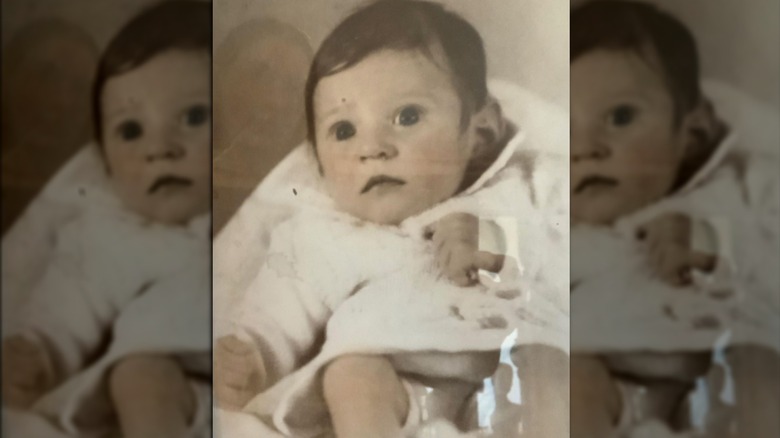 Demi Moore recounted her harrowing childhood in her 2019 memoir, "Inside Out." The "G.I. Jane" star endured multiple traumas, including witnessing her mother's suicide attempts and growing up under two parents struggling with addiction. But her most horrific ordeal had to be the alleged rape that her mom may have had a part in facilitating. 
Per USA Today, at just 15, Moore once found herself alone in her mom's apartment with a man she described in her memoir as being "three times" her age. He allegedly raped her. Afterward, according to Moore, he said, "How does it feel to be whored by your mother for five hundred dollars?" She doesn't think her mother engaged in a "straightforward transaction" with the man, she told GMA, but something messed up was clearly afoot. "She still did give him the access and put me in harm's way," she said.
Still, Moore penned a heartfelt post about her mother on Instagram in 2021. Alongside a baby picture of her mom (shown above), she wrote that she had a "challenging relationship" with her and often "felt… like a motherless daughter." "She came into this world as we all do looking for love wanting to matter and to belong," Moore wrote in the caption. "Her pain and traumas got in the way of being the mother she wanted to be but I know this innocent being did not set out to fail me, to fail herself."
Her public spat with Perez Hilton was out of character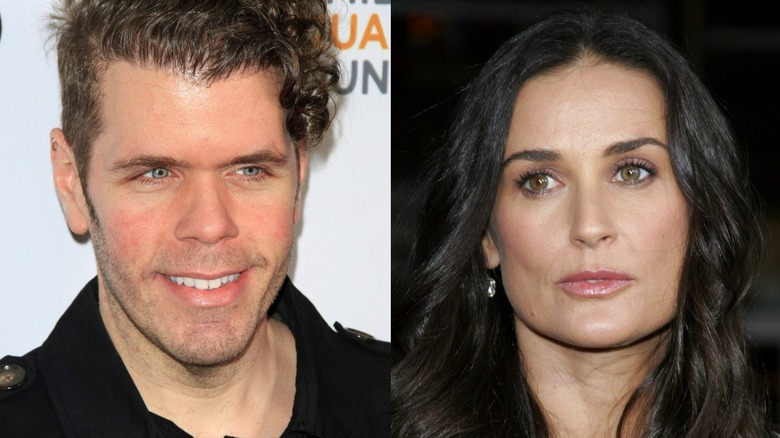 Blogger Perez Hilton has a long history of tormenting famous women for everything from their appearance to their personal lives. He mocked Demi Moore constantly during her marriage to Kutcher and she usually let it slide. But when he took aim at her daughter Tallulah, Moore spoke out. He tweeted in September 2009, "Tallulah Willis, 15, dressing like a slut! Look at her boobs!," along with a link to a photo. "Demi, Ashton and Bruce are GREAT parents!" 
Three weeks later, Demi fired back, "Clearly Perez Hilton isn't taking violating child pornography laws very seriously. He might not but there are alot [sic] of people who do!" She took it another step further, adding, "Anyone who advertises follows or supports Perez supports violating child pornography laws!" Hilton, of course, jumped at the opportunity to further his conversation with an A-lister who normally ignored him. He tweeted up a storm, threatening to sue Moore and calling her statements "libelous and defamatory."
The spat apparently didn't end in a lawsuit and Tallulah Willis seems to have thrived in spite of Hilton's ire. But her older sister, Rumer Willis, once got the opposite advice from Demi about being a gossip blog target. Hilton frequently attacked Rumer, calling her "potato head" and make fun of her appearance. But Rumer told HuffPost her mom encouraged her not to pay attention to him. "Her thing was always, 'You can't read the comments.'" 
Demi Moore's quarantine pics with Bruce Willis sent the tabloids scrambling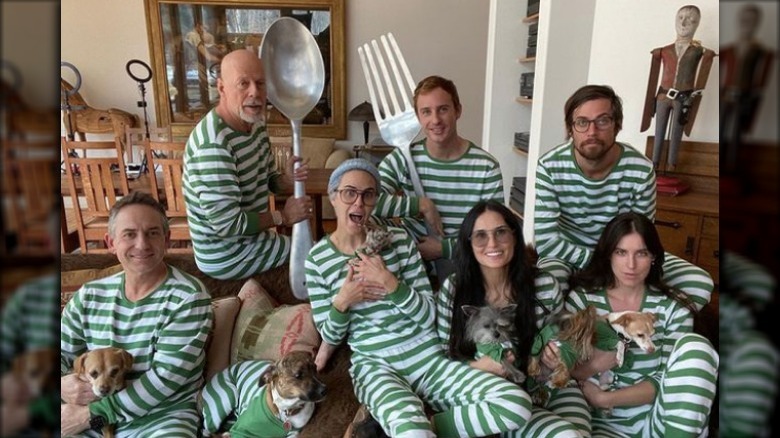 When COVID-19 started to spread worldwide in early 2020, people hunkered down at home with their families. And for blended families, this led to the question of which parents would stay with which kids. For the Moore-Willis family, patriarch Bruce Willis decided to stay with his ex-wife and older daughters in Hailey, Idaho — while his current wife, Emma Heming Willis, and their two children temporarily remained in Los Angeles so that the younger kids could finish school.
Demi Moore, Willis, and their three daughters posted photos with the entire lockdown crew in matching green-striped pajamas. Moore captioned one photo "Family bonding," and followers immediately started to wonder where Bruce's other family might be.
Sources quickly cleared the mystery up, telling People about the blended family's plan to reunite after the school year and revealing, "Demi and Emma are close, and all three get on great as a big blended family. There are no issues at all." Moore later confirmed on Naomi Campbell's YouTube show, "No Filter with Naomi," that Emma and her daughters, Eveylen and Mabel, did, in fact, later join Bruce and the crew in Idaho. She also called her time with just Willis and their daughters "a blessing," adding, "It was really sweet and we did have some silly times, for sure."
She sees herself as a 'pink, fluffy chicken'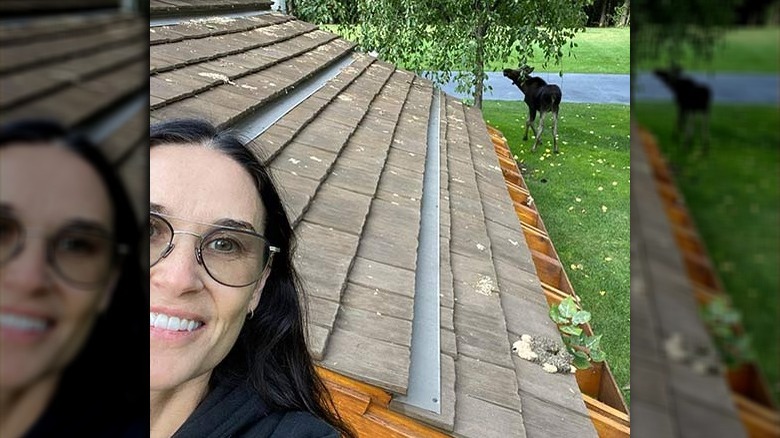 Even with the potential drama of quarantining with A-list exes, the Moore women apparently got bored enough to go around in a circle and talk about which bird they would be, if they had to pick. Demi Moore's daughter, Tallulah Willis, posted a video on her clothing brand's Instagram page that showed the conversation. The daughters got deep with their answers, using phrases like "omen of peace" and "majestic" and "there's just layers." But Moore went for a simple answer: she'd be "a chicken."
"They also are functional and they serve to bring about food for others," she said. "So then maybe I could be … a pink, fluffy chicken." She later added, "I also would say that I would connect with, like, a hawk. … Maybe the phoenix. … That is me."
Moore later revealed the massive gardens at her Idaho home and, as Hello! points out, spent some quality time petting a tiny bird in the backyard and having a selfie photobombed by a roaming moose (above). There were no pink fluffy chickens to be found, though.
Demi Moore saw her Bernie Sanders meme and loved it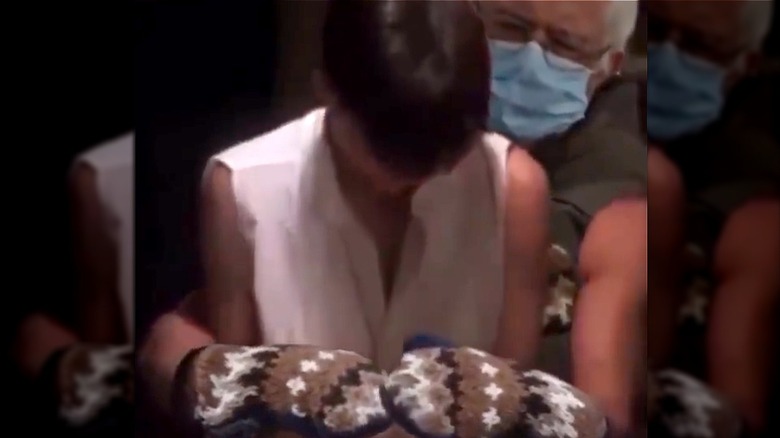 President Joe Biden's inauguration was a star-studded event with Lady Gaga, Jennifer Lopez, and Garth Brooks in attendance. Demi Moore may have missed the festivities, but she did pay homage to the biggest meme of the day on her Instagram feed: Bernie Sanders' mittens moment. 
After Sanders was spotted sitting with his arms crossed, mask on, his hands encased in a giant pair of mittens, people began editing him into every pop culture and historical moment they could think of. And that included an iconic scene from Moore's movie "Ghost," in which co-star Patrick Swayze came back from the dead to cuddle her while she used a pottery wheel. Some CGI genius edited Swayze out and Sanders in, and a hilarious video was born. "This is the one," Moore captioned her post of the vid. "Thank you for this masterpiece! #FeelTheBern"
As for whether Moore is a true Bernie bro, she normally keeps mum about her political views but it seems like she leans left. In a 1996 chat with Interview magazine, she all but confirmed that she didn't agree with her then-husband, Bruce Willis, who'd openly supported former Republican president George H.W. Bush. She refused to say who she'd voted for and said she and Willis did have some common ground but added, "I guess you can infer that we don't agree on all things, politically."
Her prosthetic breasts in a TBT seemed very NSFW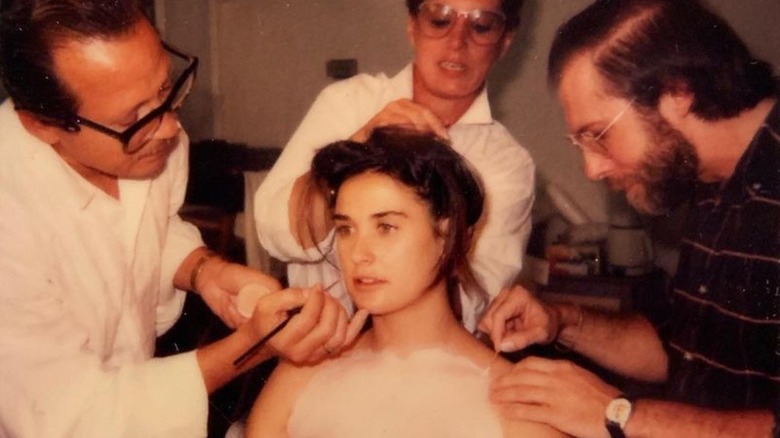 Demi Moore's daughters have been vocal "#freethenipple" advocates, with Scout Willis even protesting topless in New York City to argue that social media platforms, including Instagram, should allow women to show their nipples.
Moore cheekily added to the #freethenipple debate by posting a photo of herself being fitted with a prosthetic baby bump on the set of her 1988 film "The Seventh Sign." She captioned the pic (shown above but cropped for modesty — sorry Scout!) "Getting pregnant the easy way…are fake nips allowed? #tbt 'The Seventh Sign.'"
Moore actually hadn't had children yet when she appeared in the 1988 film, but became pregnant with her first child, Rumer, shortly after, according to Entertainment Tonight. "I must have been putting out this energy anyway, and it just so happened that the film came first," she said at the time. Moore went on to have two more daughters, Scout and Tallulah Willis, with then-husband Bruce Willis.
Demi Moore works out with a digital personal trainer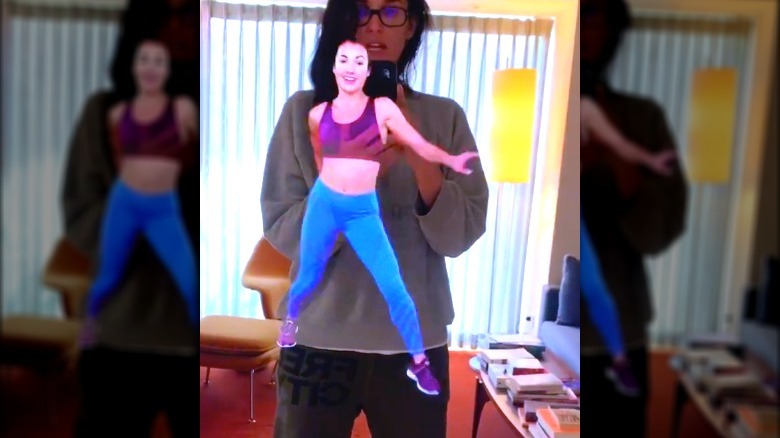 Demi Moore is into fitness and making sure her body looks a certain way, perhaps because her career demands it. Unfortunately, this manifested itself in an eating disorder and exercise "obsession" for a few years at the height of Moore's movie stardom, she wrote in her memoir, "Inside Out" (via People). 
The obsession persisted through her movies "Indecent Proposal" and "Striptease." But for her next film, "G.I. Jane," she actually needed to build muscle in order to portray a buff female soldier. After shooting wrapped, she decided to go a little easier on her body. "​​I couldn't go on fighting my body and my weight; I had to make peace," she wrote, per People. "I started by giving up hard exercise. I never went back into the gym in the house. Never. … The room it occupied is now my office."
Still, she hasn't given up on exercise completely. She revealed on Instagram in May 2019 that she'd purchased a futuristic piece of workout equipment simply called MIRROR, which shows the user's reflection along with a holographic personal trainer instructing them in the workout of their choice. "My maiden voyage with @getthemirror," she captioned a video of the fancy piece of workout that retails for nearly $1,500. "15 min at level 1 that's doable after not working out for over 4 years right? I am stalling!" At least the quick cardio dance video she'd cued up seems a lot more chill than a "G.I. Jane" gym session.
Source: Read Full Article