The Truth About The Ted Lasso Casts Friendships Behind The Scenes
The second season of "Ted Lasso" begins on July 23, and some fans wonder if the cast members get along off-screen. "Ted Lasso" editor Melissa McCoy told The Wrap that the show's positive vibe continues behind the scenes because of star Jason Sudeikis. McCoy said, "Jason is not only the actual Ted Lasso, but he's Ted Lasso behind the scenes. He just elevates everybody."
TV critic Zofia Wijaszka recently called out the genuine friendship among the Apple TV+ series cast. She tweeted, "Thank you, @AppleTV, for inviting me to @TedLasso S2 screening & Q+A with the talented cast. Their beautiful bond is ever-present, whether in the show or behind the scenes. The show and actors unquestionably deserved all the #Emmy nominations it got." The new series made history by getting 20 Emmy nominations.
Aside from the overall friendships on the set, it turns out that series star Sudeikis and co-star Brendan Hunt, who plays Coach Beard, have been friends for years. According to CheatSheet, the two met in the late '90s while doing improv at The Second City in Chicago and have remained friends ever since. In fact, Sudeikis and Hunt, along with "Scrubs" showrunner Bill Lawrence and Joe Kelly, are the co-creators of the series. But one of the closest friendships of the "Ted Lasso" cast behind the scenes is between the show's two female stars. Hannah Waddingham and Juno Temple's on-screen friendship is beloved by fans. Keep reading to find out more about their offscreen relationship.
Ted Lasso co-stars Hannah Waddingham and Juno Temple are close friends IRL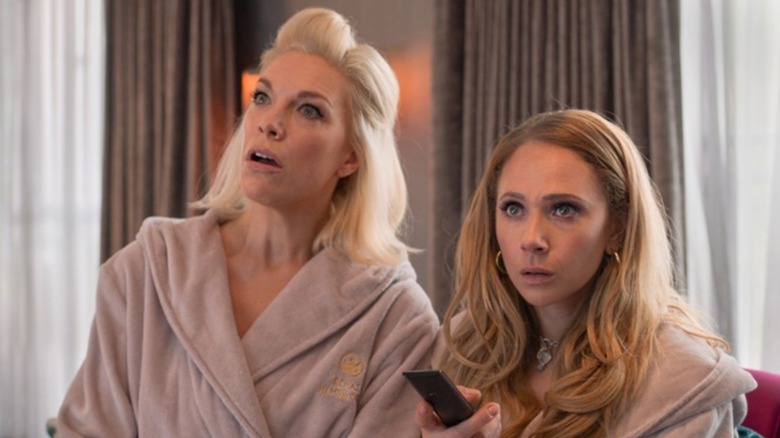 Hannah Waddingham and Juno Temple's friendship on "Ted Lasso" is fun to watch, but the co-stars are also close friends in real life. The "Ted Lasso" co-stars were nominated for an Emmy Supporting Actress in a Comedy Series. Variety did a cover story about Waddingham and Temple and their on-screen and off-screen friendship. 
According to Variety, the two actors are so close that Waddingham told the outlet that Temple is her daughter's "fairy godmother unicorn." And in an interview with People, Temple said of her co-star, "She's one of the most extraordinary women I have ever encountered in my life. And the fact that I get to love her and she loves me back for real, it's just, yeah." "Ted Lasso" co-creator Bill Lawrence told Variety that Waddingham and Temple's real-life friendship chemistry comes across on screen. "It [Their friendship] was palpable and recognizable on camera between Juno and Hannah from the start. Part of that friendship was created by the performers themselves."
Temple confessed to Variety that her role as Keeley is a highlight of her career. Temple said, "Women are such extraordinary creatures, and we don't have to be competitive. I think the show showing that is one of the things I'm proudest of being a part of, actually."
Source: Read Full Article