Theory: I Don't Think Bachelor Peter Weber's Final Rose Ceremony Has Happened Yet
Casual, but I think I know how The Bachelor ends. And to be clear, this is NOT a spoiler. This is a slightly deranged but kinda convincing fan theory from yours truly based on two pieces of evidence that we're gonna waste no time getting to:
Exhibit A: What we saw on TV last night. The Bachelor's premiere episode started with footage from what appears to be Peter's Final Rose Ceremony, where he learns some dramatic news—presumably about one of the contestants—that seemingly causes him a ton of distress.
What do you think- Are you excited about the season?! 🥺 #thebachelor #bachelornation #pilotpete #love #intense
A post shared by Bachelornation.Scoop (@bachelornation.scoop) on
Exhibit B: Peter's recent interview in The Hollywood Reporter. Direct quote: "I'm very confident that no one is going to be able to spoil it. There's a reason I believe that, and obviously can't say it otherwise it gives it away. I'm very confident that Reality Steve and all of these people, they're not going to find out what happens. There's no way they're going to find out. I'm very excited about that because I think that's what this show has wanted for a while and I'm excited that for my season there's a really good chance that happens."
Which brings us to the aforementioned ~theory~. Please see below:
Here's a quick run-down of why I think this is the case for all you doubters out there:
Of course, if this happens it's going to be pretty wild watching Peter propose in front of a live studio audience—especially if his runner ups have to be around to watch. Guess we'll see what happens!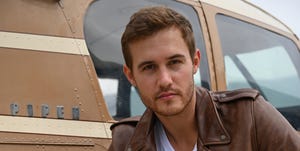 Source: Read Full Article