Tia Mowry Talks About Working With Motown Legend Smokey Robinson in 'Miracle in Motor City'
Tia Mowry is teaming up with a musical icon in her latest Christmas movie for Lifetime. The Sister, Sister actor co-stars with Smokey Robinson in Miracle in Motor City, which premieres Sunday, Nov. 28.
Mowry plays a social worker and foster mom named Amber who takes charge of her church's annual Christmas pageant. But she may have bitten off more than she can chew when she accidentally promises a special performance from the Motown legend.
'Miracle in Motor City' has a special Motown flair, Tia Mowry says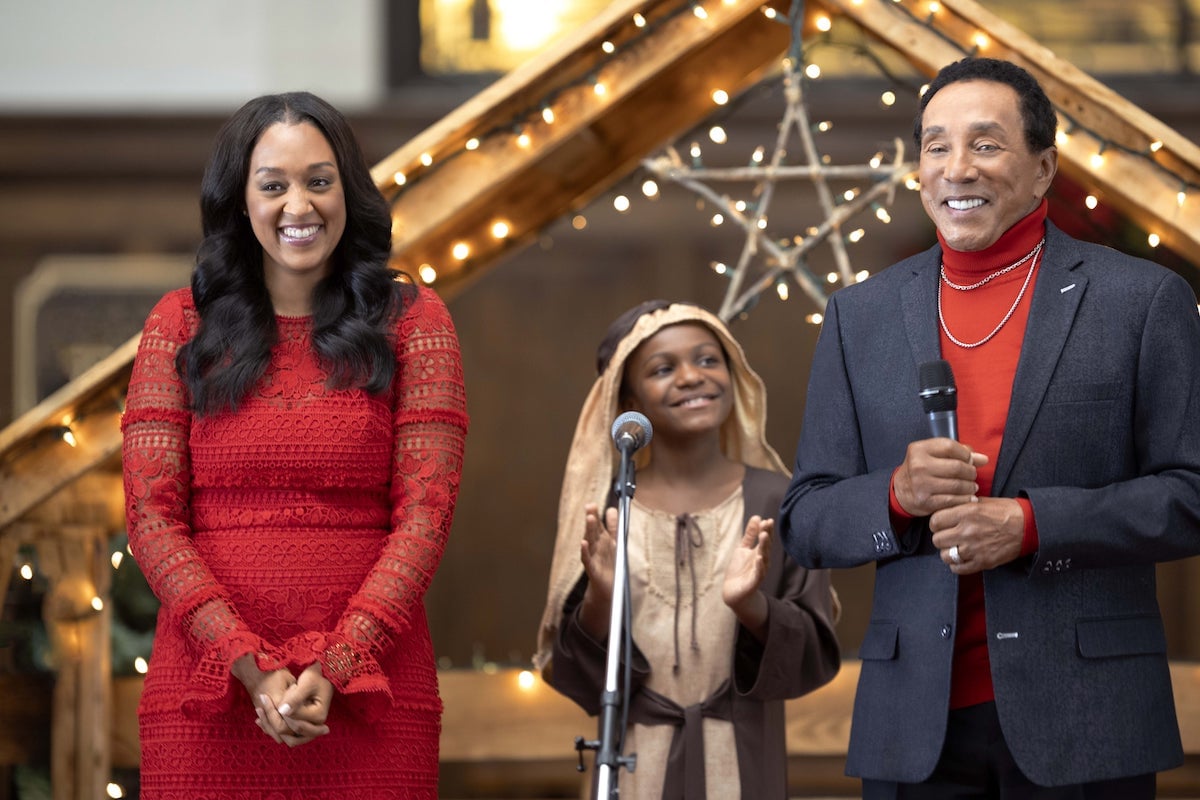 In the movie, which also features Mark Taylor and Kyana Teresa, Amber takes over running the pageant after the organizer has to back out at the last minute due to a family conflict. Once she decides on a Motown theme for the event, she becomes determined to get the one and only Miracles singer to perform. She enlists the help of her ex Eddie (Taylor) in her quest to track down Smokey and convince him to sing at the pageant. Robinson plays himself in the film. 
The movie has "this really nice Motown flair," Mowry said in an interview with Good Morning America (via YouTube). 
"[Smokey] is a legend and I am so honored to have him be a part of this movie," she added. "Just being in his presence, it's wonderful. It's so rewarding."
Working with the "You've Really Got a Hold on Me" singer was a joy, Mowry added. "He is the sweetest, most kind person you will ever meet."   
Tia Mowry knew Smokey Robinson before making their Lifetime Christmas movie  
While Miracles in Motor City marks the first time that Mowry has worked with Robinson, she has actually known him for years through church. That connection made the movie extra special. 
"The church element, you are coming, you know, to be part of the Christmas pageant," she said to the singer in a video Lifetime shared on Twitter. "We have a history of going to church together and fellowshipping together and all of that. For him to be part of this movie with this story is just so, it's like full circle." 
Robinson agreed. "That's what it is. It's full circle," he said.
Smokey Robinson said he was eager to try acting 
For the 81-year-old Robinson, Miracle in Motor City offered a chance to try his hand at acting, something he'd long aspired to do.
"I've always wanted to do some acting really and never really had a real opportunity to do it and I always said that if I did it, I didn't want to play myself. I wanna be a character, you know, I don't have to be the star of the movie or none of that, I just wanna be a character in a movie," he told ET. 
While Robinson did end up playing himself in the movie, he couldn't say no once he heard about the project.
"It's so wonderful," he added. "It's a Black story about Detroit and that's where I'm from, that's my home. And then I found out Tia's in it! I said, 'OK man, like it's got everything to [convince] me to be in it.' I was very very happy to be a part of it even if I'm playing myself." 
Miracle in Motor City airs Sunday, Nov. 28 at 8 p.m. ET on Lifetime.
Source: Read Full Article