'There's almost too much snow': Snowfall breaks 44-year record on Queen's Birthday long weekend
Almost a metre of snow has been dumped on Mt Buller's ski fields, the deepest snow level ever recorded for a Queen's Birthday long weekend.
After two years of lockdowns, the ski fields opened a week early this year thanks to a huge dumping of snow not typically seen until mid-July or August.
Mt Buller's snow depth has reached 76 centimetres, the most for a Queen's Birthday weekend since records began 44 years ago. It was so deep on Saturday that staff were digging chair lifts out of the snow.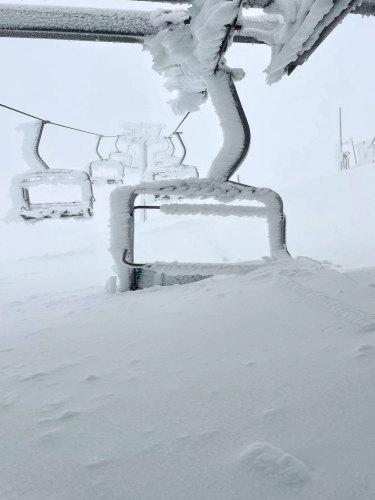 Mt Buller has broken its season-opening snow-depth record. Credit:Mount Buller/Twitter
"The main problem [on Saturday] was digging things out; there's almost too much snow," said Terry Lyons, who has spent every ski season on the mountain for the past 44 years.
"The cheapest snow is the snow out of the air, and we're getting heaps of that at the moment."
When man-made snow is added in, the snow reaches an average depth of 84 centimetres. Snow depths have reached 92 centimetres at Falls Creek and 82 centimetres at Mt Hotham.
A particularly snowy start to the winter of 2000 brought slightly more snow in early June that year, records show. But at Mt Buller some melted away shortly before the Queen's Birthday weekend when the ski lifts usually begin to turn.
"This is a record," Lyons said. "By the looks of it, it's not going to go away in a hurry."
The conditions attracted up to 5000 skiers and snowboarders to the mountain on Saturday, resort management said.
The Bureau of Meteorology has issued a severe weather warning for parts of the state's east on Sunday morning, with wind gusts of 110 km/h and blizzard-like conditions expected.
Senior meteorologist Jackson Browne said a burst of cold air was making its way from the Southern Ocean up across the state and west towards the Tasman Sea.
He said Victorians could expect to see snow down to 1000 metres.
"It's looking to be a bumper weekend," Browne said.
Meanwhile, Melbourne is having its coldest start to June in decades after the average temperature in the city stayed below 15 degrees during the first week of the month, which hasn't happened since 1985.
The cold front responsible for the incredible snowfalls has also brought strong winds and icy cold temperatures to Melbourne.
Maximum temperatures in the city aren't due to move above 13 degrees until Thursday and minimum temperatures will reach as low as seven degrees on Tuesday.
The Morning Edition newsletter is our guide to the day's most important and interesting stories, analysis and insights. Sign up here.
Most Viewed in National
From our partners
Source: Read Full Article